By Chris Rowland.
Welcome to today's daily digest, listing the day's Liverpool FC news and latest LFC transfer talk, other major football news and also providing links to today's best posts on the site's debate section.
LFC News:
Martin Skrtel has been talking to the Liverpool Echo about his extended run in the side and days he knows he can't afford to let his standards slip:
"After last season when I couldn't get into the team, this season has been very different so far," Skrtel told the ECHO.

"I am very happy. I am playing every game and trying to do my best for the team.

"Now I have to try to stay in the starting XI. It's up to me to keep proving to the manager that I deserve a place.

"There is real competition for places at the back but that's good for everybody. It's important because it pushes everyone to do better. You have to show what you can do every day in training and you know that if don't perform there's someone waiting to take your place."

Skrtel admits Liverpool left St James' Park frustrated after failing to defeat 10-man Newcastle:

"It was disappointing to only get a point as for all of the second half we had an extra player. For the opening 20 minutes we didn't play well. We couldn't keep the ball. After the red card the game changed and we got back level.

"We knew that in the second half they would sit deep, defend and then play for the counter-attack. The message from the manager was to be patient, keep the ball and try to score.
The club today unveiled a new, week-long interactive pop-up museum in the Guangxi Zhuang region of China.
The Reds have more social media followers from China than from any other country and the new exhibition – chronicling the club's history from 1892 right through to the Brendan Rodgers era – is expected to attract thousands of visitors over the next seven days.
LFC Transfer Talk:
Liverpool are considering a shock move for AC Milan star striker, 20-year-old Italian international Stephan El Shaarawy, according to the Liverpool Echo and TalkSport. But we're not alone:
"Manchester City are also understood to be monitoring his situation closely. Borussia Dortmund, meanwhile, are known admirers and are said to be ready to make their move for the forward."
On the day that Andre Wisdom's one-month loan to Derby County was confirmed, the Daily Star reported that "Liverpool hope the decision to loan Derby 20-year-old defender Andre Wisdom will help them beat a number of Premier League clubs to the signing of Rams midfielder Will Hughes, 18."
Other Football News:
Revealing its customary obsession with all things just outside its windows, BBC Salford Quays reported:
"Be afraid. Very afraid. The whole football world appears to be living in fear and trepidation ahead of today's big event. No, it's not a game of football but former Manchester United manager Sir Alex Ferguson revealing all in his new autobiography. Wayne Rooney, Rafael Benitez, Roy Keane, Carlos Tevez and football's authorities could be in the firing line."
We're sure Rafa's quaking in his boots in Napoli over that. And here is what Ferguson has to say on his old Liverpool adversary: 
"The mistake he made was to turn our rivalry personal. Once you made it personal, you had no chance, because I could wait. I had success on my side. Benitez was striving for trophies while also taking me on. That was unwise."
And Ferguson never made anything personal, right?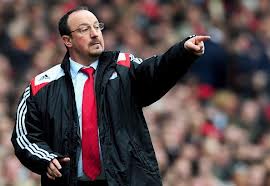 It appears the end may be nigh for our favourite Fifa president, Sepp Blatter, who "has indicated he could be replaced 'in the near future' as the head of football's world governing body by Jeffrey Webb, the current leader of the confederation for North, Central America and the Caribbean (Concacaf)."
Here's one that Arnar won't like: according to the Daily Express, Tottenham are said to be willing to offer £17m for Dinamo Zagreb youngster Alen Halilovic. Spurs were close to a £10m deal for the 17-year-old midfielder in the summer, and any future move will depend on how much playing time the Croatia international will receive.
Arnar rates him very highly.
Articles Published Today:
Newcastle 2 Liverpool 2: In-Depth Tactical Analysis, by Mihail Vladimirov
Site News:
Paul Tomkins created a new area  – Tickets and Game-Going Issues – as he explained, because a) we didn't have one, and b) it's the area to arrange match day meetings, sort out tickets etc.
Best/Most Interesting Posts Today:
Mlleclio's assessment of the Newcastle match paid homage to our second goal – "a classic team effort of the current counter-attacking style we've been working on" – and sees a pattern:
The point I'm trying to make is even though SaS were heavily involved it wasn't just relying on their individual brilliance. It was a classic team goal. And for all those saying what is the Liverpool style at the moment? It was typical of quite a few goals this season where we have create a bit space to utilise the pace in our team. We need the opposition to come forward but limit them to long range shots. This strategy is surely why we've done as well as we have this season.

Now if it wasn't for those damned set pieces…..
Beez commented on the 'partnership in action' that is Sturridge and Suarez:
In the last four league games they've played together…..

2-2 v Chelsea – each assisted the other for a goal.

3-1 v Sunderland – Sturridge scored one and assisted Suárez for the other two.

3-1 v Palace – both scored one.

2-2 v Newcastle – Suárez assisted Sturridge.
And as sbjensen was quick to point out, the other goal at Newcastle came from Suarez being brought down after a great through ball from Sturridge!
In response to the above autobiography, Garythespud decided to release an extract from his own, exclusive to TTT! It's a parody of course, and not for the faint-hearted, but definitely worth a look!