By Chris Rowland.
Welcome to today's daily digest, listing the day's Liverpool FC news and latest LFC transfer talk, other major football news and also providing links to today's best posts on the site's debate section.
LFC News:
Brendan Rodgers is satisfied with the progress achieved by his Liverpool team during 2013 and is confident that  supporters sense an upward trajectory.
Rodgers also praised Jordan Henderson after his performance in the 2-2 draw at Newcastle. Rodgers believes fans are now starting to see why so much was invested in Henderson:
"He's an outstanding young player. I think he is going to be a top player over many years for Liverpool. He will be an unsung hero. He is one of those guys who does a lot of work and over time, supporters will really appreciate and I think that's what's happening now. I have been really impressed. Tactically his understanding of the game is improving – you see the composure he is playing with now."
Interesting Academy column on the official site, where head of development analysis Tim Jenkins offers an insight into how players improve their game by studying video clips of themselves as well as experienced professionals. Tim heads up a three-man team overseeing the analysis provision for all Academy age groups at Kirkby, whilst also acting as the team analyst to the U21 side.
Let's take Jordon Ibe as an exmple. One of the targets that we set Jordon was for him to try and attack the back post more often when he played as a wide man – and also to use his speed more to run in behind the defence.

We identified those areas as ones he needed to improve and then the next step in the process was to collate clips of him in games. These clips highlighted opportunities where he could have run in behind the defence, or opportunities where he could have made a better run towards the back post and score.

We fed that information back to the player so that he understood what he needed to work on. Alex Inglethorpe and the coaches then went away and worked specifically on those elements and included the ideas in their training sessions.
A second top prosecutor is to step aside from making key decisions on possible charges over the Hillsborough disaster – to avoid a possible conflict of interest.
Last month the new Director of Public Prosecutions (DPP), Alison Saunders, stood down from the criminal investigation entirely. Hillsborough families had said her involvement was inappropriate after it emerged that in 1996 she had rejected pleas for a fresh inquest into the disaster.
Peter Lewis, chief executive officer at the Crown Prosecution Service (CPS), was appointed in Ms Saunders' place. But Mr Lewis has now decided to delegate decisions on whether West Midlands Police should face prosecution – though he will remain overall decision maker for the investigation – as he used to work as a prosecutor in the West Midlands.
Nicky Allt's YNWA – The Official History of Liverpool Football Club is set to return to the city stage. Reds fans can see the play at the Roe Street theatre in Liverpool from March 7. The show will then transfer to the famous Gaiety Theatre in Dublin to entertain Irish LFC fans.
YNWA tells of the glories on the fields of Anfield Road from Elisha Scott, Albert Stubbins and Billy Liddell to Kenny Dalglish , John Barnes and Steven Gerrard.
LFC Transfer Talk:
Defender Andre Wisdom, 20, is set to join Championship club Derby County on loan later today (Daily Mirror).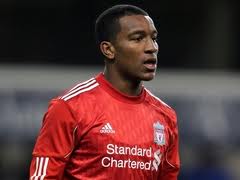 Arsenal and Liverpool are both set to be locked in a transfer tussle for Atletico Madrid's Arda Turan.
The same two clubs are also said to be after Verona's talented 21-year-old playmaker Jorginho in January.
Other Football News:
The draw for the World Cup qualifying play-offs was announced today. In case you missed it, it's:
Ukraine v France
Iceland v Croatia
Portugal v Sweden
Romania v Greece.
The media's obsession today is that either Ronaldo or Ibrahimovic is going to miss the World Cup.
 Chardo34 posted a link to the story about that nice guy Patrice Evra's comments about French commentators being 'tramps'. As Chardo said, "Our favourite frog is being picked on again, poor guy!"
Articles Published Today:
Sports Book Chat: Arnar Gudmundson, by Paul Grech
Best/Most Interesting Posts Today:
Dan Kennett posted the Squawka shot map from the Newcastle game and concluded that "it is just ridiculous. You look at that and realise Saturday was just "one of those days".
Si Steers post-Newcastle comments included this conclusion:
The quality of Sturridge and Suarez has papered over a few cracks so far this season; but I think when everybody is back fit, and we see the system Rodgers wants to play, we will see the team become the star.

It may mean that Rodgers has a few difficult decisions to make, and has to manage the egos of a few players, but its important that he defaults back to a system that gives us the best chance of winning games.
Alan Mendy had Cissokho at fault for Newcastle's second goal on Saturday:
I don't particularly agree with the assumption that Sakho was at fault for the goal. I'd say the goal was altogether Cissokho's fault.

As it has been documented recently, we've been playing zonal marking at set pieces and Sakho did not have a player in his zone.

Cissokho had one and he let him ghost past him ….
Yash had a couple of interesting and amusing responses from Derby fans about Wisdom's proposed loan move there:
From what I've seen of Wisdom in the U21s, he will be a regular starter either at centre-back or full-back.

He looks better than what we currently have, but time will tell. I don't think Schteve likes our defence much so he might feature a fair bit.
More interesting stuff from Dan Kennett and statsbomb – this time on goalkeepers:
from a shot stopping point of view, the replacement of Reina with Mignolet was a clear upgrade by Liverpool.