By Chris Rowland and Daniel Rhodes
Welcome to today's daily digest, listing the day's Liverpool FC news and latest LFC transfer talk, other major football news and also providing links to today's best posts on the site's debate section.
LFC News:
Metro  report that "Liverpool's hopes of redeveloping Anfield are under threat because bats, a protected species whose habitat must not be "adversely affected" by building work, have been seen flying around the stadium." Under the headline writer's dream, "Bat's your lot! Liverpool's plans to revdevelop Anfield fly into trouble" (it actually did say 'revdevelop'!), it explained that there's a bit less to this story than the headlines might suggest (surely not?):
Reportedly law dictates 'as a protected species, bats must not be "adversely affected" by building work and studies will determine what can be done to accommodate bats and building work'.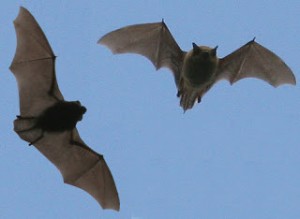 Some bats earlier today, checking out the Anfield redevelopment plans …
Steven Gerrard is refusing to give up hope of one day winning the Premier League title with Liverpool. But the Reds' captain says the team should just be aiming to get back in the Champions League this season.
All away end tickets for our game at Arsenal on have now been sold, as they had been for Newcastle on Saturday, but the official site says there's a further sale, if anyone fancies getting there for 12.45 on Saturday, because Liverpool "have received a limited number of returned tickets."
Speaking of Saturday's match at Whatever It's Called These Days Park, a group of Newcastle fans have organised a march under the banner 'Time 4 Change' . They are angry about the way owner Mike Ashley is running the club.
Daniel Sturridge admits he enjoys a 'great chemistry' with strike partner Luis Suarez.
"He's a nice guy and we have great chemistry on the field, and we get on well off it so it's good," Sturridge told Life and Times.
Now a coach at Anfield, Steve McManaman has praised the club's recent transfer dealings:
McManaman believes the newcomers have had an instant impact in helping to propel the Reds to joint top in the Barclays Premier League table. And he believes that when they welcome the likes of Philippe Coutinho back into the side, Rodgers will have an impressive squad to choose from.

"I love the way Brendan has got the team playing, and they've got the likes of Glen Johnson and Coutinho to come back into the team over the coming weeks. When everyone is back, the manager has got real competition for places so it looks very promising.

Going forward they're such a threat. They always look like they are going to score goals."
I think Jamie might like to see him put alongside Franz Beckenbauer: under the headline 'Why I admire Carra and Beckenbauer', our summer signing Tiago Ilori "learned his defensive trade by studying players from two completely different eras of football – German icon Franz Beckenbauer and Liverpool's very own Jamie Carragher."
Raheem Sterling was part of the England group that trained at Arsenal's London Colney complex this morning following his call-up on Saturday.
LFC Transfer Talk:
Liverpool are reportedly set to rival Chelsea and Real Madrid for the signing of Benfica's 25-year-old ex-Chelsea midfielder Nemanja Matic.
Chardo34 posted that Valencia supposedly fancy taking Ilori on loan, having missed out on him before he moved to Anfield.
Liverpool target Cristian Tello has hinted he will consider his Barcelona future at the end of the season:
The 22-year-old forward is currently competing with Lionel Messi, Neymar, Alexis Sanchez and a long list of others for a place in attack – and has made just six appearances in La Liga so far this season.

With his place in the side not assured, Tello has been linked with moves away from Spain and Liverpool are one of the interested sides.
Arsenal and Liverpool are set to rival Borussia Dortmund in the race to sign Greek striker Konstantinos Mitroglou from Olympiakos.
The 25-year-old striker has already notched four hat-tricks this season, including all three goals for Olympiakos against Anderlecht in the Champions League at the start of this month.

According to Gazzetta.gr, both Arsene Wenger and Brendan Rodgers are keen to bring the German-raised Mitroglou on board in January but face competition from Dortmund, with Inter Milan, Genoa, Benfica and Sporting Lisbon all interested in the player, who is thought to be available for around £7m.
Other Football News:
Following David Weir at Sheffield United and Martin Allen at Gillingham, a third manager in four days has been sacked – Bury's Kevin Blackwell.
A road adjacent to Old Trafford is to be renamed Sir Alex Ferguson Way. Allow for at least five minutes extra time if you're travelling that way …
Articles Published Today:
In Football, Everybody Hurts Sometimes (Part Two), by Jane Falconer.
Best/Most Interesting Posts Today:
Maradoo compiled a table of PL teams who had 16 or more points after seven games and their ultimate finishing position after 38 games.
Only two sides in the last 12 years have failed to finish at least 4th following this start
It sparked some debate, expectedly.
Beez posted a squad of Spanish players Liverpool have fielded – 15 in all, more than any other PL team.
Martin McL contradicted Beez's claim, in a sort of tongue-in-cheek way, that "the vast majority of people on here would've been happy with 5th at the start of the season."
The 64% who predicted 5th or 6th will just join in with the 33% who thought we'd finish in the top 4 in all going apoplectic that we missed out on the champions league by a single position.

This will all be attributed to one single incident at some point in the season which was entirely Rodgers/FSG/Ayres fault (circle as required).

Only the 13 people who voted that we'd finish either 7th or 8th will actually be happy.
AJBorley linked to a very interesting article in the Guardian by one of our favourite footie writers Jonathan Wilson – "a nice take on the complexities involved in analysing football, hooked onto Townsend's performance for England last Friday." Here's a flavour, as Wilson talks about "the problem of fundamentalism":
There are those who, whatever the situation, will deny the importance of tactics and, equally, there are those who, whatever the situation, will insist upon a tactical explanation. Both are misguided. The idea that how players are distributed on the pitch is irrelevant is ludicrous, but so too is the idea that players are no more than discs on a board.

Of course their individual talents matter, and so too do their personality, their mood and their fitness – as well as the players around them and the players they are up against.
Dashton23 posted a link to an article on "The 40 best youngsters playing in Europe", according to Italian newspaper Corriere dello Sport. Utd's flavour of the month and Scrabble players' dream Adnan Januzaj is the only PL player in it.
Finally, this one from mlleclio was from last Saturday, the 50th anniversary of Gerry and the Pacemakers' version of 'You'll Never Walk Alone' entering the charts, but it's worth including for a musician's perspective on why the song is "a real masterpiece of pacing and musical architecture":
I'll say it again as well, another reason football fans from other teams sing it, is it's incredibly pleasing to sing.  it starts with simple small steps and eases your voice into singing mode and then gradually takes you up the escalator to full voice in the chorus. It's that almost unique thing in today's culture where people are lured by real musicality into doing something without an instant payoff.