By Chris Rowland and Daniel Rhodes
Welcome to today's daily digest, listing the day's Liverpool FC news and latest LFC transfer talk, other major football news and also providing links to today's best posts on the site's debate section.
LFC News:
Owner John W Henry believes the return of Kenny Dalglish as a non-executive director will help the club become a dominant force in English football once again. Speaking to the Liverpool Echo, Henry said:
"Kenny is a towering figure in the history of Liverpool Football Club. Along with Bill Shankly, he embodies what the club stands for. From the dressing room to the boardroom, we are creating a structure that will take Liverpool back to the top. It is not an easy task. Kenny brings the sort of intelligence, experience and knowledge that will help us reach our goals."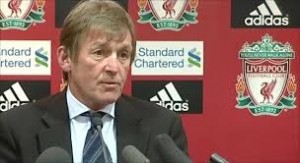 The Return of the King
Former Reds defender Jim Beglin says Reds manager Brendan Rodgers deserves a new contract following the club's good start to the season:
Liverpool are level on points with leaders Arsenal, and Beglin told BBC Radio Merseyside: "Most of his signings have looked good, everything seems to be coming on another notch and I think he's been impressive. I like listening to him. He's very shrewd in what he does and a very amiable character. I can understand it if they're thinking about a new contract because everyone is happy. He seems to be starting a whole new era."
Joe Allen has declared himself 'almost' fit and available for selection once again. When asked about Allen's fitness recently, Brendan Rodgers identified next weekend's trip to Newcastle as a potential opportunity for the No.24 to return.
Martin Kelly has explained how Kolo Toure is fast becoming a key influence in the Liverpool dressing room just months after arriving from Manchester City in the summer. Kelly told Liverpoolfc.com.
"He's come in as a big character for the club and helped a lot around the dressing room. Whether he's on your team or not in training, he's giving advice to everyone and you like that as a defender. You like feeling as though you're a full team.

"There are big players here who are helping to keep everything together, from the goalkeepers straight through to the strikers. That's been the balance in our team so far this season. It's been brilliant."
Lucas Leiva has explained how his recent recall to the Brazil squad can be a positive for Liverpool as well as a major boost to his hopes of playing at the World Cup next year:
"The call came at the right time – so close to the World Cup – but it's the chance that I was expecting and it will just give me more confidence to keep playing well and doing well for the club.

"I think it will help Liverpool, myself, and if I do well with the national team, it will help my chance to play in the World Cup. That's what I'm prepared to do."
Raheem Sterling had assists for the first three of England U21s' four goals against San Marino at the Stadio Olimpico in Serravalle last night.
LFC Transfer Talk:
The Daily Mail says Liverpool have emerged as Manchester United's biggest rivals for Will Hughes after Brendan Rodgers installed the teenage prospect as his top target for the January transfer window. "Derby may demand as much as £15million for the 18-year old."
But the Independent says "Manchester United manager David Moyes plans to strengthen his midfield with a January move for Derby County's England Under-21 international Will Hughes, 18. "And the Mirror says "Manchester United are believed to be leading the race to sign the talented youngster."
According to TalkSport, "Inter Milan have joined a clutch of Premier League clubs in the race to sign Saint-Etienne defender Kurt Zouma. Manchester United, Manchester City, Chelsea and Liverpool are all keen on the 18-year-old, who is regarded as one of the brightest young prospects in Ligue 1."
TalkSport also claim that "Liverpool could miss out on Jorginho with Fiorentina poised to ramp up their interest in the Verona playmaker, according to sources in Italy.
The Reds are firm admirers of the 21-year-old, who has made an impressive start to his maiden Serie A campaign with three goals in seven appearances. Brendan Rodgers is keen to add some creativity to his midfield and Jorginho is on his shortlist.
Other Football News:
The Galatasaray Chairman has been talking about the possibility of a 20-team European League after 2018, when UEFA's current agreement with the European Club Association expires. Details were posted by Taskin (Tash) last night.
Manchester United failed in an attempt to sign Mesut Ozil before the Real Madrid midfielder joined Arsenal for £42.4m last month, the Manchester Evening News reports.
Articles Published Today:
You'll Never Walk Alone's 50th Anniversary, by Bob Pearce
Best/Most Interesting Posts Today:
Paul Little of Football365 conducted this highly recommended interview with TTT Subscriber Lee Mooney for his digest, on the topic of data mining and the use of databases in football recruitment. Here's a small sample:
Paul: Games like Football Manager, for example, are ultimately just that, games, and thus aimed at that market – but are there 'professional' databases aimed specifically at the football industry? 
Lee: Yes indeed. There are a number of established player recruitment solutions on the market. Each offers a subtly different perspective and/or coverage of particular territories. There is also a growing number of 'boutique' propositions, like my own, which are entering the market inspired by the 'big data' idea.

Paul: How can clubs like Newcastle, Liverpool etc. exploit such data – and exploit imperfections in the transfer market, as some put it?

Lee: If success in football is all about money, then the clubs without it have a few options for generating it – all of these have their roots in the football 'product' that they produce – which is about assembling a team that wins games in a style that engages fans beyond your immediate locality. All of this needs to be done whilst managing costs and the club's exposure to risk. Effective analysis of the 'right data' has the potential to inform all of these elements. Introducing a little rationale to a world that is seemingly so emotional can only be a good thing (providing the work is good quality and decision-makers take notice).
Responding to some quotes by Tor Kristian Karlsen, posted by dfro, in which he suggests it takes more coaching skill to set a side up to attack than defend, our tactics maestro Mihail Vladimirov replied; here is the gist:
However, if we move on from these basic platforms, there is another, more advanced level. And this level includes both offensive and defensive structure and patterns. Personally I'm referring to them as the nullifying and the breaking-down structures/patterns of play. Both are that more advanced on the simple defensive and offensive structures and way of playing.

What I mean by nullifying is the manager's ability to cover for the opposition's strengths on a game-by-game basis and still retain enough tactical scope to hurt the opposition (which is the breaking-down side). To successfully balance these things week in week out will require not only a decent squad full of tactical potential but also a manager who is not only tactically pragmatic but creative and versatile enough.
Nobbyjbc on Suso during his loan in Spain:
I've watched Suso a couple of times this season on telly. He is doing well, he certainly has an eye for a killer pass, but he does look one paced. He isn't pressed in Spain like he would be here, I hope his speed of thought helps him overcome his lack of ground speed. You can never have too many players in your squad capable of that killer pass.

Worst case? He plays well enough to justify a large sell-on price at end of loan.
On Bob's article about You'll Never Walk Alone on the 50th anniversary of Gerry and the Pacemakers' version first the charts, Taskin (Tash) said:
"Living abroad and travelling often I can honestly say that the reaction of most people when football comes up in the conversation and I explain that I support Liverpool is "ah, You´ll Never Walk Alone!".

These same people may struggle to name a single player, past or present, and even fail to recognise the Liverbird as our emblem.  In that sense YNWA probably transcends almost anything else in our club's identity."
And finally, a quiz question from Swifty: in what season was no English club knocked out of the Champions League by a foreign team? The answer's in the link, which subscribers can access.