By Chris Rowland and Daniel Rhodes
Welcome to today's daily digest, listing the day's Liverpool FC news and latest LFC transfer talk, other major football news and also providing links to today's best posts on the site's debate section.
LFC News:
Brendan Rodgers believes the commitment and attitude shown by Luis Suarez since his return from suspension has reached the ideal standard the Northern Irishman desires.
"With Luis, he demands the best from himself and his teammates at all times, and we saw that against Crystal Palace, even right at the end when the game was won," said Rodgers.

"You see his work-rate and his demand for a better ball into the box, and that's what we want.

"There was a moment in the first half where he chased back on the left and won the ball too. There is no doubting his commitment, and there is no doubting he will always have that desire at all times.

"That attitude from Luis to demand the best is exactly what we want. We can't accept just winning and say it's all right.

"With the likes of Luis, that demand is what we want – the demand that we maintain our standards at all times. It is an important part of what we are trying to do."
Steven Gerrard says it will be an honour to equal Sir Bobby Charlton's appearance record for England against Montenegro on Friday night. It will be his 106th game for the national side, taking him level with Charlton and two caps behind Sir Bobby Moore.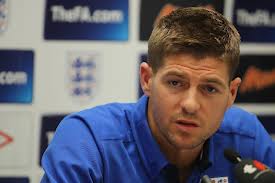 His 106th international cap on Friday night. Something to smile about ….
16-year-old Wrexham-born midfielder teenager Harry Wilson could become the youngest player in Wales' history after receiving a surprise call-up to the full squad for their World Cup qualifiers against Macedonia and Belgium, after 10 members of Wales' original 23-man squad – including Joe Allen, Gareth Bale and Ashley Williams – pulled out due to injury.
Following Joao Teixeira's early recall from his loan at Brentford, Academy striker Michael Ngoo has also returned to Kirkby after his loan spell with Championship side Yeovil Town was ended by mutual agreement.
There's a new book – Red Machine, by Simon Hughes, giving the players' stories of Liverpool FC in the 1980s. It contains a classic exchange between striker Michael Robinson and manager Joe Fagan:
'Joe and Bob [Paisley] were there when I went to sign the contract and I asked them whether I could have a coffee or some fizzy water. "Here's a beer, lad," Joe told me. "Get that down your neck."

'Later, Joe asked me whether I had any other questions. "How do you want me to play?" Bob and Joe looked at each other, smiled, then Joe took charge. "We rather hope that you know how to play, otherwise we're going to lose a lot of money here."

'"According to the system, I meant."

'Joe put his hand around my shoulder, sat me down and said, "Listen, lad, we play 11 players here – just to make sure we aren't disadvantaged. In midfield, when we get the ball we try to kick it to somebody dressed the same colour as us. As a forward, Michael, kick it in the net, and if you can't, kick it to somebody who can. Then at the back, we're gonna try our best to make sure the oppo don't score."

'"There's no more to it than that?" I asked.

'"You'll find, Michael, that we leave players to figure it out for themselves. But we'll help along away. This isn't a major science . . . you'll work it out."

'It was the greatest example of man-management I'd ever come across.'
LFC Transfer Talk:
Liverpool have been linked with making a move for 27-year-old Borussia Dortmund winger Jakub Blaszczykowski, as manager Brendan Rodgers plans his January reinforcements.
One Blaszczykowski, there's only one Blaszczykowski ….
Zenit St Petersburg are set to launch yet another bid to tempt Martin Skrtel back to the club. The 28-year-old joined Liverpool from Zenit in 2008 (Daily Mirror). 
Other Football News:
English footballers account for less than a third of minutes played in the Premier League, according to BBC Sport's State of the Game study. This is significantly lower than all other major European leagues, according to football statisticians Opta.
Former Liverpool midfielder Danny Murphy has officially announced his retirement from football.
A couple of Roy classics in today's England press conference:
"Within the camp we are convinced that we are good enough to qualify and we can do the job. Words like fear or anxiety haven't crossed our minds.
Well not till I said them anyway 
On the World Cup in Brazil in 2014:
"It's unthinkable [not to be there next summer] there will be a lot of good teams who won't get there next year."
Articles Published Today:
In Football, Everybody Hurts Sometimes (Part One), by Jane Falconer (TTT Subscriber Falkie71)
Best/Most Interesting Posts Today:
For the latest in Bob's letter-writing campaign to get the fans who helped at Hillsborough officially recognised as heroes, click here. There have been encouraging replies from Steve Rotheram MP and Andy Burnham's office, and letter No.7 has gone to David Cameron. Here are some 'highlights':
Ref: The Hillsborough disaster (Letter 7)
Dear Mr Cameron

I have previously written to you on 6 occasions (5/3, 25/3, 26/4, 9/6, 2/7, and 7/8) asking you the same question 13 times and have yet to receive an answer.

…….

You told the Liverpool Daily Post 'I promise you this: just as we got the truth, so the families will get the justice they have been fighting for'. Other MPs, who have been very closely involved throughout the long campaign for justice, have expressed their unreserved agreement that there should be recognition for the 'Heroes of Hillsborough'. Can you please explain why you have found it simply impossible to answer this question for the past 7 months?

For the 14th time, Mr Cameron, do you agree that the actions of the ordinary men and women at Hillsborough on 15th April 1989 deserve recognition in the form of a collective award in the same manner as other heroic acts?

With each passing occasion that you or your representatives seek to either sidestep or dismiss this question it detracts further from the perceived credibility and sincerity of your 'profound apology' on 12/9/12.
We would urge you to read this post and get behind Bob's campaign – I know many have already contacted their own MPs.
Bob also posted a link to an e-petition to have Sir Norman Bettison stripped of his Knighthood and forced to face a retrospective disciplinary panel in regards to the IPCC report published that recognised that his conduct fell well short if what is expected from a Police Chief.
Currently at 23,522. If you have a twitter account, sharing this link will help to push that number closer to its target.
Chardo34 posted a homage to the many silent 'lurkers' on TTT, without whom there'd be no TTT – and we all agree 100% with that:
The over riding factor in TTT's strength is not the analysis, stats, debates or puns.

No, far more important are the thousands of lurkers who loyally pay their subscription every month so that all you show offs can have somewhere to come and feel good about yourselves!

So thanks lurkers, we owe it all to you.

Perhaps we could even have 'lurker' as an option in the POTY vote.
ACSGP wondered why we post, and why we crave the 'Recommend' button and our posts turning yellow (this happens on TTT after 10 Recommends) – as indeed this one did:
 I actually wanted to do an article on the psychology of the "Like" button, and the effects on what you post (feel free, ACSGP – Chris Rowland, Editor). Do we post because:

1. We want to be liked;

2. We want to be heard;

3. We want to make a difference by providing balance to the crowd mentality; or

4. We're just bloody minded.

This fundamentally makes a difference on why, and how we post.
The theme of the day was the low percentage of England-qualified players playing in the PL. Big Jim Cambo had this to say on the subject:
I appreciate however, that managers are under pressure all the time, and so an 'instant action' product is possibly more appealing than spending 2-3 years nurturing a teenager into the first team squad.

The bar is higher these days, but I think the best English kids will leap over it, and surely if they're surrounded by quality players from overseas (Ozil, Agüero etc) they will also learn from them, and that will benefit England?
With yet another international break upon us, DCronin asked whether there was any future in international football at all:
"We get this nonsense every time an international break rudely disrupts the real football and I always think the same thing: Who actually wants this?

The clubs don't want it.  The fans don't want it.  It comes down to a handful of journalists and stuffy suits who are completely out of touch with the game.

(to the quotas idea) "Here's a better solution: Do away with international football.  Then no one will care about the nationalities of players plying their trade in England and clubs can focus on recruiting the best talent they can.  We can also focus on our season instead of having these stupid and pointless disruptions."
On the theme of reducing the space/area size for training to play under pressure, Lee Mooney suggested this idea:
For simplicity, let's say that a 'typical' attack will populate the penalty box with 16 players in total from both sides. The amount of sensitive space those players occupy will be approximately 16.5m x 18.3m (301.95m2) – the length of the penalty area and the width of the 6-yard box.

To keep with the proportions of a football field, that total space (301.95m2) becomes a training area for small sided games up to 8v8 of approximately 22m x 15m (for fully grown adult players)*.
You can find out more by clicking on Lee's name.
Not for the first time, Joe P's got a debate, or rather a highly amusing sub-plot, started with this post last night, about the much-coveted TTT Poster Of the Year (POTY) award, reproduced in its entirety and containing a reference to one of Leeberolf's famed puns:
TTT means different things to different people.

For me, TTT has always been about seeing who can get the most ticks on comments, in the race for the Poster Of The Year crown.

But, if you take a step back, it's about much more than that.

It's also about singling out who the worst posters are, and berating them for not winning any awards.

As of today, only myself, Jeff and Beez can look down on the rest of you as former champions. That may sound arrogant, but actually there is a great deal there or the rest of you to learn from the three of us, the grand masters of TTT.

So watch and learn folks. We've been there and done it. These "Tolstoy" puns aren't going to win you shit. (Or are they?)
As expected, Leeberolf replied to Joe in his customary amusing fashion, extolling the virtues of consistently finishing in the top 4:
It's been proven year in, year out, that the posters that consistently finish in the top 4 of the POTY's, can generally attract the better replies and earn the most ticks!

If I remember correctly, you slipped out of the top 4 last season, and found yourself posting on Thursday nights in the Off Topic Thread — nobody wants that!

You say you can't win anything with 'puns' ( where've I heard that) well, I agree it's a gamble to risk the young and inexperienced 'puns' on some threads, but I believe in giving youth a chance at this level, and always throw a few of the older ones in there, for balance of delivery.
Current champion Beez maintained a dignified silence throughout.
Finally, disco2000 asked "shall we start an email group out of the West Brom match thread? Beez and I follow each other on Twitter too so shouldn't prove too difficult to sort."