Euro '96 was the last time I got excited about England. There was also, a brief moment, after Sol Campbell's 'winner' against Argentina under Hoddle in 1998. Not a big return for (a fan of) a country that plays host to "The World's Greatest League', produced the "Golden Generation" and saw fit to ignore Brian Clough – the winner of two consecutive European Cups – when he applied for the national job. What has been the problem? And crucially, what are the solutions? Thankfully, Matthew Whitehouse has written a comprehensive analysis in this book, 'The Way Forward – Solutions to England's Football Failings'.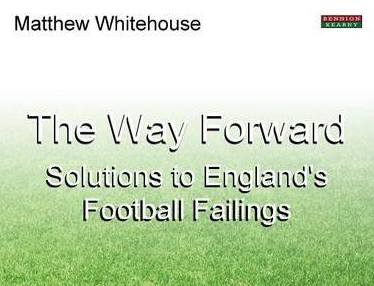 Initially, when asked to review the book, I was a little sceptical and apprehensive. Every time England fail to win a tournament (or reach the semi-final), the written press gloss over the detail of the failure, usually by mocking the manager, and then demand 'root and branch' action. The action, usually, is a review of procedure or infrastructure and the resulting report outlines the future; then, we ignore it, because the next tournament arrives and we pretend to have a chance.
Matthew's book is different though; although like Greg Dyke and every other FA boss in recent history, there is a chapter looking at the impact of foreign imports and the lack of English players in the Premier League, it is by no means the sole focus. Instead, he delves down into the evidence, looking at a manager's remit, the transfer premium for the 'better' English players and even the failings of the 'home grown' quota system. Therefore, while the football press focus on cliché after cliché, this book digs deeper and looks at why managers prefer the overseas import; why England ignored or mistreated Hoddle and Scholes; the key ages for footballing development; the lack of practice and street football that would allow children to develop and 'learn their trade' away from angry parents and agenda-driven coaches. Furthermore, that is, still, just the tip of the iceberg.
"How did English football get to this stage? Well, they say 'football is a game of opinions' and that is undeniably true – yet when one man's opinion about how to play the game was implemented, a country was laid in ruin. The results were seen for decades to come and English football has still not fully recovered."
No, he's not talking about Roy Hodgson, but referring to Hodgson's idol, the man who wrote the FA's coaching manual 'The FA Guide to Training and Coaching' and was the association's 'technical' director from 1963 to 1983: Allen Wade.
The rest of this review is for Subscribers only.
[ttt-subscribe-article]