By Krishen Bhautoo (TTT Subscriber Krishaldo).
A little while ago, a friend's lad put all the data from WhoScored.com into a spreadsheet for me in exchange for a lift to the airport (download a copy here). I mentioned to Paul and Chris about putting a piece together to see if there were any gems in the rough that we may have overlooked. Of course Lee Mooney's model is much more refined than going just by WhoScored data, however I thought it would be interesting nonetheless to put this brief piece together in search of hidden diamonds.
Firstly, the data only includes Europe's Top 5 leagues – England, Germany, Spain, Italy, France – and players who have made a minimum of 15 appearances. This rules out Coutinho as he only made 12(1) appearances for us, even if he did make an additional 8(7) for Inter, so I would imagine there may be a few other players who don't make the grade either (1,374 players with a minimum of 15 appearances as opposed to 2,755 of every player to make even a cameo as sub).
The other 'issue' with the data is that is gives the starts and sub appearances made by the players, as opposed to minutes played. This can make it a touch difficult to do manual calculations for things like shot conversion, but more on that later.
Also, some players 'overlap' positions. For example, Carragher is noted as a D(CR) when we all know that he was a CB. Also as another example, Valencia from Utd is a DR and a MR on the data.
This is the WhoScored team of the year: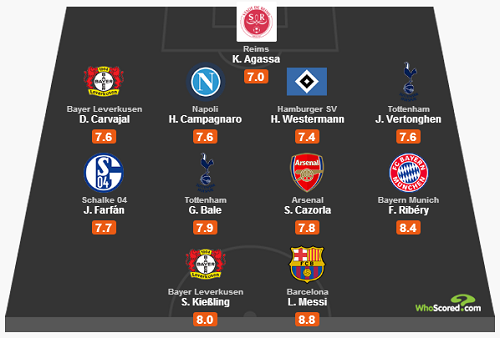 Whilst the stats show these players as the best in their respective positions (surprisingly no Ronaldo), I wouldn't be too confident of going into a league campaign with that as our four-man midfield!
This article is for Subscribers only.
[ttt-subscribe-article]