By Dan Kennett, James Keen (jimtheoracle), Matthew Young and Alun Evans (FirePhoenix).
Where will the Reds finish?
Dan Kennett: 6th.  I think anything less than 6th will put Rodgers in a near untenable position
Matthew Young: As with the remaining questions, this largely depends on what we do in the transfer market in the next three weeks. And whether Suarez can stop sulking. However, based on the current squad…6th. As things stand, we don't seem to be much better than last year, but I'd still expect an extra 5-6 points due to the form of the second half of last season. Oh, and I think Everton, in the short term at least, will regress.

James Keen: 5th. Or 6th…No. Let's be positive. 5th We will not finish above Man Utd, Man City or Chelsea and I don't think Tottenham are a realistic possibility. But Arsenal are. With or without Luis. Wenger hasn't sorted their goalkeeper or their central defence. They still look weak in midfield and are there for the taking. So on that basis there are four teams better than us…5th.
Alun Evans: 5th – I am quietly confident as well as quietly pessimistic. I veer from one side to the other. One day I will be thinking we can sneak into the top 4, another I will be thinking we'll be lucky to stay in the top 7. There are so many unknowns. Is Mignolet better than Reina? Is Toure still good enough? Will Agger stay (and stay fit)? Will we sign a left-back? Is Gerrard past it? Will a day go by without the press re-hashing the Luis Suarez with the sentences in a slightly different order in order to generate website hits? If the answers to those questions fall more on the Liverpool side than not, I think we can make a good fist of it. If not, we could be in trouble.
How many points will the Reds finish with?
James Keen: We've got to be looking to crack 70 points. 72 finished 5th last season so that's got to be the benchmark. Another stagnant season would be really dispiriting but a good season turning some of those draws into wins and it's conceivable that we'll get there. If we get above 70 that puts us "in the conversation" as Brendan says for 4th. Having gone through the fixtures I have said 72 points, so 72. I'd be delighted with that.
Dan Kennett: If we think back to June 2010 when Benitez was sacked for finishing with an 'unacceptable' 63 points, I doubt any Liverpool fan in the whole world would've predicted that we'd fail to match or better 63 points in the three subsequent seasons.  Obviously we came close last season with 61 but for me this is the season of no excuses.  We have to surpass that 2009/10 performance and make a serious challenge for 4th otherwise heads will roll.
I think a 'par' score this season is 67-69 points.  A 'good' season would be 72+ points whilst a bad season would be 64 or less.  I don't see how Rodgers could survive a 'bad' league season unless he won a domestic cup and even then that would be no guarantee.
The minimum target has to be 68 with a stretch target of 72.
Alun Evans: 72 – Or so says my TTT predictor. I don't think 70-75 is at all out of the question. Anything in the 60's will be a disappointment. Anything in the 80's or above is dream territory!
Matthew Young: 66.
Who will be our most important player?
Dan Kennett: Simon Mignolet, because I think the easiest route to improve our points total will be if Mignolet translates his Sunderland form to Liverpool.  Mignolet's performances put him in the elite of PL goalkeepers with Reina well below average: http://statsbettor.wordpress.com/2013/07/11/the-best-goalkeeper-in-the-premier-league/.  More saves = less goals conceded = more points.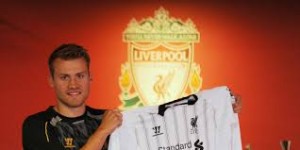 James Keen: Tricky, we seem to be much more democratic or at least the talent seems a bit more evenly spread these days. Suarez notwithstanding of course. But based on the last eight months or so, Countinho should continue to be our most important attacking player, seemingly creating chances for fun. If he continues on that track and we can perhaps improve his form at home, he could be one of the players of the season. In fact I'll put a shout in now for him be voted Young Player of the Year.
Alun Evans: Simon Mignolet. Goalkeeper has been our weakness in recent years with Reina underperforming compared to his early work with us, as well as compared to other 'keepers in the Premier League (including Mingolet). Now with a new custodian we have a chance to see if Reina's deterioration was due to poor defence or due to poor goalkeeping. Also, everyone knows that the goalkeeper is the most vital player on a football team (why else would he get to wear a different colour shirt?)!
Matthew Young: Coutinho. His creativity is crucial
The rest of this article is for Subscribers only.
[ttt-subscribe-article]