By Si Steers.
Liverpool FC is approaching almost three years of ownership under Fenway Sports Group; so how far have the club progressed since FSG took over in 2010? There is a hybrid of opinion on our current owners, so this analysis of FSG's tenure to date is informed by a survey completed by Liverpool supporters.
The survey was split into key areas that all influence perception of the owners, including:
–         Investment in the squad
–         The stadium solution
–         Club structure
–         Commercial growth
–         Overall direction and progress
To get an accurate snapshot of supporter perception, Twitter was used as the mechanism to send out the survey. Pushing out the survey through Twitter was an attempt to gain as broad a view as possible; and thanks to the Anfield Wrap and other well known fan sites for helping to achieve a really good response.
The survey was closed at 1129 overall responses. The reason for this was that the target data pool for completion was 1000 which provides an indicative guide to supporter views.
The results are as follows: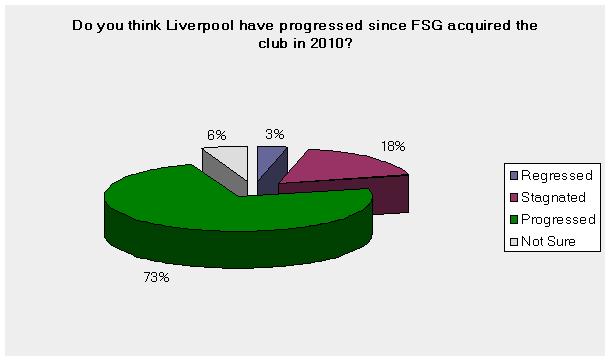 The headline figure tells us that overall, 73% of respondents believe that we have progressed under FSG. That is a fairly impressive number, given that the club has struggled at times to move forward as quickly as supporters would like.
18% believe that the club has stagnated, which is in some ways a fair perception, given that our league position has remained similar since 2011.
But what is encouraging is that the majority of supporters appear to have looked beyond the aesthetic picture when determining progress. There has been a great deal of work at the club in building a foundation, and working from the bottom up to build a sustainable club.
Only 3% of respondents believe that the club has regressed under FSG; there have been a number of mistakes since FSG took over, so that is not a position without any basis. But it is fair to say that supporter perception is that the club has moved forward.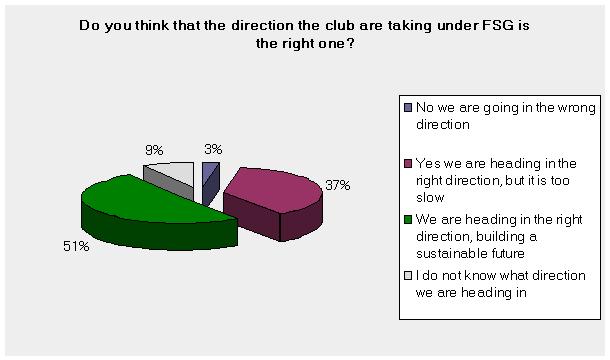 Over 50% of respondents believe that we are heading in the right direction under FSG, working towards a sustainable future. The self sustainability message can be a difficult one to sell, but it is the preferred option for many supporters.
37% believe we are heading in the right direction, but it is too slow. The pace of progress has often been a sense of frustration for supporters, and has created frustration with the owners. But the reality is that progress has been stalled by a mix of inherited long term issues (such as a financial basket case and bad player contracts) and a series of mistakes that have been a consequence of 'learning on the job'.
Both of those issues that have plagued the club since 2010 are now becoming less problematic, the decision-making and leadership at the club seems to be far better (as demonstrated so far in the Suarez affair), and the club's finances are now in recovery following the Hicks and Gillett period.
Overall 87% of supporters agree that the club is going in the right direction under FSG. 9% don't know the direction the club is heading in, which hints that more coherent and better communication may help, whilst only 3% think the club is going in the wrong direction.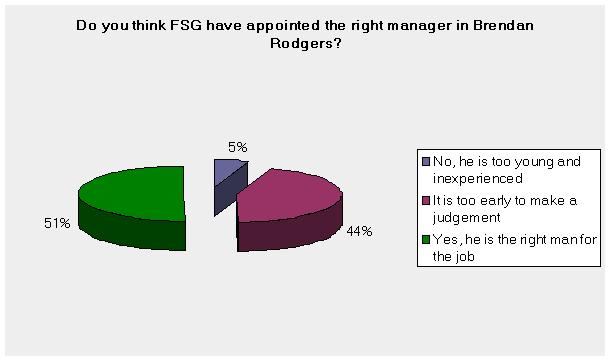 The appointment of Brendan Rodgers has possibly been one of the most divisive decisions take so far by FSG. Whether it was the man coming in or the sacking of a legend that influenced those immediate perceptions is open to debate.
Over 50% of respondents believe that Rodgers is the man for the job, whilst another 44% think it is too early to make a judgement. That is an interesting group; Rodgers continues to handle himself like a Liverpool manager, and if he can get it right on the pitch this season he will win over many of those still sceptical.
Only 5% of respondents believe that Rodgers is too young and inexperienced to be Liverpool manager. It will be difficult for Rodgers to win over that group, but he is continuing to grow as a manager, and it looks like the majority of supporters are behind him, with a further group he will win over if he continues on the same trajectory.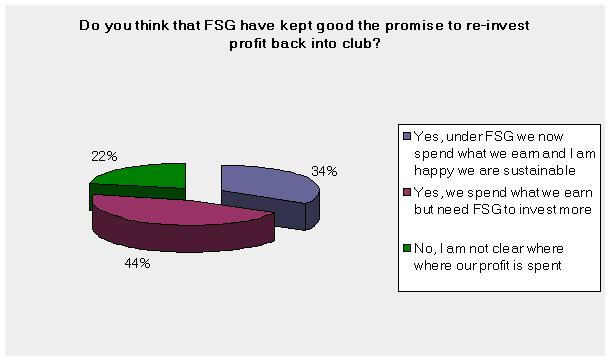 The headline figure shows that over 78% of respondents believe that the club are spending what they earn under FSG. Broken down further, 44% of that group feel that whilst we are spending what we earn, FSG need to invest more (deficit spend) so that we don't fall further behind our rivals.
This is possibly the biggest difficulty facing FSG. Since acquiring the club, they have already had to provide an additional £45m as an intercompany loan to prop up the last set of accounts. That takes the initial investment up to almost £350m – which is probably what the club is worth right now, and that is at a stretch.
Deficit spending is a big black hole. There is no guarantee that spending vast amounts of money will make you successful. Over 21% of respondents said that they were not clear where the club's profit goes. Well, the simple reason for that is since FSG took over the club hasn't made a profit. Profit is what you have left when you have paid your bills, including wages (which took up 70% of total revenue for year one of FSG ownership).
Hopefully the next set of accounts will show a real improvement in the club's finances; and year-on-year the club will become financially more able to invest in the right quality of player. But deficit spending is only an option for equity rich owners (or sugar daddies) – if FFP does its job, then it will eventually put us back on a level playing field.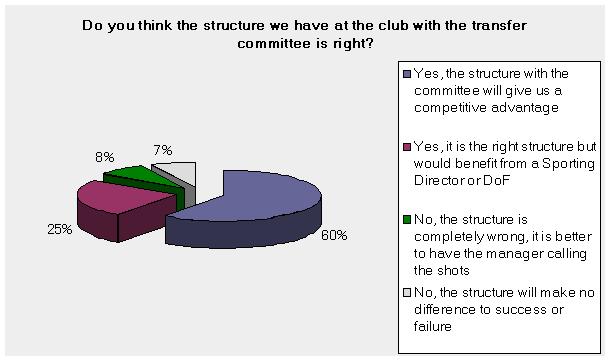 Overall over 84% of respondents believe we have the right structure at the club with the new committee. 60% believe that it is working in its current guise, whilst 24.5% think it would benefit from a figure head such as a Sporting Director or Director of Football.
8.3% retain the view that the structure doesn't work, and that the manager should be responsible for transfers. 7.2% believe that the new structure will make no difference to success or failure.
The reality is that in the absence of vast financial resources, it is the committee's job to provide the club with a competitive advantage. They have the role of sourcing the right quality at the right cost; identifying players like Coutinho. The success of the committee is essentially going to determine our success on the pitch in the short-medium term.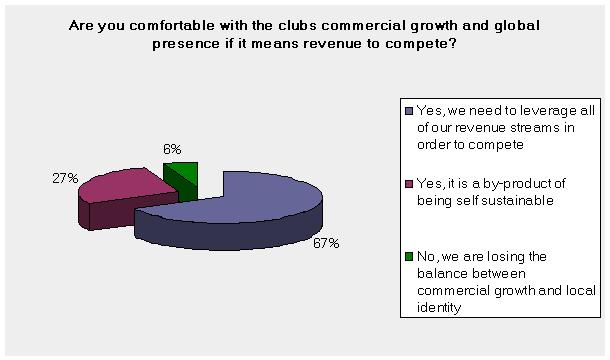 There is a fairly pragmatic response from supporters to the question of commercial growth; with 94% agreeing that if you want to be self-sustainable and compete then you need to leverage all of your revenue streams.
But there is a voice that needs to be heard. 6% of supporters believe that the club is moving too far towards global growth and losing its local identity. We saw incredible scenes in Jakarta, Melbourne and Bangkok during the Liverpool tour, with atmospheres that put Anfield to shame.
There is perhaps a reason for that; local fans are maybe feeling detached from the club. Whilst we have an incredible global support, it is the people of Liverpool that give the club its identity. Finding the right balance between a local and global presence is an important issue for the club.
Initiatives such as the recent open training day at Anfield and more tickets for children at Anfield are both steps in the right direction.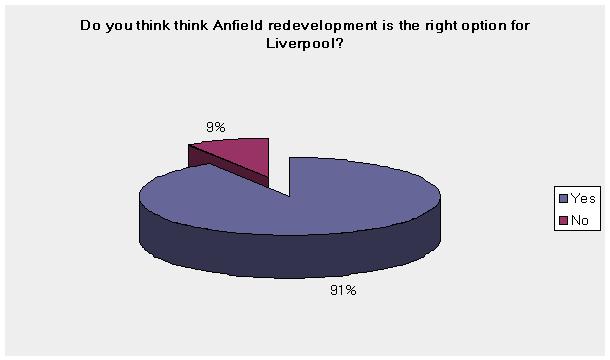 The answer is a resounding yes. 91% of respondents believe that redevelopment is the right way to go. It is only recently that redevelopment has become an option for the club; and supporters look to be behind the plan to stay at Anfield.
9% of supporters believe that Anfield redevelopment is the wrong way to go, and that perhaps a new stadium is the solution. But the biggest barrier to a new stadium is cost. As John Henry has said, it makes little economic sense to build a new stadium for an extra 15,000 seats.
Anfield redevelopment obviously has to come with some provisos, such as investment in regeneration and infrastructure. But the opportunity to stay at our spiritual home is a plan that looks to have the backing of supporters.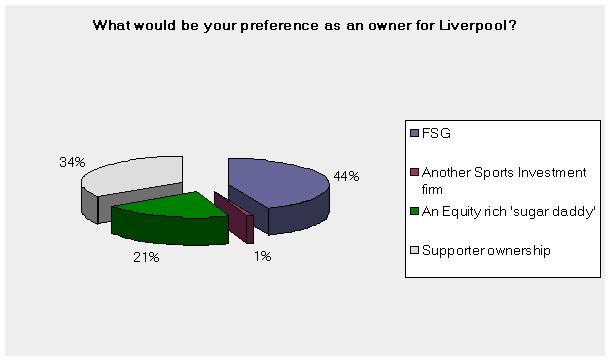 Only 21% of respondents would welcome a 'sugar daddy' type owner at Liverpool. It would be interesting to see whether that would replicate at other clubs.
Over 43% of respondents are happy with FSG as owners, which is a sign that people believe in the ambition behind the rhetoric. 34.2% would like to see the club supporter-owned.
I think supporter ownership has to be the ultimate ambition for Liverpool, but there are very real reasons why now is not the right time. Essentially if the club was supporter-owned it would be following the same direction it is under FSG.
Right now what the club needs is stability and strategy. It needs to build its foundations as a sustainable business so that the football team can flourish. That is where FSG can be good owners; they will build the club so that it becomes a sustainable entity.
Supporter ownership is fraught with the same issues and barriers that FSG face, and would still require a management hierarchy that make decisions not everybody would agree with.
Supporter ownership should be an aim for one day in the future, but the present owners are doing the right things to make us sustainable if and when it ever happens.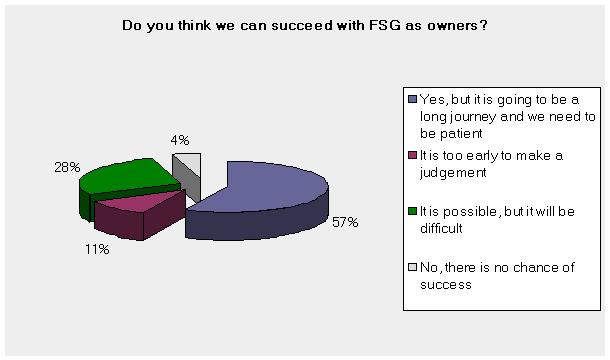 Only 4% of respondents believe that we cannot succeed under FSG. Whilst that viewpoint shouldn't be discarded, as there are many reasons why we may not succeed under FSG, the majority of respondents feel that we can succeed, or it is too early to know either way.
57% of respondents feel that we can succeed under FSG, but it is going to be a long journey and we are going to need to be patient. 28% take the view it is possible, but it is going to be difficult. Somewhere in the middle of those two is probably the right answer. There are no guarantees in football, all you can do is continue to build and try to take the right decisions that will move you forward.
The reality is that if FSG can realise our commercial potential, we can become competitive financially, which will mean we can grow at a faster pace on the pitch. In the short term we have to try and be smart; building from a foundation of youth and relying on the transfer committee to source gems like Coutinho.
We are doing all the right things, but we will need a bit of luck along the way as well.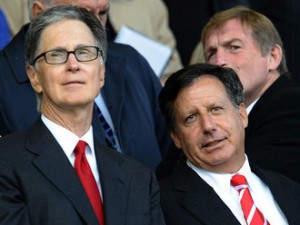 'So 3% think we're going in the wrong direction eh John?' 'I'll take that Tom … and we know where they live.'
Conclusion
This was intended to be a snapshot survey of Liverpool supporters' perceptions and views on progress under FSG. It was conducted before the end of the transfer window so that perception of overall progress wasn't unduly influenced by one transfer window. Twitter was used as the mechanism to get a wide range of views; but of course, this survey is only meant to be indicative and is not meant to be fully representative of the fan base.
The perception amongst the majority of respondents seems to be favourable to the direction the club are taking under FSG. There are of course real concerns about the speed of progress, and not everything the club is doing sits comfortably with all fans.
But if the views represented in the survey are in any way indicative; it is promising that there appears to be a good sense of unity behind the club, which is good to see considering the turmoil the fan base has been through.
Thanks to everyone who completed the survey, further analysis will be in the discussion thread for subscribers.