By TTT Subscriber Neil Mundy.
For many, the jury is still out on Brendan Rodgers as Liverpool manager, but one assertion that most fans – pro-Brendan, anti-Brendan or on the fence- would agree with is that the team's goal scoring improved under his management last season. From an admittedly meagre total of 47 goals in 2011-12, the Reds recorded an impressive 71 strikes last season – that's a 24 goal or 51 percent increase, which is no mean feat.
However, I got round to wondering, how many of last season's goals were decisive? A fair few of them seemed to arrive as 'icing on the cake' goals as the Reds either carried out a drubbing of mid-table or lower opposition (here's looking at you, Newcastle), or as consolations in defeat. How many of them helped to decide a game in Liverpool's favour, or at least earn a point? I decided to have a look at the fixtures the team scored goals in last season to find out.
(Note: I have termed a 'decisive' goal as any strike which has made a contribution towards the team either winning or drawing a match. For example: the first three goals in the 5-2 win over Norwich last season are classed as decisive, because the opposition scored two goals, therefore we needed to score at least three in order to win the match. Similarly, only the first goal in the 5-0 rout of Swansea counts as decisive, as the opposition failed to score and in a sense this is the only goal which is classed as 'necessary'. I recognise this discounts the possible psychological impact of a second or third goal, but felt that this was probably the fairest system to use overall. I've restricted these figures to including just goals from Premier League matches, as these are likely to be our priority for the coming season)
By these criteria, Liverpool scored 37 decisive goals in last season's Premier League, just over half of the total goals scored. I've taken a look at this on a game-by-game basis, however rather than boring everyone with a large list of fixtures, I've broken it down into the individual player results, as shown in the table below: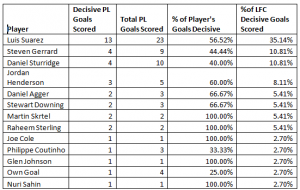 The rest of this article is for Subscribers only.
[ttt-subscribe-article]