By Mihail Vladimirov.
Neither manager made big changes either in terms of formation or personnel, based on their previous games.
Liverpool were unchanged from the last game at Newcastle. For the visitors, Moyes made only one change, welcoming back Gibson to play alongside Osman in midfield. With Fellaini pushed forward, Jelavic had to make way and was benched. The formation was the usual 4-4-1-1, having played with 4-4-2 last week against Fulham.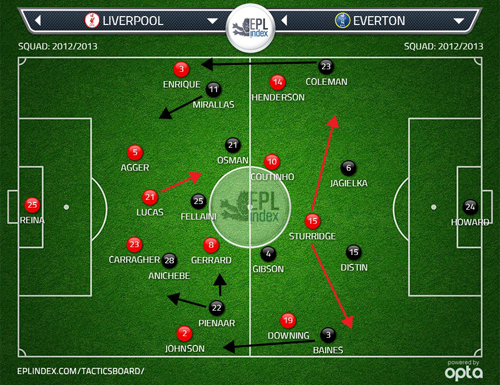 Although the match lacked the usual spark, drama and entertainment that we come to expect from this fixture, tactically speaking the game proved to be really exciting. That interest comes mainly from the fact neither team played with the expected strategy and specific patterns of play as touched on before the game. Briefly said, it was largely anticipated – given the incentives for each team (Everton to hold on the five point gap, if not extend it; Liverpool to try and narrow it in order to have the chance to leapfrog Everton in the next two games) – that Everton would defend and Liverpool would attack. But as it turned out, it was a case of the teams blurring and even 'swapping' their expected roles in the game.
Liverpool's conservative approach
Not only did Liverpool have to win this game to stand any realistic chance of catching their local neighbours, but given their recent results and the season as a whole, it was expected the home team would be 'up' for this game, trying to impress by assertively dominating and categorically going for the win. For this to happen, logically, a more positive strategy, geared up towards setting and maintaining a dominant position, would have been needed. More so as the starting XI suggested that the successful tactical behaviour shown last week was going to be replicated in order to search for a similar tactical effect and general outcome.
But as soon as the game started and the usual chaotic opening minutes were over, Liverpool appeared to be playing in a completely different manner.
The first sign of something different happening, as a general strategy, came in relation to Henderson's role. Previously, whenever he played on the left in that 4-2-3-1 shape, he played very narrow and as a fourth central midfielder. Here, however, he was stationed much wider as a proper left winger. On the other side, Downing too was playing much wider than usual. Even on the ball, given both players were playing on their wrong foot, they passed predominantly down the wide areas and went into combinations mostly with their respective wide partners. Only when in deep defending positions did Henderson try to ping the ball with passes switching the play (as, for example, that 50-yard pass to Sturridge in the sixth minute).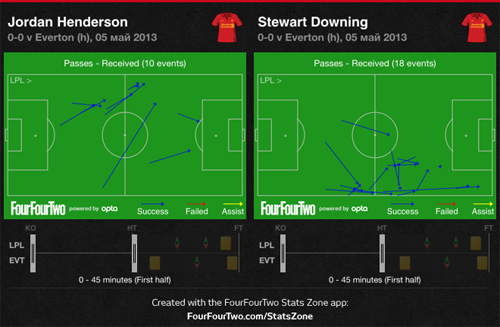 Presumably Rodgers' idea behind this was to have his wide players occupying Everton's full backs. So it could be said that Liverpool sacrificed the usual lopsided shape played with that XI, and the capability to boss the possession, for increased defensive stability and emphasis on nullifying two of the opposition's tactical weapons. However, this didn't go according to the play; several times both Baines and Coleman managed to skip past their direct opponents and move forward. Although Everton's left back was the one receiving the ball more often, it was actually Coleman who was the more dangerous proposition. The majority of the passes he received were deep in Liverpool's half, showing how Henderson was unable to fulfil his intended defensive role. All of this prompted Enrique to lose his temper in the 24th minute and yell at Henderson for how poorly he was marking Coleman and how often he left him to burst forward completely free. In that particular situation, Coleman had just sneaked past Henderson and was in a very dangerous position on the edge of the box to the byline, threatening to send a cross for Mirallas around the penalty spot– and by all accounts, it was going to result in a clear goal-scoring chance for the Belgian winger if it hadn't been for Enrique's reaction.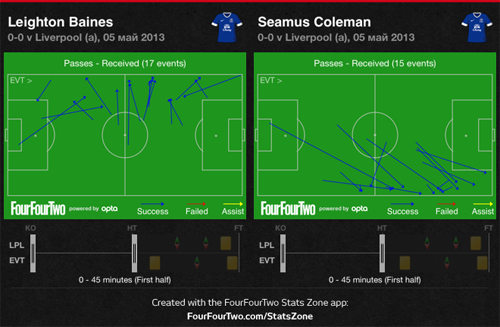 The rest of this post is for Subscribers only.
[ttt-subscribe-article]