By Paul Tomkins
Of late a few people have accused me of being anti-Rodgers; even going so far as to say that I hate him. Even remarking on Twitter a few weeks ago about Jupp Heynckes being a free agent this summer despite possibly leading Bayern to a remarkable treble was translated as "advocating that he replaces Rodgers".
No, it was pointing out that a brilliant manager, who, if he decides against retiring, will be free after a quite remarkable season.
The Heynckes debate got me thinking. In truth, how can I tell the difference between Rodgers and Heynckes? They are different managers at different stages of their careers in different countries who have faced different situations, and most of their weekly work is done behind closed doors. Even if they had identical talents and approaches, they are using different sets of players (and in Bayern's case, a far better set).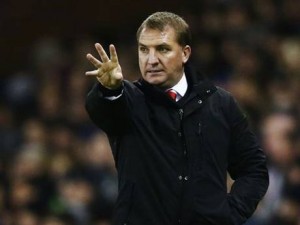 Like all other managers they have their own philosophies, and tactics, but it's what each does with them that counts. Managers are judged on results because everything else seems rather abstract. "He's a good man-manager". Well, does it show in the results? "He's a good tactician." Well, does it show in the results? "He's had 35 years experience." Well, does it show in the results?
You have to put those results into context, but that's the hard bit; that when it starts getting subjective.
People seem to mistake my ambivalence over Rodgers for negativity. I still haven't formed a solid opinion on the current Liverpool manager. Some things he does I am genuinely impressed with. Others leave me nonplussed. Of course, I don't think we should have to understand a manager's ideas. I don't understand medical science, after all; I just expect my doctor to know his stuff, and to get results.
So far, Rodgers' overall results are worse than last season's. He's won 23 from 52 games (44%), when last season Liverpool won 24 from 51 (47%). Liverpool's cup games, bar this season's tie against Udinese, were clearly more difficult on the whole last year: City (twice), United, Chelsea (twice) and Everton. Equally, Liverpool have marginally improved in the league, and are scoring more goals overall. If you label this a transitional season, then it it's hard to call it a failure. But then it depends what the targets are during a transition.
Hand on heart, if you told me that Rodgers would definitely be Liverpool boss next season, I'd be fine with that. And if you told me that he was to be replaced by someone of Heynckes' calibre (if not necessarily Heynckes, who is 67 and speaks no English), I'd be fine with that. I am neither convinced that Rodgers is the right man nor that he's the wrong man.
It probably took me six months to fully click with Rafa Benítez (at which point I became convinced he had something special) and about three games with Roy Hodgson (at which point I would rather poke my own eyes out than watch his football again). With Rodgers I vacillate, and in many ways that's my problem, not his.
I get plenty of tweets telling me Rodgers is "shit", or worse. But I don't understand the antipathy. People have decided that because he brought a certain level of success to Swansea, that means that mid-table is his level. To me, his achievements in Wales proves he did a fine job, and indicate that he's a good manager.
I don't think Rodgers is mediocre,  or worse, as so many like to tell me. But he is still, in many ways, unproven.
As things stand, proof of Rodgers' qualities only stretches so far. He has no trophies, and he's never tasted the top six of the Premier League. My problem is that, almost a season into his Liverpool tenure, I'm no clearer as to his true level. I'm pretty sure that he's better than his critics suggest, but equally, I don't know how brilliant he is.
Liverpool have been breathtaking at times this season, but also have a dreadful record in the 'bigger' games. The XI is far better now than a year ago, especially with injuries meaning that Spearing and Adam were the two most frequent central midfield starters in 2011/12, and Suarez scored one goal in five months from the day of the Evra incident, only returning to form once his ban was out of the way. With worse players, and greater distractions, the team of Dalglish and Clarke got better results.
Since January Coutinho and Sturridge have added new dimensions, and a true cutting edge – both have a good amount of goals and assists – although Liverpool have also started drawing blanks (and drawing games) in recent weeks.
While I'm all for focusing on getting back into the top four at the expense of cups (in that my belief is that the Champions League is a virtuous cycle, attracting and paying for better players so that you can compete in all competitions), so far Liverpool have swapped cup success for one place in the league table.
Liverpool are now much better at home – a major problem last season – but only marginally better off in the league table. And yet you could quite legitimately, argue that Rodgers is starting a project; in which case you say that instant success is not to be expected.
Success
Most successful managers at the top end of the 'modern era' Premier League have certain traits, certain achievements under their belts.
Two things that stick out are, a) previous notable success, and b) doing something remarkable in terms of impact in their first year. Most can boast one or the other, and some can boast both. There's also a third factor, which I will come to later.
First, prior success. Before arriving in England:
Ferguson had Aberdeen, where he broke up the Rangers/Celtic duopoly with two league titles and four domestic cups, and won a European trophy.
Wenger had Monaco, where he won the league, the cup and took the French team to the latter stages of the Champions League.
Ancelotti had two Champions Leagues, a Serie A title and an Italian cup.
Benítez broke up the Barcelona/Real Madrid duopoly with two league titles in three seasons, and won the Uefa Cup.
Roberto Mancini had three Italian league titles with Inter and had won the Italian cup with three different clubs.
Jose Mourinho had two league titles, the Portuguese Cup, the Uefa Cup and the Champions League.
And while he's not quite up to the same standard, Gérard Houllier won the title with PSG.
The same applies to Claudio Ranieri, who is below the standard of the other managers in terms of trophies (he's never won a league title), but he had won cups with Fiorentina and Valencia.
I believe that these are all of the managers to finish in the top two (having managed the whole season) since Wenger's first full season in 1997/98. That's fifteen years of top two spots limited to eight managers.
All of these successes were achieved with different circumstances and different resources. Therefore they are not easily compared with one another. Perhaps weaker managers could have matched some of their achievements, given the budgets some had to work with. Still, they in the record books all the same.
Some subsequent "failures" arrived with good CVs, too. Andre Villas-Boas at Chelsea, and at the same club, Phil Scolari. Previous success is clearly no guarantee, although neither of those were given full seasons. But does it help with future success? With all of the best jobs going to men with impressive records, it's hard to know how the likes of Rodgers would do across a larger sample size. It's a bit chicken and egg: do they not get the jobs because they are not good enough, or do we never get to know if they are good enough because they never get the jobs?
What's also true is that some of those managers achieved their first home-country success "out of nowhere". Benítez, Mourinho and Villas-Boas were given jobs at Valencia and Porto based on potential. Their previous records, and their ages, when racking up those home-league successes were not so different to Rodgers' in the summer of 2012. They were appointed because someone saw something in them. All three won the title in their first season, although in the case of Porto, they often win the league.
Di Matteo, who joins the list of eight by virtue of his Champions League success, had no great credentials (he was similar to Rodgers in getting a smaller club promoted) but did something incredible in his first season, even if he took over when some of the hard work had already been done (it was March, after all).
Mourinho also did something incredible in his first season at Chelsea: winning the title with a record 95 points (plus the League Cup). Ancelotti did something incredible: winning the double, with his team scoring a phenomenal 103 Premier League goals. Benítez did something incredible: winning the Champions League against all odds with a side containing players like Djimi Traore and Milan Baros (and he also took a young team to a second final). In Wenger's first full season (1997/98), he led them to the double, playing some of the best football England had ever seen. Admittedly Alex Ferguson didn't do something incredible in his first full season (1987/88), although he did take them to their best finish for almost a decade (2nd, with their last appearance in the top two in 1979/80) before falling away for a couple of seasons. And it may be a stretch to include Mancini's FA Cup in his first full season (2010/11), but it was their first trophy in decades, and that can be a mental hurdle to overcome. Clearly the investment in players was behind much of their improvement, as it had been with Chelsea, but Mancini instantly put a trophy on the table on top of Champions League qualification.
So seven of the nine made significant first season impacts in England, either in the league, the Champions League (or both), and with one landing the FA Cup. Of the two exceptions, Gérard Houllier, did partially improve Liverpool in his first season in sole charge, but not to any remarkable level, and Ranieri, who didn't make much of an impact until his final season. Houllier second full season, 2000/01, was his most memorable, with a fairly remarkable treble.
(Note: Ferguson, Wenger, Houllier, Mancini, Ranieri and Di Matteo all took charge midway through a season. Only Di Matteo made a significant impact in this initial part-season, and perhaps starting your first full season after a few months getting to the know the club and the players is helpful. Of course, Rodgers' replacement at Swansea – Michael Laudrup – also did something remarkable, based on their resources and history, in landing the club its first-ever trophy. For context, he was building on the good work of Rodgers, who got them promoted, but then Rodgers was also building on the good work of others.)
The third factor is 'player cachet'. This is perhaps the least important, but having played at a massive club, and having represented a major international nation on many occasions, can surely help a young manager acclimatise to the pressures and expectations of clubs where success is expected (with the expected success often out of keeping with reality). Of the eight managers discussed, only three had that level of cachet: Ancelotti, Mancini and Di Matteo (all Italian internationals, incidentally, but none world-class, averaging about 30 appearances apiece).
In recent times we've become accustomed to "non players" like Mourinho, Villas-Boas and Benítez landing top jobs. Like Rodgers, these are men who spent their 20s studying the sport in great detail, at a stage when a lot of players were just thinking of their own game. With Wenger and Ferguson also far from great players, but having played in their country's top division, clearly we now accept that having been a big name player is not essential in the modern age.
However, a lot of big-name ex-players are amongst the most successful young coaches this season: Antonio Conte has just led Juve to another title, having played 419 league games for the Old Lady. (In his first year in charge he won the Serie A title, having been appointed on the back of Siena finishing runners-up in Serie B). In each of his three seasons as Ajax boss to date (his first managerial job), Frank de Boer won the league title. No-one needs reminding of Pep Guardiola's credentials, and of course, at the other end of the spectrum, Jupp Heynckes, now 67, played many times for West Germany. On top of these, Ancelotti is cleaning up in France, albeit with riches. In Italy, Vincenzo Montella is making waves with Fiorentina.
Of course, most of these are big clubs, used to success, or laden with new money. Perhaps Jurgen Klopp is the standout, as someone who wasn't an international footballer. He did play hundreds of league games, but at lower levels. He is the obvious model for Rodgers, with Dortmund the obvious model for Liverpool.
Even Klopp did something remarkable in his first year at Dortmund: virtually doubling their points tally in lifting them from 13th to 6th. So that seems clear.
But then they only moved up to 5th the next season, and perhaps what we're seeing with Rodgers is that stage of Klopp's team development. But as with all of these examples, the situations are different, so nothing can ever be certain.
A worry with Rodgers would be that the first season is a good chance to excite and inspire your players, and your fan-base. I don't think Rodgers has succeeded in that sense, although unlike Hodgson, for example, he hasn't terrified those who watch the Reds.
Clearly being an ex-player isn't essential (Mourinho, Villas-Boas, Benítez). Clearly you don't have to make a significant impact in your first season, although of the nine singled out as top-two finishers and/or Champions League winners, only two (Houllier and Ranieri) failed to pull up any trees in his inaugural full campaign, and both of those managers are good rather than great. You don't have to have had previous top-level success, as Di Matteo showed.
But out of the three categories (which you might find random, but I think have some validity), seven of the nine have ticks in two of the three columns, and Mancini and Ancelotti tick all three.
Rodgers, alas, has none. He has no notable prior success at the sharp end of a top league as a manager; he has not made a significant impact in his first season (fractionally better in the league, worse in the cups); and he was never a player.
This is not to say that he has no skill, no talent, no potential. What he achieved at Swansea was very commendable, although if we laud managers who gain promotion as greats, we need to talk about Steve Bruce, Neil Warnock, Phil Brown, John Gorman, George Burley and assorted other mediocre managers.
Of the managers to finish in the top four this millennium, but not get any higher than third, there's been David Moyes, Bobby Robson, David O'Leary and a cluster of Chelsea managers. A fairly mixed bunch, although none of those, bar the Chelsea ones, have come since 2005. Clearly it's getting tighter at the top, with Spurs now a better side (based on selling well and reinvesting smartly), and Manchester City's wealth making them shoo-ins for the top four. Perhaps it is this group of managers against whom Rodgers should be judged. However, without oligarchs and sheiks as owners, Liverpool need to rely on their manager's wits.
Some of the Reds' attacking play this season has been excellent, with the goals scored and the number of clean sheets kept both impressive. The problem has been that a lot of the goals have proved fairly meaningless (some big wins that served only to boost goal difference), and when the Reds haven't kept a clean sheet they've tended to concede two or more.
Of course, there almost certainly wasn't scope to storm the top four anyway this season; it was an outside chance at best. And not being an ex-great hasn't hampered other managers.
I guess my uncertainty – and uncertain is what I am about Rodgers, rather than decided either way – stems from the fact that the cachet he lacked from not being an ex-player and not being a title-winning coach in a major league has not been redressed by anything remarkable this season.
No remarkable improvement in the points tally.
No remarkable cup exploits.
No remarkable victories against the odds or biggest sides, with a home win against Spurs the most celebrated result. (One win in fourteen games against the other seven teams in the top eight.)
Some excellent performances, particularly in a spell of home games against poorer sides, but nothing out of the ordinary when the heat was on. Nothing to scream that Rodgers is the future, just as there's nothing to scream Rodgers is the past.
Rodgers has had to deal with far fewer injuries (for which he and his medical team deserve credit); he's spent c£40m net but lost Maxi, Bellamy and Kuyt; and he did not (until bitegate when the season was all but done) have a massive Suarez sideshow; nor did he have two runs to cup finals to detract from league form. However, unlike Dalglish, who had 14 years, plus 18 league games at the end of 2010/11, he has had to get used to Liverpool FC. I also don't think Being: Liverpool helped his bedding-in period or his credibility.
So comparing with last season is fraught with pitfalls due to radically different scenarios, albeit many of which arguably favour Rodgers.
We all think that building a great side takes time, and it does.  And perhaps what Rodgers is doing is building a great side (although until the future, who knows?). But there's also that crucial initial impact, when fresh ideas fire the players with enthusiasm. That hasn't quite happened, at least in terms of results.
On the plus side, Rodgers seems to have a certain level of respect from his players. He's a good man-manager, so they like him. He has bright ideas, such as enlisting the help of Dr Steve Peters. But do the players believe he can lead them to glory? Hopefully they do, but they are having to take a leap of faith, just like a lot of the fans.
Future
I don't believe in chopping and changing managers. Equally, I don't think you stick with a manager for the sake of it. If there's someone better out there, you have to consider it. It doesn't mean you have to make that move. It's the same with players: if someone better is available, wants to come and you can afford him, you make the move. Changing manager is obviously more disruptive than replacing a full-back, but if you have a consistent vision at the club, and don't chop and change between incompatible football philosophies, then it needn't be disastrous. And it's not like Rodgers is the only manager in Europe whose team can pass a football.
Can Liverpool attract the best players? Obviously the very top tier are hard to procure, but it's still a special club in the eyes of the world. Both Suarez and Coutinho agreed to join, as did Sahin, although he left distinctly unimpressed with Rodgers (although he didn't appear too eager to do all he could to impress).
You could argue, however, that a big-name manager would help matters. It's not necessarily Rodgers' fault that he's not yet a star manager, but are players eager to come and play for him? Or is the club's fame on its own still enough of a draw? I don't think Liverpool should stick with Rodgers simply because no-one better would say yes. (There are good arguments that can be made for keeping Rodgers, but I'm not sure this is one of them.)
The way I look at it, if you're a top manager, would you be put off joining Real Madrid, Barcelona, Juventus, AC Milan, Ajax or Bayern Munich if they were 7th in the table?  Do you still think it would be great to manage Brazil, even though these days they're ranked 19th in the world right now?
Liverpool still has the magic of a great name and still has those five European Cups, dozens of other trophies, 18 league titles and the most famous stand in the world. Clubs that have been in European finals over many different decades have an aura about them. Liverpool remains such a club. It's had a difficult few years, and miracles should not be expected. But mediocrity (if that's what this season has been) should not be easily accepted, either.
Part of me feels that if Rodgers goes out and replaces Carragher, Downing and Enrique with three better players for the XI, this team could really click into gear. And another part of me remains unsure about his killer instinct. Is he a winner? I think he has a pleasing edge to him, in that he can seem a bit steely. But I need more proof.
Whatever happens, next season needs to be better. If you want to write this off as a transitional season, then who am I to argue? But next season needs a proper challenge for the top four, even if the Reds fall narrowly short. The good news is that summer always brings fresh optimism, and unless FSG bring back Roy Hodgson, I'm already looking forward to next season, whoever is in charge.