By Chris Rowland.
Here we go then – our first monthly spin on the insane transfer gossip merry-go-round we could call The Tomkins Times Transfer Talk Tracker (or T6!). The plan is to make it a regular monthly event, if my sanity holds up.
Some conclusions sprang to mind in the process of compiling it; that most of the usual sources swap stories and report today what someone else reported a few days ago; new rumour and old rumour merge; and if this is what it's like now when the transfer window is closed and boarded up ….
I will provide the sources of the stories that I came across them from, though that's not to say they didn't appear somewhere else before or afterwards, such is the nature of the transfer gossip machine. I make no attempt to sift rumours in terms of credibility – I'll leave that to you – I'm merely reporting their existence. Besides, they can only be proved if the transfers happen or the player involved signs for someone else. Spurs probably.
Anyway, enough preamble, let's get March got off to a distinctly underwhelming start (it gets better, much much better). Under the headline Defender on Liverpool's radar, was … Reading's Alex Pearce (Clubcall March 4):
Liverpool are said to be closing in on a summer swoop for Reading defender Alex Pearce as he stalls on signing a new deal. Reds boss Brendan Rodgers is known to be keen on Pearce and will need to land at least one more centre half as Jamie Carragher will retire at the end of the season. (media logic – a central defender is known to be leaving, therefore any available central defender can feasibly be linked. That's how it works.). Pearce has been in fine form for the Royals this season but there were signs his mind could be elsewhere when he had a poor game in the recent 2-1 defeat to Stoke City, when boss Brian McDermott (oh how quickly these things date – Ed!) said he could have done better for both goals. The defender was then left out of the side but returned at the weekend as Reading slipped to a 3-1 defeat at Everton to leave them deep in relegation trouble
Well we all agree we want central defenders don't we? But maybe not this one?
From the ridiculous to the … well, probably equally ridiculous: Alexis Sanchez of Barcelona. According to TalkSport on March 5:
"Napoli have joined Liverpool among the growing pack of clubs chasing Barcelona forward Alexis Sanchez." The 24-year-old Chilean international has struggled to nail down a first-team place. However, he is still highly rated in Italy, with Juventus and Napoli both keen to rival Liverpool in order to bring him back to Serie A. Despite being contracted to Barcelona until 2016, he has been tipped to seek pastures new at the end of the season, although the Spanish giants will be looking to reclaim a large portion of their initial £23m outlay."
Next, a goalkeeper – Simon Mignolet of Sunderland, if Clubcall on March 5 is to be believed:
Liverpool have joined the race to land goalkeeper Simon Mignolet but Sunderland want to keep him at the Stadium of Light. Both Manchester United and Arsenal have also been linked with the Black Cats number one and Sunderland boss Martin O'Neill (oops out of date again) is desperate to get him tied down to a new deal as quickly as possible. Clubs have noticed they could land Mignolet on the cheap as he is still on the same contract that he signed back in 2010 and interested parties are aware they can offer him a massive pay hike. His agents claimed at the weekend that he would look to move to a bigger club to increase his international chances, a claim denied by the player himself, but with Liverpool now joining the race Sunderland are in a rush to get him tied down to a new deal.
And if you want to know why we'd want a new keeper, the Daily Mail was there to retread this old story on March 28th; that's how Transfer 'What if?' gossip works; if rumour A turned out to be true then there'd be substance in Rumour B. And so if feeds itself, gorging relentlessly:
Arsenal are planning a summer of changes which will be helped if Galatasaray make a £12million bid for striker Gervinho.  The Turkish side are keen after seeing the 25-year-old impress during the African Nations Cup with Ivory Coast. Arsenal have shown interest in Galatasaray's highly-rated goalkeeper Fernando Muslera, 26, but Liverpool's Pepe Reina remains their preferred choice.
Apologies for that sudden deviance from chronology, it won't happen again. Probably. Next, the Ashley Williams saga – and I don't use that Norse term for epic tales of oral history lightly. There's been a lot on this one, you might say. Even Aldo thinks it's a good idea.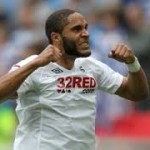 But we face competition from Arsenal, said The Guardian on March 5:
Arsene Wenger wants to sign Ashley Williams from Swansea City at the end of the season having lost faith in his central defensive partnership of Thomas Vermaelen and Per Mertesacker. Wenger has identified the Wales captain as someone with the leadership qualities to control and organise Arsenal's defence in a way more reminiscent of when the club built a large part of their success on having a dominant figure such as Tony Adams, Martin Keown or Steve Bould in the heart of their back four. Arsenal face competition for the 28-year-old Williams from Liverpool, with Brendan Rodgers also prioritising the signing of at least one established centre-half in the summer and keen to recruit a player he previously managed at Swansea. Williams, contracted to 2015, would cost in the region of £8m. Williams has been an integral part of Swansea's success since joining the club from Stockport County, in the Roberto Martinez era, establishing himself over the last five years as a key figure in defence with his reading of the game and ability to organise and take responsibility.
The Daily Mail resurrected this as a new rumour 23 days later, on Mar 28:

Arsenal are pressing ahead with their interest in Swansea defender Ashley Williams. The centre back has had an impressive season for Michael Laudrup's side, and his performances have alerted Wenger and his influential chief scout Steve Rowley. They will follow up their interest with a bid this summer, but will face stiff competition from Liverpool, where former Swansea boss Brendan Rodgers is keen to be reunited with Williams. Sources close to Swansea's skipper claim the Wales international will find it difficult to turn down the chance of a move to a more high-profile club this summer.
One of oldest retreads of them all came fromTalksport on that very productive March 5:
Liverpool could already be making moves to strengthen their squad ahead of next season, with stories emerging that the Reds are weighing up a move for CSKA Moscow attacker Keisuke Honda.

Juventus are said to be just as keen as Liverpool, however, so a move isn't likely to be straightforward. Honda was the flavour of the week back in the 2009-10 season, when his brilliant free kick sent CSKA through to the Champions League quarter finals at the expense of Sevilla, and he had been linked with Arsenal in particular prior to his move to Russia. These days, the Japanese star is said to be unhappy with his current situation in Moscow, and is unlikely to sign a contract extension before his deal runs out in the summer. Reports claim that Liverpool are keen to tie him down to a pre-contractual agreement as a result, but Antonio Conte's high-flying Juventus may have enough to out-muscle the Reds.
A day later and The Mirror and TalkSport were linking us with Valencia left back Aly Cissokho. The Mirror's flippant headline 'Love me do! Valencia full-back Aly Cissokho delighted with talk of Liverpool link' and the first line below set their tone :
The France defender has always wanted to play in England, Liverpool are very special, his favourite food is a steaming pot of Mum's scouse etc.

Valencia full-back Aly Cissokho has issued a demure 'come and get me!' notice to Anfield boss Brendan Rodgers after being linked with a possible move to Liverpool, according to reports. "I've never hidden the fact that the English league is the one that attracts me the most. It's pleasing to see my name linked to Liverpool," Cissokho told Le Parisien newspaper, according to an ESPN report.  "They're a great club, and not just anyone can wear that shirt. But it's still just an article in a newspaper." And looking ahead to tonight's Champions League showdown against PSG, Cissokho added: "When I was little, I was a Manchester United fan [yup, that's how to win over the fans of the club you're eyeing!]."
That rumour resurfaced in the Daily Express on March 28, only this time Liverpool face competition fromTottenham and Everton.
According to Portuguese sports paper A Bola, Spurs and the Toffees are 'at the forefront' of the clubs interested in the French international.
Which just goes to prove Leighton Baines is going to Utd of course.
Next, a big one which keeps coming back; first spotted in the London Evening Standard on March 7 (first in March, that is, it's been around for ages before that). It's Christian Eriksen of Ajax.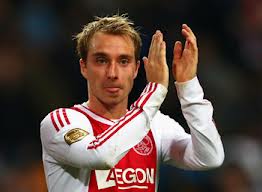 The Standard reported that
Spurs hope Jan Vertonghen's the man to convince Ajax ace Christian Eriksen to join them over Liverpool 

Tottenham and Liverpool are set to fight it out for Ajax midfielder Christian Eriksen after it emerged the club are ready to sell their prize asset this summer. Standard Sport can reveal that the Dutch club expect Eriksen to join an English team at the end of the season, following their decision to cash in on the 21-year-old Dane, who has refused to sign a new contract. It is understood Liverpool and Spurs have sent scouts to watch Eriksen "almost every week", according to a senior source at Ajax, with Arsenal, Manchester United and Barcelona no longer interested. The Gunners are thought to view Eriksen as a similar player to Santi Cazorla and Jack Wilshere, both of whom prefer to play in the same advanced role behind the strikers. Similarly, United's purchase of Shinji Kagawa is thought to have ended their advances for Eriksen, who is the same type of player albeit younger. That leaves the way clear for Spurs and Liverpool to act. Tottenham chairman Daniel Levy is thought to be confident of driving down Ajax's £14million asking price to somewhere closer to £8m given Eriksen has just one year left on his current deal. However, negotiations are yet to begin, with all parties happy to wait until the rest of the season safe in the knowledge Eriksen has now privately confirmed his intention to play in England. A senior Ajax source said: "Christian wants to play in the Premier League and we think he will do well there. The club had discussed the option of keeping him until the end of his contract but it makes sense now to sell. "Liverpool and Spurs are scouting him almost every week. Arsenal are no longer interested and Man United are not on the scene. The club will not let him go cheaply so there is a long way to go but it seems likely he will move to Tottenham or Liverpool." Spurs are hopeful that Jan Vertonghen's relationship with Eriksen could prove influential. The Belgian played alongside Eriksen last season and last December he claimed his former team-mate would be well suited to English football. Vertonghen said: "Technically, he's one of the best players I've played with. He can use his right foot and his left foot equally well."
The Mirror and Sky Sports confirmed the rumour on Mar 29, with The People and Sporting Life joining in on March 31 for good measure. Sky Sports said that "Marc Overmars has confirmed Liverpool have been 'frequent visitors' to Ajax this season amid reports Christian Eriksen is Brendan Rodgers' top summer transfer target.Reports in the Dutch and English media have subsequently claimed that Liverpool are favourites to snap up Eriksen in a transfer worth around €20million (£16.9m). Ajax technical director Overmars would not comment on the transfer rumours, but acknowledged that Liverpool have regularly had scouts watching their games. "We have a list of scouts from foreign clubs who have visited us and Liverpool have been a frequent visitor," Overmars told De Telegraaf.
Then the Sky Sports piece segued into another pair of rumours (if 'pair' is indeed the appropriate collective noun for rumours – 'an invention of rumours', perhaps?)
"Meanwhile, speculation has also suggested that Shakhtar Donetsk's Henrikh Mkhitaryan and Newcastle United winger Hatem Ben Arfa are alternatives for Rodgers if the Liverpool manager fails to land Eriksen."
More on Henrikh Mkhitaryan later.
The rest of this article is for Subscribers only.
[ttt-subscribe-article]