By Paul Tomkins.
I can't recall too many seasons like this one in recent times. In fact, you probably have to go back to the end of the last millennium to experience something similar. To put it simply, not a lot that's really good or really bad has happened on the pitch. And there have been no real dramas off it, either.
Gérard Houllier's first full season in sole charge, 1999/2000, was probably the closest to this one in that respect. And even that had the near-miss of Champions League qualification as its climax. So arguably you need to go yet further back, back to the '90s. (And even then, I can only think of one campaign that was as non-eventful as this.)
This season has limped along – some very good football, some not so good football, some fine results, some not so fine results – and yet almost nothing of note has happened. Nothing awful, and nothing remarkable. The initial stage of the season had Liverpool at the foot of the table, but performances at that point were good enough to remain optimistic, and the fixture list had been as cruel as it can be. Since then Liverpool have been stuck outside the top six, going nowhere in the table. The comeback against Spurs aside, there haven't even been any remarkable wins against the best sides around.
It's been so middle-of-the-road that you can argue with equal merit that Rodgers has made no significant impact whatsoever and that he has laid the foundations for a better campaign in 2013/14.
In some ways the lack of real, jaw-dropping drama is to be welcomed, given that over the past few years there's been too much of the bad kind for one football club. The last four years alone have seen more incredible events than most clubs manage in a lifetime.
This season has simply failed to spark into life. Liverpool were out of contention for the top four and all three cups by the end of February. There has been nothing to play for, bar pride, for the final months, and also, no sackings, takeovers, racism storms or major transfer issues. (Players have come and gone, but nothing too newsworthy.) It's all been rather dull, even if the Reds' attacking play has generally been fairly exciting. Truth is, it's not really led anywhere, as things stand, due to poor defending, erratic finishing and clear inconsistency.
Go back every season for well over a decade and something notable happened during the campaign itself, from some incredible highs to some unbelievable off-pitch issues, many of which were lows. In 2011/12 it was two cup finals and the shock dismissal of Damien Comolli in March.
This rest of this post is for Subscribers only.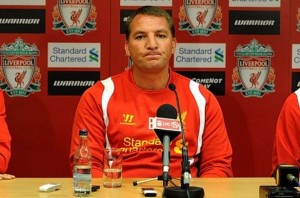 [ttt-subscribe-article]