Written by Mihail Vladimirov. 
Both teams lined-up largely as expected (with identical 4-2-3-1 formations), except a few niggles for Liverpool prevented them keeping an unchanged XI.
The Saints made only one change from their last game at Norwich, Clyne returned to right back, Yoshida moved central and Jose Fonte was on the bench. Pochettino continued with his usual template: a converted centre-forward on one flank, the other occupied by a more natural wide man, looking to add numbers in midfield.
For Liverpool, Reina was still injured, coupled with Carragher and Lucas also carrying knocks that prevented them starting. Skrtel and Allen came into the side, with the rest was the same as the Spurs game.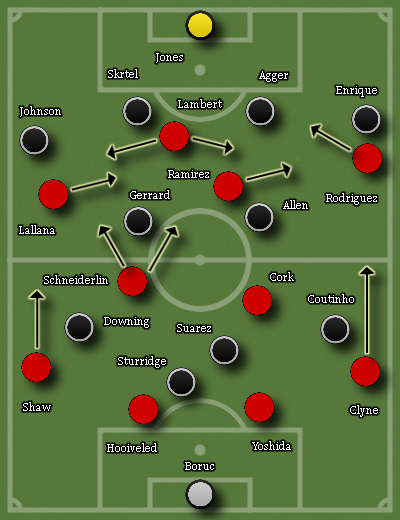 Southampton dominating
Right from the start, it was very obvious which team would have the upper hand. As anticipated, the home team's pressing was the key factor that unlocked their general strategy, leading to their overall dominance with and without the ball.
The team pressed aggressively from high up the pitch, with the required organisation and understanding to do it by units. This enabled the Saints to simultaneously close down the player on the ball (putting him under pressure and forcing him into rash decisions) and also the nearest zones around him, denying the potential out ball. This was done by the usual system of having the general 4-2-3-1 formation morphing into a clear 2-4-4 pressing shape. This way Southampton's front four closed down Liverpool's back four, but also occupied the midfielders and the wide players man for man.
Seemingly the main effect of the whole pressing procedure was geared up towards the second ball. This means that the pressing quartet's job was to close down Liverpool's back four, force them out of their comfort zone by denying them space and time on the ball while not allowing them to simply recycle from deep, unengaged. A consequence would be rash passes, which at times seemed more like panicked clearances. Then it was the second quartet's job (the two midfielders and the fullbacks) to regain the ball and immediately start a counter-attack by passing to the remaining quartet higher up the field.  It can be seen from the chalkboards below how even the fierce pressing from really high up the pitch was; the majority of the tackles and interceptions were made around the centre – the so called second ball.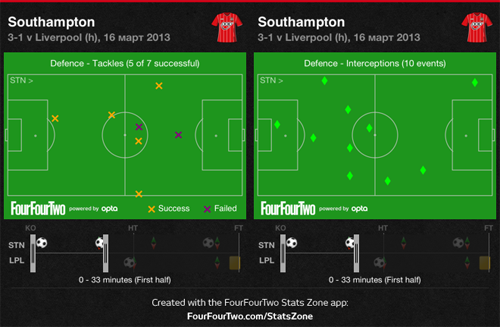 But Southampton weren't so rigid to focus just on pressing and counter-attacking. In essence they also showed the template of how to play creative and assertive football with the ball when going forward, within the 4-2-3-1 framework. This was in no small part thanks to their fluency on the ball, in terms of passing patterns, married with the specific fluidity and cohesion exhibited by intelligent off the ball movement.
The rest of this post is for subscribers only. 
[ttt-subscribe-article]