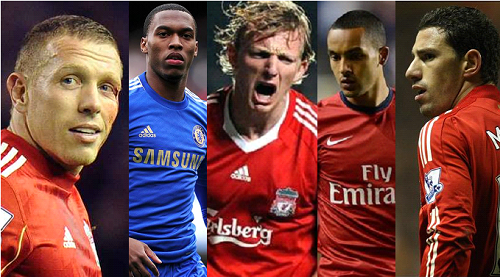 By Krishen Bhautoo.
For all the pretty play and 'death by football' tactics we have seen this season, one of the problems under Dalglish has been transferred to Rodgers' team: severe lack of goals. This isn't to do with us not having enough shots as (according to WhoScored.com) we have had the most shots per game in the league with 19. In comparison, Tottenham and Arsenal have 16.9 and 15.9 respectively.
To continue the comparison, we have 5.1 shots on target per game (7th highest in the league), with Tottenham having 5.9 and Arsenal 5.2. We aren't a million miles away in this respect. If you extrapolate this over a season, we will have just four fewer shots on target than Arsenal but 30 fewer than Tottenham. With our chance conversion currently standing at 10%, this means we could end up with three fewer goals than Tottenham or potentially six points if those goals would have turned draws to wins.
Also, with having 19 shots with just 5.1 of those on target, we have the worst shot accuracy in the league with just 27%. Arsenal and Tottenham enjoy 33% and 35% respectively. I'm not certain we can blame this on a 'lack' or clear cut chances as 53% of Tottenham's shots have been made from outside the 18 yard box (the most in the league). But the number of CCCs will have an effect. We have created 22 (with a CCC conversion rate of 31%), Tottenham 15 (48%) and Arsenal 29 (36%).
When we also consider that since last season we have lost, in one form or another, Bellamy (6 Premier League goals), Maxi (4) and Kuyt (2) who scored a combined 12 of our 47 league goals, 26% of them (or 34% if you include Carroll's four goals too). That is a huge loss for a team that were outscored by everyone above them in the league as well as Fulham and Norwich. As pointed out by Paul a few days back, these were fringe players and could/should have been used more often. But what would you give to have them as an option in our squad now?
So to put it briefly we are having the most shots, have the worst shot accuracy and are missing goal scorers. And regarding goal scorers, we are so over-reliant on Suarez at the moment it is almost negligent to assume we can continue in this vain (I'm not assuming anyone is though!). So far this season, for the top scorers of each team in question, Suarez has scored 10 (43% of our goals), Defoe 9 (30% of Tottenham's) and Cazorla 7 (23% of Arsenal's).
This leads me to believe that we desperately need more goal scorers in the team to replace what we have lost and to be first XI players, not just squad/fringe as the afore mentioned were. This isn't a revelation, but the numbers clearly back up what we have all stated over the last few months (or even seasons?). But who do we sign to fill the void left by our outgoing players and are they good enough? In a recent TTT poll, members voted for Walcott (36% of votes at time of writing), Sturridge (35%) and Tom Ince (22%) with 'Other' coming in 4th with 17%.
To come up with a general sense of how good our favourite targets are, I have looked at their stats from last season (sourced from OPTA data released by the Man City Analytics Team). But firstly, let's briefly see how our favourite targets are performing so far this season in comparison to the 'old guard'.
Old v New

It would be a little unfair to compare these players directly due to the fact they are playing in different leagues, but based purely on the stats, Tom Ince looks like he could be a gem! OK, it is 'only' the Championship, but do you score or create 22 goals in 20 games without having at least some quality (Shelvey got six goals and two assists in ten Championship appearances for Blackpool)?
Unfortunately, as Ince was still in the Championship last season we won't be able to compare him to our other 'targets', however he got six goals and six assists in 33 league appearances last term. Not fantastic, but I would say respectable for a 19 year old (at the time) learning his trade.
Let's concentrate on comparing Sturridge, Walcott, Bellamy, Maxi and Kuyt by firstly looking at how well they each regain possession.
Tackles and Interceptions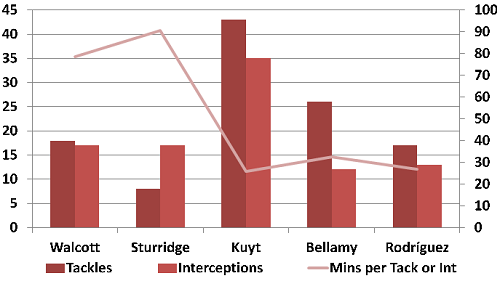 The bars are measured on the left axis with the line measured on the right axis, as is the case with all subsequent graphs.
We can quite clearly see that our targets regain the ball far less often than the old guard. In fact, Kuyt regained the ball more than 3.5 times more frequently than Sturridge (every 27 minutes compared to every 91). And on average, Walcott and Sturridge regained the ball every 85 minutes, whilst the old guard managed it every 28 (three times as often).
This isn't to say that the targets are unable to do this job, as they could have been relinquished of these duties by their respective managers, however WhoScored.com also notes that both of these players are 'Very Weak' when it comes to defensive contribution.  This could be a concern in a Rodgers team that places emphasis on regaining possession higher up the pitch.
Pass Accuracy
The rest of this article is for subscribers only.
[ttt-subscribe-article]