By Mihail Vladimirov
Guidolin made some surprising decisions. He started with a back four formation and moved Fabbrini over to the right flank with Pereyra the closest midfielder to the lone striker Ranegie.
The interesting thing about Udinese's shape was that initially it was a clear 4-1-4-1 when out of possession. Pinzi stayed deepest, preventing Suarez receiving the ball quickly between the lines, with Badu joining Pereyra just ahead in order to occupy Liverpool's midfield duo. When Liverpool managed to reach their half, Udinese morphed quickly into two banks of four with Badu joining Pinzi just ahead of the defence trying to suffocate Liverpool for space.
For Liverpool, Rodgers sprung a couple of surprises too. Although Liverpool continued in a 4-1-2-3 framework, it was Sahin tasked to be the "controller" with Allen handed the freedom to roam into advanced positions. It was a real shame it didn't last long, seeing the players in these roles would have been fascinating. However, in the 12th minute Shelvey replaced the injured Sahin, with Allen now dropping into his familiar role this season, as the deepest of the trio.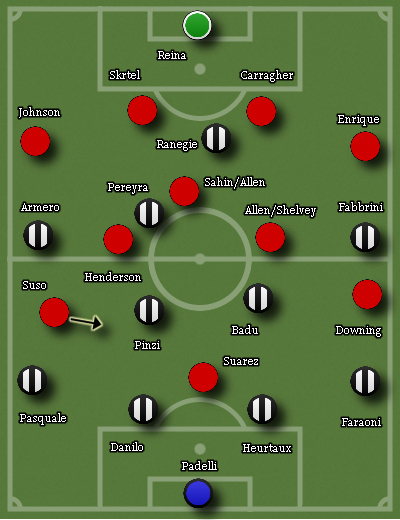 The rest of this post is for subscribers only
[ttt-subscribe-article]