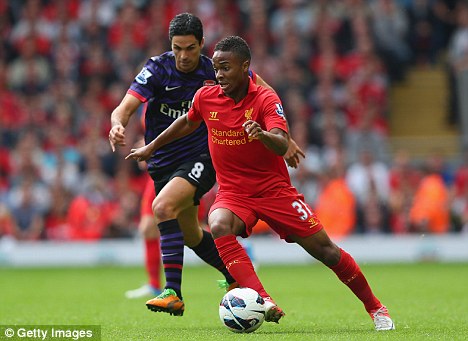 By Krishen Bhautoo.
There has been discussion recently regarding the form of our young Sterling. We have seen his performance drop from the bright spark and 'New John Barnes' he once seemed to be, to more like, well, the new Stuart Downing.
I want to get something straight right from the off. I'm in no way, shape or form having a pop at our young number 31. He's had a massive weight of expectation thrust upon him, being pretty much 50% of our entire attacking threat, and turning 18 just a few days ago, this must be difficult for such a young man. Add to the fact this is his first season in the Premier League (barring a few fleeting appearances under Kenny), that he's possibly been overplayed and needs a rest, that the team he is playing in is still growing, that contract negotiations are hanging in the balance and not to mention that he is (rumoured) to have three kids to look after!
I wanted to see how his stats have changed over the season, whether they have got worse or if we are just imagining things. Of course, as with all stats, I have to add the caveat that "Not everything that counts can be counted, and not everything that can be counted counts". If it's a saying good enough for Einstein, it's certainly good enough for me!
All stats are sourced from EPL Index and WhoScored.com
Tackles and Interceptions
When he first burst on the scene, I was impressed with his tackling, tracking back and strength (especially considering his size). He worked hard and got the ball back as often as any of the attacking members in the squad it seemed.
He's averaged to regain the ball 2.8 times a game. Considering that the entire team makes 33 tackles or interceptions per game (on average this season), Sterling is responsible for 8.4% of them. Pretty good in my opinion, especially when you consider that it isn't his 'job', even though we know in the system it is everyone's job to both attack and defend.
As the season has progressed, this aspect of his game has remained pretty steadily erratic (if that is possible?) although his average has taken a downturn more recently. Perhaps returning to the 'norm' of around 2.8?
Tackle Success
We saw earlier that the number of tackles that he has made has gone down. In the last five games he has attempted 4, 1, 0, 1 and 1 tackles, with a season average of two per game. So whilst the number of tackles is going down, so is his tackle success.
This isn't a major facet to his game, but does fit the theory that his form may be dropping. Obviously the opposition we have recently faced will have a bearing on this. Recently, Southampton and Villa have both surrendered possession to us, however even against Sunderland and Stoke he managed five and four tackles respectively, and as we know Stoke don't tend to play with the ball much.
Passing
The rest of this article is for subscribers only.
[ttt-subscribe-article]