I honestly don't know how good a manager Brendan Rodgers is. His CV isn't deep enough to show any greatness, but I've little doubt that he's good. I mean, his thin CV does at least have a promotion and a highly creditable mid-table finish with a backwater club, all within the last couple of years. But the question is, how good? 
Unlike a young player – take, for example, Raheem Sterling or Michael Owen all those years ago – it's hard to judge a manager as definitely, and even harder to spot potential. We can judge players on what they do, even if the team splutters, whereas we judge a manager on what a group of 30 other people do. The manager tries to get them to do things, but he cannot run onto the pitch and do it himself (and in the case of "failed" players like Rodgers, Benítez and Mourinho, it's just as well…).
And a player, if under-performing, can be dropped, loaned or sold without too much of a meltdown; frequently changing managers, while perhaps not as foolish as we are told, can prove costly and can lead to only making things worse. Stability has to be a good thing at a club, but only with the right man in charge; it's one thing to stick with Alex Ferguson or Arsene Wenger, but think of the hundreds of justifiably sacked managers in that time.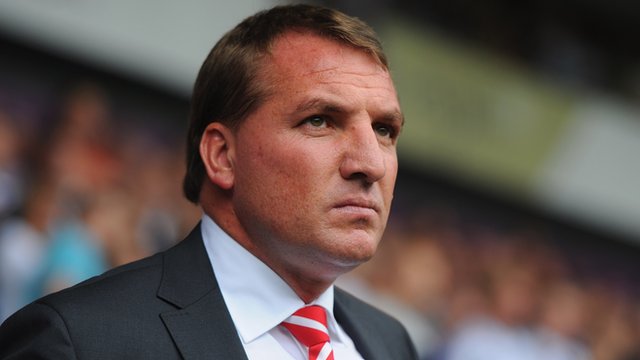 Mistakes
Overall, Brendan Rodgers fits the general profile of the kind of manager I'm happy to see at Liverpool: young enough, intelligent and keen on football played on the deck.
I have a few worries, and I hope that expressing them doesn't mean that I want Rodgers out, or that I'm being paid by FSG to deflect blame from them; equally, I hope that in expressing what I like about Rodgers, people won't assume I'm being paid by FSG to 'big up' their man, or by Rafa Benítez to undermine the current boss so that he can return (incidentally, all things I was accused of on Twitter after the Stoke match, when I listed some pros and cons).
Rodgers seems like a decent bloke, with a bit of steel in his character. Unlike Roy Hodgson, he hasn't seemed phased by the job, even if results are no better. He generally talks sense, even if managers can't always be honest, for fear of the harm it might do to team spirit or a player's confidence.
That said, Rodgers appears too open at times, discussing his philosophies in a way that opponents could find helpful, and talking up his team before the Aston Villa game ahead of a massive backfiring (timing, eh?!). Having said that, Rodgers was also left exposed by Being:Liverpool, which can't have helped him settle into the role in a relaxed manner. And for all those occasions when Rodgers maybe lets too much out of the bag, it's preferable to Hodgson's gobbledegook and face-rubbing nonsense. I do, however, think Rodgers can learn a trick from Benítez and Dalglish, who were experts at batting away inquisitions (although in Kenny's case it led to real antipathy amongst neutrals over the Suarez/Evra affair, and of course, the neutrals weren't too keen on Rafa, either. But that's neutrals for you.)
When feeling edgy, I keep coming back to Rodgers' CV, as it can be the comfort blanket for any fan when their manager is struggling; we can look at it and say "well, look at what he did before!". And with Rodgers, there isn't too much to assuage the fears. As most of what a manager does is hard to pin down – it's behind the scenes: at the training ground, in the video suite, in the dressing room – then his CV becomes something to grasp onto.
But future managerial geniuses have to start somewhere; and as with players, it's best to get them before the queue is too long and an auction ensues (see Cristiano Ronaldo at Manchester United).
Having said that, can a big club afford an extended period of apprenticeship? Also, with a manager, you're stuck with him while he blossoms, all the while having to accept that he may fail to live up to any perceived potential. I think what worries a lot of Liverpool fans right now is having to be patient with a largely unproven manager; if it was Guus Hiddink, for example, things might be different.
You can't loan a young manager to another club for a year or two to gain more experience and smooth out his rough edges. If you worked with the mantra that you must stick by potential until it blossomed, Liverpool would still be playing Anthony Le Tallec, whom Gérard Houllier cited as the reason he passed on a £4m offer of the aforementioned Ronaldo. (D'oh!)
Reality?
Pessimists and optimists both think that they are realists; because no-one thinks their perception of things is unreal.
Right now, I'm torn between three possible realities: first, that Rodgers is the real deal, and to cash in our chips too soon during a rocky initial spell would be a grave mistake; second, that he's got the potential to be the real deal, but that it might be five or ten years down the line (or perhaps two or three years, which may be worth the wait, but which might get ugly along the way); and third, that his media persona and style of football is masking serious deficiencies – i.e. that he talks a great game, and his teams can knock the ball about at the back, but that he's not quite so good at delivering teams that win a lot of games.
I'm hoping it's the first situation. And if it's the second situation, I hope that it's the 'sooner' rather than 'later' outcome; or that he keeps doing enough to hang on in there, until the brilliance shines through. But a part of me fears that it's the third possibility, but none of it can be proven right now.
Aston Villa – who immediately conceded 12 against Chelsea and Spurs – became the first team that weren't reigning champions to take a three-goal lead at Anfield in a league game since 1978. Stoke hadn't scored more than two in a game for over a year (and had scored just 15 this season) before putting three past an out-thought, out-harried Liverpool. Signs of serious problems, or just a couple of blips? I've no idea.
Let me add at this juncture, in what is not a short piece, that even great managers can fail in their job; either in a whole project, or in a single imploding season (just look at Jose Mourinho right now). Sometimes results just don't go their way, or they have too many injuries, or the players don't take to them (or subsequently fall out with them). The psyche of individuals can perhaps be controlled; the psyche of a football team is elusive.
One of the issues I have with those completely pardoning Rodgers is the notion that he inherited a 52-point team. This ignores that Dalglish's side won cup games against Manchester City, Manchester United, Chelsea and Everton, where, in most cases, strong sides were fielded by both teams, given the rivalries involved.
I think this underplays the current side; for me, Liverpool's first XI is one of the best around. When adjusted for inflation, the squad is the 4th-most expensive in the Premier League and the £XI (the average cost of the starting XI) is also the 4th-highest. (This therefore doesn't include Carroll, and barely registers Henderson.) The wage bill, while being lowered, is either the 4th or 5th highest; probably the latter.
Suarez is world-class, Johnson is worth every penny, Agger is a thoroughbred, Reina has had at least four excellent top flight seasons (but hasn't looked his best for a while), Skrtel and Lucas have both won the Reds' Player of the Year since 2010, and Gerrard, while no longer awe-inspiring, is far from finished. Most of those players would compete for a place in a best-of Premier League team. But the squad, while containing some good back-ups, is undoubtedly deficient in several areas. Without cup runs, I'd expect 65 points from this squad; fewer if there are injuries to key men, and a little more with a good wind.
I'm firmly of the opinion that cup runs take points from a league campaign, unless the squad is so large it can take it. This is why I think the league should be prioritised, because getting back into the Champions League helps you attract better players and be able to afford to buy them; which, providing the manager is skilled enough, creates a virtuous circle. You can make the squad bigger to cope with the extra demands, and rotating becomes a key skill.
In the modern game, the Champions League is almost like the Premier League, and the Premier League is like the second division. You see teams as desperate to stay in the top four as strugglers are desperate to stay in the Premier League. I enjoy a cup win as much as the next fan, but I feel it does damage your league health.
(Studies show that results are on average worse for teams if they've had only a small gap between games. If you have a cup run, not only does this happen more often, but replays and FA Cup progress – at the latter stage where league games get postponed – can lead to a fixture pile-up at the precise time that the team is preoccupied with a cup semi-final or final. The trouble with the Europa League is that it does not provide the money to build a squad to cope. You get a lot of the travel and fairly arduous games of the Champions League – if not quite the same level of opposition – without the rewards. And the trouble with the League Cup is that, psychologically, players can switch off after lifting a trophy in February.)
Arsenal in 1993 (10th) and Middlesbrough in 1997 (19th) arguably finished a good five-ten places below their 'true' league position upon reaching two cup finals. 'Boro were relegated with a side containing some of the Premier League's best players; all things being equal, they were far too good to go down, but to my mind, did so because of the cup games. Then take Sheffield Wednesday. In 1992 they finished 3rd with 75 points. Two years later, in 1994, they finished with 64 points. In between they finished with just 59 points; quite a dip. Guess which season they made it to two cup finals? And when Arsenal reached the same two cup finals in that same season, and finished 10th, it was in between two seasons in which they finished 4th.
And last season Chelsea – even with their squad – finished 6th, after almost a decade inside the top three. The league form actually deteriorated under Di Matteo, but they reached two cup finals. The sample may not be the largest, but what it suggests still seems clear: cup runs damage your health. It stands to reason, if you have to play frequently, with less time to rest and less time to prepare. It can sap energy and be a distraction. Theoretically it should also build confidence for the next season, but it didn't seem to work that way for Liverpool and Chelsea.
I honestly don't know why Dalglish was sacked, but I'd guess that it wasn't purely that the league form wasn't good enough (even though I'd argue that the cup runs meant we were a better side than that). FSG's vision seemed to be to pair a young manager with an experienced Director of Football (or similar kind of title).
One of the problems I have with Rodgers and FSG over the whole issue is that Rodgers torpedoed it, and FSG went belly-up on it. Rodgers had a right to not want to work with a DoF – I fully understand his desire for autonomy – but it was also within FSG's right to say "well, in that case you're not for me".
God-knows how it all played out, but it meant that rather than have the old, wise head to act as a bridge between the manager and the owners (who are still neophytes as far as football is concerned), we're now in the situation where Liverpool have a young team, a young manager, an inexperienced Managing Director and owners who haven't been around the sport long enough to understand it. The trouble now is that if FSG appoint a Director of Football, it undermines Rodgers; possibly why it wasn't done when Dalglish was in charge, once Damien Comolli was sacked in March. So who provides the experience?
The ball is in Rodgers' court to prove that he was right to make that demand. Director of Football can work, but it needs the right personalities involved, and for the parties not to be at loggerheads. It may be that he was right all along, but only time will tell.
Then there's the transfer business. I think FSG were right to want to move towards younger signings, after the club had been spending relatively large-to-very large wages on the 29-year-olds/30-somethings signed since 2009: Kyrgiakos, Maxi, Aurelio (re-signed), Konchesky, Bellamy, Poulsen and, of course, Joe Cole. Not all were flops, but it's only a sticking plaster.
As we've seen with Cole, it's hard to shift players earning more than they are worth. Young players are key because they can be sold for fees that enable replacements to be sought, although paying £35m for Andy Carroll shows that it can be folly, too. (I buy the notion of trying to find a replacement for Torres at "Torres minus £15m", but that doesn't explain the worth of Carroll if he fails to live up to his price-tag. You end up with a player with a very low resale value.)
Based only on what's in the public domain (therefore, behind the scenes it may have played out differently), I think Rodgers was wrong to ease Carroll out of the door before securing a replacement, but I also think FSG were wrong to veto the move for Clint Dempsey, because exceptions have to be made to every rule, particularly in an emergency. Even at 29, Dempsey's ability to snatch a goal would have been handy, particularly with four goalscorers leaving. Unless Dempsey's wage demands were ludicrous, he could have easily repaid the fee and wages with goals.
I said in the summer – and stick by it – that I liked the type of players Rodgers was buying. Indeed, apart from his strange aversion to playing the improved Jordan Henderson (given that Rodgers rewards other fringe players with starting places if they do the business), his hesitance over Coates (and including two centre-backs, plus Andre Wisdom, on the bench), and also excluding his over-use of Cole (which can only be based on his ability to occasionally score a goal), I think I'm on the same page with Rodgers insofar as rating players. Unlike Roy Hodgson, who was very sceptical of Glen Johnson and Daniel Agger, Rodgers seems to rate the kind of players I like to see. In isolation, the potential of Borini, the talent of Allen, the style of Sahin and the pace of Assaidi – along with the potential star of tomorrow that is Yesil – all make sense. Together, though, they failed to fill all the holes.
The main problem I have with Rodgers' summer signings – in hindsight – is that they have contributed one single league goal between them. Four players (five if you include Yesil), and roughly £35m spent on transfers (including Sahin's loan fee), and one measly league goal.
Liverpool's finishing was the main issue last season, and yet with Maxi, Bellamy and Kuyt leaving, and Carroll forced out of the door, only Borini and Dempsey were actively recruited for striking roles. Four players who between them scored 16 league goals (and 29 in all competitions) have been replaced by four who have scored one league goal at the halfway stage, and four in total. (And that's with Kuyt and Maxi not always starting that regularly in 2011/12.) Borini's injury – his third consecutive winter missed – is partly to blame, although in fairness to Rodgers I don't think his injuries have suggested a predisposition that should have made the Reds wary.
In 1,521 minutes of Premier League football, Joe Allen hasn't even managed a shot on target. (I appreciate that he's not in the team to score goals, and has played fairly deep, but even so.) Indeed, the four main new signings of the summer have between them managed just three shots on target in 2,366 minutes of football (equivalent just over 26 90-minute appearances).
Assaidi – rumoured to not even be a Rodgers preference but that of the scouting team – has admittedly only featured for 54 minutes, which itself is a bit of a mystery with Joe Cole about; but between them, Sahin, Borini and Allen have only hit a shot on target roughly every nine games. That seems quite alarming given that each is capable of scoring goals (Allen got a respectable four last season).
Given that Downing has only had two shots on target in 640 minutes, Suso two in 539 minutes, Henderson one in 368 minutes, Joe Cole one in 166 minutes and Lucas none in 435 minutes, it's easy to see how shot-shy (or off-target) most Liverpool midfielders/wide men are. Indeed, Shelvey, Gerrard and Suarez are the only three Liverpool players to have more than eight shots on target all season, and Shelvey and Enrique (yes, Enrique) are the only two to hit the target with more than 30% of their shots. And Martin Skrtel of all people ranks 5th for percentage of shots on target, meaning that two of our five most accurate shooters are defenders. (Stats courtesy of Andrew Beasley. He also pointed out in the comments section of this site that Liverpool's shooting accuracy – which was dreadful last season – has actually got worse.)
Gylfi Sigurdsson (who has yet to score in the league for Spurs but did well under Rodgers at Swansea) was missed out on earlier in the summer, but why was there no alternative – and indeed, additions – to trying to sign Dempsey? Some sources say that Rodgers turned down the chance to buy Daniel Sturridge for £15m, but now the club will pay £12m to secure his services; saving £3m, but in a false economy, where £3m would probably have been recouped via a higher finishing position, merchandising and a general feel-good factor, had he bagged a goal every three or four games. (Just as Rodgers has made this example seem like a false economy, FSG vetoing Dempsey also seems a false economy.)
And I said in the summer, whether or not Carroll suited Rodgers' style, he should have held onto him for a Plan B, or simply to hope for a fit striker, if no sale took place. (Like Borini, Carroll has been injured, but you can't always predict these things.) I have some sympathy with Rodgers over the way Maxi wanted to return to Argentina, Kuyt had a daft get-out clause (whoever put that in wants firing, if he hasn't been already) and Bellamy needed to be near his children in Cardiff – assuming that these were genuine reasons. But why usher Carroll out of the door, too?
Instead, Liverpool have had to rely on youngsters like Sterling, Suso and Shelvey, as well as hoping that Stewart Downing can find the net more than once in a blue moon (which, with his shooting stats, is being hopeful). The good news about playing the kids is that even though they've got three league goals between them in their entire Liverpool careers (with one of those – Shelvey's at West Ham – clearly not even touching the ex-Charlton midfielder), they've all had a chance to grow as players.
They've all had poor games, and dipped in form in the winter, but it should stand them in good stead. All three could become reasonable goalscorers at the very least, with added experience, but none of them are there yet. Shelvey's goals on loan at Blackpool (six in ten games), and in the Europa League (four this season) – along with his hugely impressive 51% shooting accuracy (the Reds' second best is Enrique at 38%) – suggest a finisher is present, given that most goalscoring midfielders grow prolific with time; but Shelvey is dramatically hot-and-cold, and all three players have to get used to Premier League defences.
This lack of goals has been exacerbated by the refusal to play Steven Gerrard further forward. I don't know if Rodgers is scared of his captain's reputation, or if the manager simply has tactical ideas many of us can't see, but it seems almost perverse that not only does Gerrard play every minute of every league game (even when the result is wrapped up and the player is tiring), but they are spent almost entirely in midfield.
When Gerrard gets into the box his finishing is as fine as it ever was – see his reaction to smash home against United, his deft Rush-like header against Villa and his cool Dalglish-like mini-chip into the far corner against Fulham: all scored well within the area. He has a shooting accuracy of 30%, the same as Luis Suarez, but after groin problems, his long-range efforts seem a thing of the past. Why not position him a bit further forward, or have him roaming from the right? With Rodgers own signings failing to add goals – hell, even add shots – I expected a bit more flexibility in finding solutions.
Another issue has been the Reds' pressing, which has been almost non-existent. Maybe this is a personnel issue, but again, it's an area where only really Suarez (who presses like a dervish, but with no-one backing him up) and Henderson have excelled, and only one of those starts games. I appreciate that getting the passing on-pat can take time, but pressing shouldn't require six-months' work. Lucas is a natural at this, but obviously needs to work on his fitness. And Borini is another genuine hard-worker used to closing down defenders. So there are two valid excuses. But it still remains a bit of a concern. The good news for Rodgers is that he has another transfer window opening next week, to help solve the problem.
Target?
On this site's comments section we've been discussing what Rodgers needs to achieve by the end of the season. The Reds are currently on course for 50 points, which is two worse than last season, and there may not be two extra-long cup runs as mitigating factors. However, a new manager deserves time to get his ideas across, even if that time cannot be infinite (how long is a piece of string?). Mistakes by Rodgers, FSG, the executives and the players have all been in evidence since the summer, and so all must take their share of the blame – not just the manager.
If Liverpool beat QPR this weekend they will have a very decent points per game from the past six matches of 2PPG, but they have not been tough fixtures (even though going to Stoke is never easy, a draw should be possible, and West Ham are similarly aggressive). The 14-game run is 1.65 PPG, which is a very creditable 63 over the course of a season; although of course that 14 game run doesn't include playing any of last season's top three (and 63 points was considered a sackable offence just two-and-a-half years ago). Extrapolating the first five games of 2012/13 would have unfairly resulted in 16 points and certain relegation – ludicrous – so to be vaguely accurate you really need a run that includes the full gamut of difficulty. The next couple of months should provide that.
It's obviously a worry that Liverpool have won only six out of 19 league games, and that all of those have come against clubs currently in the bottom half of the table; with three coming against the current bottom four, albeit with an alarming home defeat to Aston Villa, who are 5th from bottom (as if to prove that the problem of beating the strugglers is not completely eradicated). The average current position of teams Liverpool have beaten is a lowly 15th, and that is also the average of the opposition at the time the games were played.
That doesn't bode well, but it should be pointed out that Liverpool deserved to beat Manchester City and take at least a point at home to United, and were also denied a legitimate last-gasp winner at Everton (although the home side could have had a penalty before that, and Suarez could have been sent off, if we're discussing "what ifs"). Some people thought that the Reds played well at Spurs, but only after a dreadful start, and only once Spurs backed off.
I don't have a set number of points or a league position in mind for decreeing what is or isn't good enough; if progress is visible via the cups, or via performances, then that has to be taken into account. Barring an absolutely disastrous run – which I don't anticipate – I'd definitely stick with Rodgers until at least the summer, and even then, only the stench of a season of real failure would tempt me to press the panic button.
Maybe FSG will see it differently. On the one hand they won't want a reputation for firing managers, and have bought into the 'young manager / young players' philosophy, where they can all develop together; but on the other, if they think the Director of Football approach is correct, and decide to revert to it, they could argue that managers come and go, but the DoF dictates the overall philosophy. (This was the Lyon / Soccernomics strategy they seemed to believe in.)
The Swansea Strategy
Indeed, Swansea provide the perfect template: four managers in a fairly short period of time, but each fairly  (or very!) young and chosen because of their philosophy; and with three of the four (excluding Paulo Sousa) improving on his predecessor's work.
Some will argue that Rodgers inherited the right foundations at Swansea, but you cannot deny the progress under him in achieving promotion and having a good first season back in the top flight. Equally, Michael Laudrup has taken Rodgers' side and turned persistent passing into something more electric – but then perhaps Rodgers will have done the same, after a season of acclimatisation to top flight football, and more money to spend. Changing managers doesn't have to be bad, providing that the replacement is suitable, and that there is a consistent vision; chopping and changing styles is perhaps what causes the trouble, as that means changing players.
Of course, Swansea is not Liverpool. And just as Rodgers notes that Liverpool's is a "heavy shirt", then the managerial and coaching jackets are likewise weighty; six years took its toll on Rafa Benítez, who lost his zest towards the end; the joviality of Kenny Dalglish's caretaker tenure gave way to a more sullen public personality; and Roy Hodgson almost completely unravelled. It's not an easy club to manage.
To prove the point people could argue that Steve Clarke looks the kind of coach Liverpool need, given what he's done at West Brom (who continue to succeed after changing managers), but then he couldn't help Dalglish get Liverpool into the top six last season. (Of course, West Brom haven't had many cup games this season; with a certain LFC dumping them out of the League Cup.)
I've still yet to see many successful managers – in terms of getting small clubs to mid-table or slightly higher in the Premier League – translate it upon promotion to bigger clubs. Hodgson is the most painful reminder, but Sam Allardyce failed to please Newcastle's supporters (results weren't dreadful but the football was), and many more have failed; even a step-up from Charlton (where his record was relatively remarkable) to West Ham did for Alan Curbishley's career, given that his win percentage was virtually identical to that of his previous lower-spending club.
The same phenomena was true of Hodgson – he'd win you three or four out of every ten games, wherever he was – and a concern is that, so far, Rodgers has only translated his mid-table form from Wales to England. Plenty of Liverpool fans on Twitter (judging by the messages I receive) seem to think that's his ceiling, but I'm not so sure. Many of the same fans said that Stewart Downing and Jordan Henderson were mid-table players because they came from mid-table clubs, but then Ashley Young was a mid-table player, too. So was Gareth Barry. Yet both contested the title last season, as key players. (Mentally, I think that Downing may indeed be limited to being an also-ran; Henderson seems to be made of tougher stuff, but out of favour.)
[Edit: The phenomena is less common abroad, it seems, where managers move up to big clubs with relative ease; see Andre Villas Boas at Porto. In the summer I compared Rodgers' potential with that of Jurgen Klopp, who started out at a small club at a young age, then transformed Borrusia Dortmund with his own brand of 'death by football'. But the comparison falls down slightly given that Klopp had managed 268 games at Mainz, almost twice as many as Rodgers' career total, and had already spent three seasons in the top flight with the smaller club. He was far therefore far more experienced. A better comparison might be Rafa Benítez before he took the Valencia job: both Rodgers and Benítez had coached the reserves at Champions League clubs who'd won league titles during their time there, before moving into management in their 30s, only to fail in their first attempts. They both managed a similar number of games at smaller clubs before getting one of their country's biggest jobs. The only clear differences are that Benítez got two clubs promoted to the top flight – one more than Rodgers – but unlike Rodgers, failed to stay up with Extremadura, and didn't get a chance to manage Tenerife in La Liga as he was poached by Valencia that summer. None of this means that Rodgers will therefore replicate what Benítez has achieved in the game – I imagine that there are plenty of similar examples of young managers who followed a similar path only to fail – but it's an interesting comparison of starting points.]
Realistically, Rodgers was never going to do much better than mid-table at Swansea, so it's wrong to use that league position as some kind of proof of his ceiling; clearly it doesn't automatically limit his potential at a bigger club. However, what I will reiterate is that doing well at a smaller club is no guarantee of success at a bigger one; in fact, far from it. Liverpool have experimented with this twice since sacking Benítez, and both times the club reached the halfway mark with a 50-year-low of 25 points. Rodgers isn't Hodgson – thankfully – but the identical record is eerie all the same. I want to ignore it, given that I like Rodgers much more than the Hodge (copyright Neil Atkinson), but neutrals might be baffled as to why Hodgson was so hated by comparison.
Therefore, at the end of a long and rambling piece, which admittedly doesn't touch upon every base (although if you're still alive I'll post you a medal), I'll plead for patience for Brendan Rodgers – but not at the expense of fair, honest analysis … which hopefully this qualifies as.