By Bob Pearce.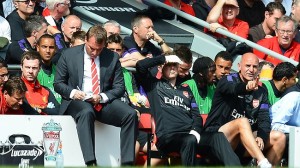 Older Liverpool fans will remember a time when there was a very simple rule. If Ian Rush scored, Liverpool would not lose. Amazing as that sounds now, for Liverpool fans (and possibly even opposition managers, players and fans too), once Rush scored you knew we would not lose. No 'ifs', no 'buts". And of course when you score as often as Ian Rush, that's a pretty powerful rule. Incredibly that rule lasted for 145 matches over seven years. Right up until the final whistle blew in the League Cup Final against Arsenal in 1987.
Life is far more complex today. Football statistics are increasingly available and quoted. To begin with, TV pundits would tell us the percentage of possession, the total shots, the number on target, the numbers of corners and fouls. We assumed they knew what they were talking about and would only be telling us about these figures if they were really important and made a difference. I gradually came to the conclusion they thought that by quoting some numbers at us we will be impressed at their 'scientific' analysis. But this is data without meaning or context. For example, I have learned from this site's Mihail (Vladimirov) that tactically a counter-attacking team actively seeks a low possession percentage. And yet a high possession percentage is often held up as a sign of success on its own.
We are now fed statistics that appear to examine and explain the game in the most minute detail, covering the number of passes, tackles, interceptions, and on and on. Again we assume these statistics would not be measured and shared if they were not important. But I have continued to feel that this is simply more of the same 'pseudo-scientific' analysis still lacking context and understanding, and as a result currently (for me) without real meaning or value.
I've studied the match stats that Daniel Rhodes provides game by game and looked for any patterns in the results. For example I can tell you that Liverpool's possession percentage has ranged from 44% (Everton) to 67% (Norwich), but I can see no correlation between the amount of possession and results.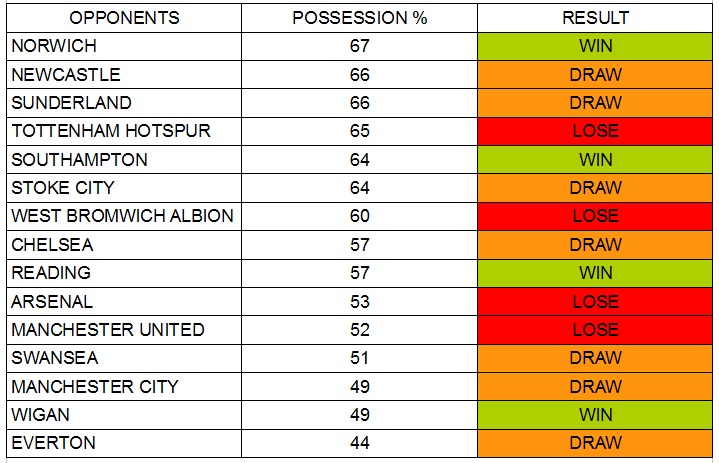 The rest of this article is for subscribers only.
[ttt-subscribe-article]