By Mihail Vladimirov.
Swansea's side was largely as expected – Chico was fit to start, and with Ki on the bench de Guzman went alongside Britton in midfield with Michu back in the hole behind the lone striker Schechter. For Liverpool, Wisdom was injured, which prompted some interesting decisions from Rodgers, with Johnson replacing him at right back, and with Enrique and Sterling keeping their wing roles it was Downing who was selected at left back. In midfield Henderson received a rare start, probably as a prize for his Wigan performance.
Shapes and similarities
As expected, both teams had more in common that in contrast. To start with, the teams' shapes broadly mirrored each other. Swansea used Michu as the obvious advanced midfielder, with Britton the player starting the moves from deep. In between, de Guzman tried to do the dual job of initially being alongside Britton when the team tried to recycle from deep and then push slightly ahead to link the team through the middle. For Liverpool, Allen was the deepest recycler with Henderson supposed to be the advanced one. But with de Guzman being his direct opponent, Henderson readily dropped deeper to cover him whenever Swansea had the ball. A few times Henderson sprinted forward to press from higher up, but most of the time he occupied a deeper zone. In the meantime, Gerrard's role was the same as de Guzman's – trying to provide the diversity and the link-up presence. He constantly roamed between going up against Britton or dropping deep to collect the ball and start his team's passing moves.
In terms of strategies without the ball, both teams preferred to stand-off each other in terms of pressing in the attacking third, gifting each other time to initiate their similar recycling process from deep and starting to close down only when the opponent reached the middle third.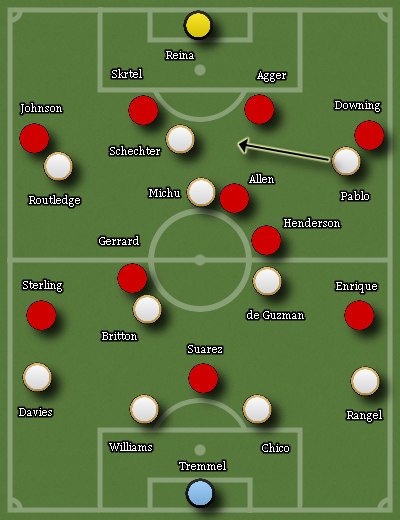 This, coupled with how exactly mirrored the midfields were, created the complete tactical stalemate which resulted in both teams exchanging spells in possession in which they created half-chances and neither team having the upper hand in terms of tactical advantage at any given moment. However, what was really fascinating was that even having almost perfectly cancelled each other out and having exact parity, the two teams had different tactical flaws throughout the whole match. As it was a proper chess-like tactical battle with lots of causes and effects, it's worth going through the clash chronologically in order to follow in detail the whole tactical battle and how it morphed from start to finish.
This article is for Subscribers only.
[ttt-subscribe-article]