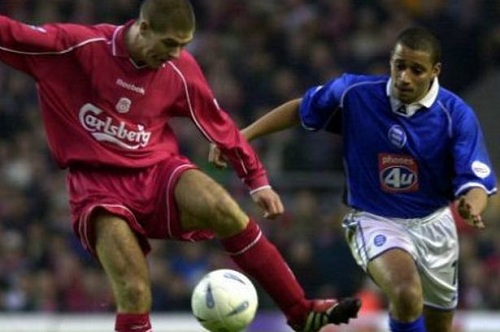 By Krishen Bhautoo (Krishaldo).
It was my 21st birthday: Wednesday September 11th 2002 (bloody 9/11!!). My friend James and I had made plans to make the 350 mile round trip for what would be the first time for both of us to watch our beloved Liverpool FC play live in the flesh! We were still buoyant from the 2001 treble season, an encouraging 2nd place finish in 2001-02 and were looking forward to seeing our new £10m Senegalese forward who had terrorised the World Cup holders in Japan and South Korea.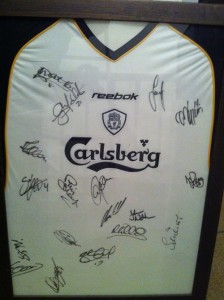 What could be better? Our first visit to Anfield, on my 21st birthday to watch what surely should be a home banker against a side who had just been promoted from the old First Division. Well, my day did get better. My girlfriend at the time had given James my birthday present to pass onto me as we were travelling up. A Liverpool shirt signed by the Treble Winning team! How amazing is that?! I could have proposed to her that day!
There was no way we wanted to rush, or even worse miss the start of the game and the Kop singing You'll Never Walk Alone, so we left in plenty of time to get to Anfield, around 3pm, meaning we would arrive at the stadium about 6 or 7pm depending on traffic. We were buzzing for the whole journey. Who would play? What formation? What would the score be? We had drawn our previous two games, so surely it wouldn't happen again! Scorers? Would we go on to win the league this time round?
After parking up in a 'secured' car park (and after getting a bit lost, having to ask directions in McDonalds where the Everton supporting staff member said "Can't you smell the shite from here?"), we made our way to the stadium. A hot dog and a burger, a cheeky £2 on Hyypia to score first & 3-0 then straight into The Albert for a cheeky pint. The place was rammed. I'd never been somewhere with so many Liverpool fans.
Kick off was approaching so we made our way through the turnstiles to our seats in the Main Stand, uncomfortably close to the away supporters. In an ideal world we would have been on the Kop! As we made our way up the steps to the seats, James was full of excitement and began to run up the stairs. I, on the other hand, walked up slowly. Savouring the moment when I would first lay eyes on the hallowed Anfield turf. And I am so glad that I did. That moment as you come up the steps and first see the floodlight pitch was enough to (cliché alert) make the hairs stand up on the back of my neck. To this day, after dozens of visits to Anfield, I still savour those moments just before the pitch crests over the steps.
The rest of this post is for Subscribers only.
[ttt-subscribe-article]