By Mihail Vladimirov.
Both teams lined-up largely as expected. Rodgers had to decide between his full backs options – namely whether Kelly or Enrique should start – and also who will be the third midfielder partnering the sure starters Allen and Gerrard. Would Sahin's calm on the ball presence be used or would Shelvey's recent good form be preferred. In the end Rodgers used exactly the same starting XI as against Sunderland in the previous match.
On the opposite side Ferguson surprisingly rested Vidic, using Evans in his place. The other key question was what type of midfielder would partner Carrick through the middle – more of an attacking-oriented passer (Cleverley), the energetic midfield runner (Anderson) or would a calm, wise old head, able to cope with the huge pressure of the occasion (Giggs or Scholes) be selected? Ferguson went for the last option using Giggs; Scholes was probably rested after taking part in United's two games in the past week.
Formations
Both managers selected familiar formations. Liverpool went for their usual, at least in the past few weeks, and went with a 4-2-3-1 – something to be expected given they fielded the exact same XI as in their last game. However, there was one significant change, Suarez played centrally with Borini actively looking to push diagonally off the left (against Sunderland it was the other way around).
It was also interesting to see whether Ferguson would go for the same 4-2-3-1 he's been trying to introduce since the start of the season or opt for a more defensive minded variation of it – sort of a 4-4-1-1. As it turned out, he preferred the latter variant.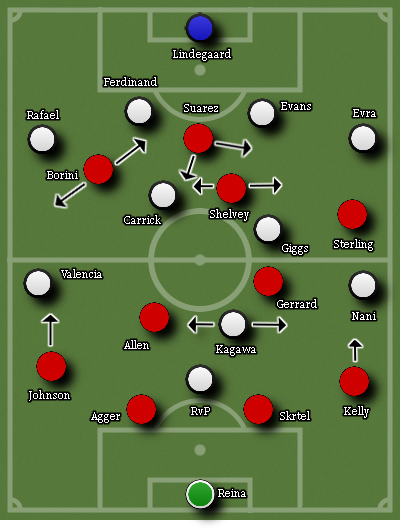 The match turned out to be a very deep and rich tactical battle accentuated by some crucial incidents at different points in the game.
This article is for Subscribers only.
[ttt-subscribe-article]