By Paul Tomkins.
There's no point in me submitting a piece to the official site this week, as I can't think of anything good to say about the past seven days. (It takes about five times as long to delicately word a piece at a time like this, and I don't have the energy.)
Aside from the bright sparks offered by Raheem Sterling, Joe Allen and a late cameo from Jonjo Shelvey (average age of 19.7 for that trio) against Arsenal, it's been a quite wretched week.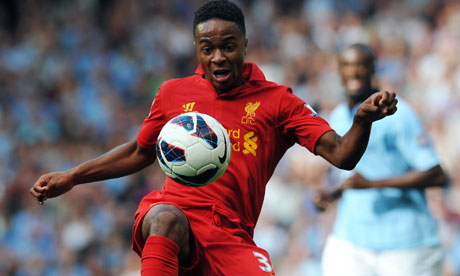 I said it on this site before the game, but why the hell was Brendan Rodgers picking Steven Gerrard and Luis Suarez for the Europa League game so soon after the monster clash with City, and another big test against Arsenal?
Liverpool's two most recognisable players were dreadful against the Gunners. Absolutely awful. Gerrard kept miscontrolling the ball and passing to Arsenal players, and Suarez kept running into their central defenders with his head down.
Also, why was Kenny Dalglish sacked over cup form that impinged on league performance, only for the new man to then pick a strong team in the bloody Europa League that jeopardised the far more important fixture? Are we learning nothing? Has this not been pointed out to him?
And what the hell went on with regards to the transfer deadline day dealings? More on that in a bit.
Momentum Myth
TTT subscriber Professor Mike Begon proved on this website last season that momentum from winning games is a myth.
"So what can we conclude from all this? First, evidence for any kind of positive momentum effect at the team level is weak at best. That evidence suggests, at most, a small effect – nothing like what most people imagine to be the case."
Until I read Mike's piece, along with the academic research underpinning it, I had a hunch that winning a cup game could be very good for the forthcoming weekend. That said, I was also aware – as everyone in football now knows – that games played in quick succession take their toll. With Arsenal having no midweek game, by playing our two creative sparks against Hearts, in a competition few people care about, Rodgers effectively tied one hand behind his back for this fixture.
It's proven that results dip dramatically after midweek games. [Edit: The following has been added in the comments section. "From Raymond Verheijen's study on recovery days: After only two recovery days: 70% fewer goals scored in 60-90 mins; After only two recovery days: 75% more goals against in 60-90 mins"].
Only the teams with the biggest squads can cope, and Liverpool do not possess a big squad. That's not Rodgers' fault. But as of today, it is smaller than it needs to be.
It didn't help that either he, Ian Ayre or FSG, or a combination of all three parties, messed up on Friday, tying the other hand in the process. That something went spectacularly wrong is undeniable. Rodgers was adamant in his desire to bring in a striker, as detailed by Gareth Roberts on The Anfield Wrap. Those quotes are legitimate, and alarming. After today's game, Rodgers said that he wouldn't have let Carroll go had he known no-one would come in.
And yet the manager must have been involved in the decision to release Andy Carroll before the replacement had been in place. Why not wait for proof? To lose Bellamy, Kuyt, Maxi and Carroll in one window, from a squad already lacking goals, and bring in only one (semi-)proven goalscorer in Borini, is unfathomable.
I'm admittedly seething after the Arsenal performance and result, and having a bit of a rant, but who will take responsibility?
The Sunday Times today reports that Rodgers turned down a £15m move for Chelsea's Daniel Sturridge, instead wanting the player on loan. If so, then he is arguably also culpable, although presumably he thought Clint Dempsey was nailed-on. In the end, the Reds got neither. They got no-one.
My main frustration with Rodgers, however, is that he put Suarez and Gerrard through 90 minutes on Thursday. Even Roy Hodgson, whose delusions were as large as his football was grim, let the medical staff talk him out of playing Fernando Torres in the largely meaningless European competition.
Had Liverpool not just played City, and were not just about to face Arsenal, I'd have cut him more slack on this. But it seems that the Reds' chances of winning were slashed by his actions. Being 17th won't make Rodgers' transition any easier. And now there are six extra unwanted games across Europe to muck up the schedule.
Rodgers has come in demanding full control, and while that's understandable, it means that more of the buck stops with him. Liverpool didn't press from the front today, and part of that must be down to the lack of fresh legs. The attacking players, bar Sterling, just did not look fresh in any aspect of their play, even if Liverpool's build-up wasn't too bad at all.
Managers make mistakes, and overall, Rodgers needs to be cut a lot of slack. But it's been a week that, as a fan, I've found hard to stomach, as it's been a number of self-inflicted wounds. Defeats I can take, and remain optimistic after; but this has been unnecessary. You can't put a gun to your toes and mess around with the trigger, and then wonder why you've just shot yourself in the foot.
Friday evening was reminiscent of being a kid on Christmas Day, and, after great anticipation, discovering that there were no presents; forgetting, as we do in our childish state of mind, that we'd already had a lot of them – Borini, Assaidi, Sahin and especially the glorious midget that is Joe Allen – in the weeks leading up to the big day.
What stung most, though, was discovering that our parents had taken the toys we were given last year and handed them to a charity shop, and Santa had stolen the leftovers.
I still believe that FSG are trying to do the right things, but clearly they are losing the benefit of the doubt at an alarming rate. FSG inherited a club in a total financial mess, and Rodgers is trying to reshape the formation with a younger team and a reduced wage bill. It's not easy, but the aim is to not make it harder than it needs to be.
The first XI has a strong look about it, but there's precious little to call upon from the bench. The top scorer out of the subs got two goals last season, and there were two centre-backs but no strikers. This season in the league Liverpool have scored just twice – one from a centre-back – and conceded seven. They've yet to score in open play.
Stewart Downing came on and didn't play badly as such, but just 10% of his passes went forward. This follows on from an almost equally paltry 9% against West Brom. Compare that with 37% from Borini and 35% from Sterling against Arsenal (whose pass completion was 87% to Downing's 35%), with both starting wide-men passing forward 24% of the time against City. Maybe I'm reading too much into such figures, but Downing, who has looked good at left-back with grass ahead of him to attack, does not take any kind of risk in the final third as a winger.
It's far too early to write Rodgers off, and everyone at the club will make mistakes (that's life, after all). There's no need to panic. But so much about the past week has seemed so damned avoidable. We need to be patient, but we can't be expected (to some degree) to write off the season until the transfer window opens again in January; the whole point of not buying last winter was the time afforded in the summer. Come the summer, and it's left right until the last 48 hours, and then results in failure.
An injury to Suarez (or too many tired games like this) and it'll be hard to remain optimistic.
In fairness, Arsenal were excellent today. Funnily enough, they played good football with an utterly immobile big front man. They exploited the space behind the Reds' full-backs, and met with a Pepe Reina who looks to have his gloves on the wrong hands. (Do we have a goalkeeping coach anymore?)
The one silver lining with the lack of new attacking signings is that it gives the youngsters more of a chance. Raheem Sterling is playing like I always thought he eventually would, but doing so at 17, not 19. He's been awesome. Samed Yesil may need to be on the bench, along with Adam Morgan, simply to have a striker or two in reserve. At the very least, these kids need to be used in Europe.
(Didier Drogba as an option would be nice, but there's a danger in breaking the wage structure, especially for someone who, though still effective, is 34. The same can be said of Nicolas Anelka. As for Michael Owen, I've no idea if he can still play football, it's been that long. As he's also a free agent, I'd probably also consider Florent Sinama-Pongolle, still only 27, simply for some kind of experience in reserve.)
As I've said for years, the problem with transitions is that if it gets away from a manager – if results are too bad (even if he has good ideas) – then it becomes harder to get things right, with the pressure intensifying. A lot of new projects need time, but results have to be good enough to see you through the painful teething problems. (Rome wasn't built in a day, but if it was too vulnerable to being burned down in its early stages, it might never have succeeded.)
Having already dropped five out of six home points (admittedly against top sides), the hope of a relaxed, bouncing Anfield crowd recedes, when improving the home form – and the scoring record – was the obvious aim for 2012/13.
For this project to have the best chance of succeeding, Liverpool need to cut out the sloppy mistakes at all levels of the club. Cock-ups in the transfer market and needless Europa League selections have harmed the Reds' chances of a better start, as have poor goalkeeping, erratic finishing and slack back-passes – but (deep breath…) it's still early days.