The following is a chapter from "Anfield of Dreams", by award-winning author Neil Dunkin. His article "A Doctor At Hillsborough" appeared on this site in 2010, and can be read here. With the release of the findings of the Hillsborough Independent Panel, this article has been 'bumped' to the top of the site.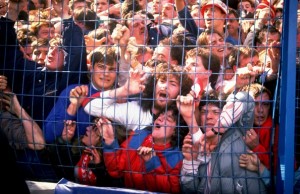 SATURDAY, April 15, 1989. A date no Liverpool fan can forget. A day radiant with spring sunshine that turned into the blackest in British sporting history.
The day I visited the council tip in St Albans.
Just as everyone remembers where they were when news broke of President Kennedy's assassination, Princess Diana's death or the 9/11 attacks, so every Red supporter remembers where he or she was when the Hillsborough disaster unfolded.
That morning, April showers had yielded to blue skies, ideal for me to springclean the garden and perfect for the FA Cup semi-final. With Dalglish's men coveting another League and Cup double, they faced Brian Clough's Nottingham Forest at Hillsborough that afternoon in a rerun of the previous year's semi when Liverpool won 2-1.
Naturally, Cloughie had other ideas. Fixated on reaching his first FA Cup final, he was going for a different twin set, having already won the Littlewoods, while Kopites were burning incense for an all-Merseyside final, since Everton were confronting Norwich in the other semi at Villa Park.
At home in St Albans, I had my day planned. An early assault on the back garden with lawnmower, garden fork and secateurs, a few hours' intense effort to impress the wife, then radio on for the game.
It went well. I beavered away until 1.30pm when I took the wireless outside for BBC Sport on 2. Peter Jones, the commentator at Hillsborough, was previewing the tie, saying it could be a classic and that Hansen was in our starting line-up after a nine-month lay-off through injury. Yes, this should be a good day.
Kick-off 10 minutes away, I began filling bin bags with grass-cuttings, weeds, stones and leaves, ready for a brisk drive to the council tip and back home to listen to the commentary. While I was compacting the bags, Jimmy Armfield enthused: "As always, Hillsborough looks a picture." Then he drew attention to something that did not really register but hinted at problems ahead. After saying how great the atmosphere was, he remarked that although the Forest terrace was full, some spaces remained at Liverpool's end.
Spaces? Among Reds at an FA Cup semi-final? Just before kick-off? As always, there'd been a stampede for tickets and demand was impossible to satisfy because our lads had been allotted the smaller Leppings Lane stand, rather than the capacious East terrace. Now, with minutes to go, there were gaps at our end. Odd.
Just before 3 o'clock, I put three plastic bags in the car boot, flicked the radio on and drove towards the tip in Sandridge Lane. Edging into traffic in King Harry Lane, the news summary was being broadcast. A proposed dock strike had been called off and the victim of an IRA bomb in Ulster was being buried. Oh, yes – British fugitive Ronnie Knight had been released by Spanish police.
These headlines were followed by a race at Newbury but all I was interested in was the semi. Had there been an early goal? Had Aldo banged one in? How was Jocky Hansen doing?
As I reached Batchwood Drive, the race ended and Sport on 2 returned to Hillsborough, not for the football, rather "a major incident". The calm but concerned voice of Jones came in, reporting that six minutes into the semi referee Ray Lewis had taken both teams off after up to 300 fans got on the pitch at the Liverpool end. Police were trying to hold them back but more were clambering over the fence as St John Ambulance men treated people lying on the grass. The match was suspended.
With that, Jones finished for cricket. I had reached the lights at the Ancient Briton pub and was mystified. What was happening? Why were people climbing on the pitch?
Jones resumed, saying there was still chaos and he had seen three stretchers being carried away. But he stressed there was no disorder among spectators, although one Liverpool supporter had run down the field, making V-signs at Forest fans.
Now it was over to Villa Park for Everton's match, then reports from around the country on League games. As I turned into Sandridge Road and joined the file of cars entering the council depot, Jones was back on air, talking in a sombre tone about sirens … an ambulance on the pitch … police pleading with people …  a very serious situation.
I couldn't take it all in. What was going on? What was the problem?
Cricket came on again as I applied the handbrake in the tip. I opened the boot, grabbed the bin bags, and joined people on a metal staircase leading up to the oversized skip. While I waited to drop my bags in, a council worker pulled a lever to squash rubbish in the compactor alongside us.
Amid the debris of consumer life – cardboard boxes, mattress, polystyrene packaging, bundles of magazines – lay a couple of dining chairs. As the machine's hydraulic rams flexed their muscles and compressed this junk, the wooden chairs were slowly contorted, writhing and resisting the remorseless mechanism, until gradually their legs and backs arched and splintered.
Within seconds, they were reduced to firewood.
I tossed my bags in the skip and hurried back to the car. Some rugby, Llanelli versus Bath, was on the radio before they went back to Hillsborough. Jones said he'd seen 15 stretchers being carried away. A nurse was giving the kiss of life to one youngster. The problems were being caused by congestion, not hooliganism.
I drove out of the tip into Sandridge Road, suspecting something bad was happening up in Sheffield.
Over to a dressing room, to Alan Green, who mentioned unconfirmed reports about a door being broken down and fans flooding in. Someone else said: "People are running across the pitch." Then: "There's no way this game can go ahead."
Now I was driving through an endless tube. Something terrible was unfolding at Hillsborough.
I reached home without any recollection of the journey. It could have taken two minutes or two hours. In the kitchen, I turned the radio on and sought reassurance in a cup of coffee. Alan Green was interviewing a Liverpool fan, Glyn Phillips, a GP from East Kilbride.
"There's no doubt that this crowd was too big for this ground," Dr Phillips said. "Liverpool just filled the end they were given. The police allowed the fans to fill the middle terracing section to the point that they were crammed in like sardines. And yet the two outside portions of the terracing were left virtually empty and I stood and watched police allowing this to happen.
"It got to a point where they lost control completely. Lads were getting crushed against the fence right down near the pitch and there were so many people in that part of the ground that nobody could even move to get out. I climbed sideways into an emptier section and then made my way on to the pitch to try and help.
"Now unfortunately there are guys who have died down there on that pitch. I've seen about eight to ten, I don't know how many there are. There was one chap I went to, he was clinically dead. He had no heartbeat. Myself and another guy – I think a nurse – we resuscitated him for about 10 minutes. We were just about to give up when we got his heart beating but I don't know what the state of his cerebral functions is going to be like.
"We asked for a defibrillator. I've been informed there isn't a defibrillator in the whole ground, which I find appalling for a major event like this. We were given an oxygen tank to help with our resuscitation and it was empty. I think this is an absolute disgrace."
With that damning indictment, Dr Phillips ended his testimony.
I turned the radio off and, stirring my coffee, walked into the living room. I put the telly on. A visibly stunned Des Lynam was saying there had been "a tragedy at Hillsborough … many dead".
Many dead!
They showed chaotic scenes outside Leppings Lane before the game: a mass of fans pushing towards turnstiles, a couple of mounted police wedged helplessly in the middle. Then coverage switched to the inside of the ground: people being dragged out of the pens by supporters in the upper stand, dead and dying on the pitch, fans attempting to give resuscitation, others shrieking, a solitary ambulance moving indolently along the by-line, blokes running with casualties on makeshift stretchers of advertising boards to the Forest end.
After that, the TV pictures, journalists' reports, growing toll – 15 dead, 20 dead, 30 dead, 50 dead – everything coalesced into blackness until early-evening news exposed the disaster's true enormity. Now fatalities were put at more than 70.
Inside Leppings Lane, desolation: crowd barriers bent grotesquely, bulging fences, abandoned scarves, clothes, shoes. Worst of all, pictures of weeping parents who'd travelled across the Pennines to identify their children in Sheffield Wednesday's gymnasium, now a makeshift mortuary.
That evening I phoned Mum. In the afternoon, she'd been downtown in Liverpool, shopping in Church Street, when clusters of people passed on news of some "incident" at Hillsborough – crushing, fans injured, even fatalities. She took the bus home to Stockbridge Village where TV laid bare the disaster. Since then, neighbours in Whincraig, her block of flats, had been going back and forth, knocking on each other's doors, inquiring if anyone they knew had been in Sheffield.
I asked how people were feeling and Mum said quietly: "Everyone up here's very upset."
"Very upset".
Two simple words defining a city's pain, while families went through torment.
"Up here" – that got me, too.
Liverpool was my home, one of the reasons for my being. I should have been "up there", where people needed help.
How could I have helped? I might have wanted to be "up there", standing in the Barley Mow with fellow Scousers, shaking my head, emotion trickling down my cheeks, but I could do nothing to ease the suffering of those who were mourning.
My sensibilities were typical of any outsider, an urge to console that would amount to intrusion in private grief. At that moment, you could not soothe the stricken. You could do nothing, except think, and share the tears of Hillsborough's heartbroken mothers.
And I kept going back to the game with Derby a month before, my eight-year-old son's baptism on the Kop, and the people standing nearby. The two lads dipping into a bag of spearmints … teenager with a crew cut … grey-haired gent reading the Echo during half-time … chap in a greasy donkey jacket who steered Russ into that spec by the pillar … Were any of them dead?
After a night staring at TV, I went to bed about 2am. Sleep, "the twin of death", was a long time coming for me but God only knows how hundreds of grieving families across Merseyside shut their eyes for one second that night, or the next, or the next, or the next.
Early the following morning, I went to the newsagent's for papers, their front pages covered with pictures of fans in extremis. One showed two girls, faces against the fence, mouths open, gasping for breath. In another, a man had his arm around a hysterical woman, struggling to protect herself from the wire mesh with her arms.
Human beings at a football match, lives being squeezed out of them.
One September, from Lake Ontario's shore, I beheld a pathetic spectacle: as far as the eye could see, the surface of this inland sea was sprinkled with thousands of butterflies, dragged into the water by brutish waves as they fluttered above the surface.
Now Hillsborough's photos reminded me of those drowning butterflies. Like them, our trapped supporters had no chance against a merciless force.
For the latest accounts of the tragedy, I listened to the radio, which offered clues to the causes and effects. Because roadworks delayed traffic across the Pennines, a build-up of fans in the half-hour before kick-off meant turnstiles couldn't cope – 23 gates for 24,000 spectators at our end, compared with 60 for 30,000 on other sides. Early reports maintained ticketless Liverpudlians broke down a door to get in but it transpired that, to relieve crowding, police ordered exit gate C should be opened to afford entry.
This created a death trap. With the Leppings Lane terrace divided by iron railings into seven pens, numbers 3 and 4 behind the goal were already full while the side ones had plenty of space. Once gate C opened, the absence of stewards led to thousands streaming into a tunnel that sloped down to the middle pens. Soon they held double their capacity and, since a high fence along the perimeter blocked escape, people next to the pitch were strangulated by vice-like weights that buckled a steel barrier and killed them where they stood.
Watching events unfold, most spectators around the ground did not appreciate the gravity of the situation, except for those seated at the rear of Leppings Lane who hauled dozens to safety. One gate in pen 3's fence offered an outlet for overcrowding but when it sprang open, police slammed it shut and even pushed back Scousers clambering over the top.
While people were fighting for their lives, the teams kicked off, heedless of the mayhem until a couple of supporters ran to Hansen who, fearing a pitch invasion, asked them to get off. They told him people were dying in the stand. Soon afterwards, the referee sent both sides back to their dressing rooms and confirmation of fatalities came at 4 o'clock.
Despite this, the full horror did not register with Aldridge until later that evening when he got home and watched the news with his wife Joan. Then the magnitude sank in. "That was when we broke down, as one, in tears and hugging each other. We cried most of the night and slept little," Aldo revealed in his autobiography.
Next day he took his daughter Joanne to lay roses at Anfield's Shankly Gates and stood in silence amid stunned supporters as more and more people arrived with flowers. Men, women, children, whole families wanted to be at the ground, and when Peter Robinson saw how many were outside, he asked for Annie Road's gates to be opened.
Immediately fans walked round the touchline to the Kop goal, attaching bouquets to its net, floral tributes that spread rapidly into the goalmouth, onto the turf and up the terracing, where loved ones had once stood.
On cold, concrete steps, people sat beside their flowers, weeping, and throughout that Sunday, the Kop and the pitch gradually filled with carnations, roses, tulips and daffodils, creating a tear-stained tapestry, a perfumed garden of remembrance, a fragrant memorial to lost Scousers. If anyone required proof football is a religion on Merseyside, then the way our ground became a shrine that day gave it.
Those paying their respects weren't just Liverpudlians. Supporters came from clubs near and far. Everton, Tranmere, Wigan, Chester, Wrexham, Preston, Blackburn, Bolton, Burnley, Manchester United, Manchester City, Leeds, Villa, Arsenal, Chelsea, Tottenham, Celtic, Rangers – scarves, caps, rosettes and flags of every team in the land could be seen among Liverpool's colours.
By this time, more members of the team had arrived and they consoled people out on the pitch, until someone invited the sorrowing into the players' lounge for some privacy. Here in the Main Stand, a steady stream of distraught fans was met by Marina Dalglish and other wives and girlfriends, offering cups of tea and shoulders to cry on. The pain became so acute, though, that after a while players and partners were being comforted by the bereaved, like one widow who joked with Kenny: "My husband was a miserable old sod. He'll be quite happy in Heaven watching all the games for nothing." Laughter in the midst of tragedy.
Next day, Monday, the team faced a harrowing task, visiting casualties in Sheffield's hospitals. In a single room, five supporters were in comas, and two regained consciousness while players talked to them. One asked: "If you get to Wembley, can you get me a ticket?" "Unbelievable," said Hansen.
After whispering in 14-year-old Lee Nicol's ear, Aldo asked a doctor about his chances of recovery, only to be told he was clinically dead. Aldo broke down.
His grief was shared across the land. That evening, John Peel abandoned the introduction to his Radio 1 show and opened straightaway with Aretha Franklin's Gospel version of You'll Never Walk Alone. As her haunting interpretation went out over the airwaves, John sat at his studio console, shedding silent tears.
Hospital visits over, Liverpool's squad returned to Merseyside and steeled themselves for another ordeal, going to funerals. A total of 95 supporters had died, the youngest aged 10, the oldest 67, while Anthony Bland was to lie in a coma for four years until his life-support machine was shut off.
Hansen was present at 12 funerals and Kenny attended four in one day.
Aldo was shattered to see a pair of coffins being carried into church. He hadn't known: it was father and son.
As a Scouser, the lifelong Red took the tragedy particularly badly, admitting he was in trauma for weeks. Forcing himself out on a training run, he pulled up after a few strides, tormented by thoughts of his own children, and he withdrew from Ireland's squad for a World Cup qualifier with Spain.
During the fortnight after Hillsborough, more than 1,000,000 people visited Anfield, a place of pilgrimage where half the grass and the entire Kop became covered with mementos of the dead.
When Kenny went on the terrace, he spotted a pair of boots and two oranges placed precisely beside a barrier, which he found terribly affecting. The whole spectacle was "the saddest and most beautiful sight", he said.
As well as funerals, players went to memorial services in the Anglican and Roman Catholic cathedrals, attended by people of every persuasion, and none. Reflecting on this palliative process, David Sheppard, the Bishop of Liverpool, said: "Liverpool has always had a real sense of belonging where in other cities everything feels terribly individualistic. Hillsborough was in some ways the most profound coming-together of the city, of the feeling of grief together and the feeling, as far as we could, of helping to hold one another in healing afterwards."
Not only did the disaster represent a watershed in Liverpool's history but it also confirmed this wasn't a mere football club, it was a family. The instant people cried out for help, that family pulled together. Craig Johnston flew in from Australia, John Toshack returned from Spain and many other former players rushed to Anfield, while famous fans responded too, like Jimmy Tarbuck who wrote personal letters to the families of victims.
But it wasn't only Merseyside's Red half that was hurting – Evertonians felt the heartache too. Aldo said: "I will never forget the support that Liverpool as a club and our fans received from Everton and their fans."
For me, the tragedy's enormity hit home when Mum sent a copy of the Echo, with page after page of death notices for victims, as well as heartfelt messages from every corner of the globe. Regardless of where they lived, a part of every Scouser seemed to have perished that Saturday afternoon.
Then the St Albans paper landed on our mat, its front page all about a local lad, 15-year-old Kester Ball, who went with his father to Hillsborough where the hand of death reached out to touch him.
This story of someone who lived nearby moved me. Instead of Kester, it could have been my Russ who hadn't come home. Instead of Kester's dad walking through the front door that night, alone, it could have been me.
There but for the grace of God …
I had to let Kester's family know they were in our thoughts. I found their address in the phone book and wrote a few inadequate words on a sympathy card from my family, "Anfield exiles who can but grieve with you". Then I drove down Watford Road, past the Three Hammers, turning into their street. It was full of parked cars, knots of dark-suited people.
The funeral was about to take place.
I asked a mourner if she could pass the card on to Kester's family and sped away.
Of all the days to choose …
In the following weeks, moving stories emerged, like how Asian families around Hillsborough took distressed fans into their homes and shared their tears. Then there was the pub en route to Sheffield that has always offered hospitality to Liverpudlians. Before the game, a party of Reds settled down for a few gills, noticed the licensee's wife was missing and were told she'd just had a miscarriage. A quick whip-round covered the cost of flowers for her. That afternoon, she heard about Hillsborough and anguished over which of those Scousers would never walk into her pub again.
Over in Germany, Borussia Mönchengladbach supporters, whose hearts we'd broken twice in European finals, collected thousands of pounds for an appeal fund. Ron Yeats and Trevor Hicks, who lost his daughters Sarah and Victoria in the disaster, went over to accept the donation, a token of sympathy that has forged unbreakable bonds. Since then, groups of up to 150 BMG fans have journeyed to Merseyside, staying with families and shouting for the Reds at Anfield, and Kopites have made return trips to watch Mönchengladbach.
Across the British Isles, Hillsborough's victims were remembered with a minute's silence, respected at grounds everywhere apart from one where a handful could not curb their mouths. In response, the visiting Sunderland fans sang You'll Never Walk Alone at the end of the 60 seconds.
Our anthem also resonated at stadia across the Continent, like the San Siro. There, a European Cup semi between Milan and Real Madrid was halted after six minutes when 80,000 rose as one to give voice to YNWA. A spontaneous gesture by strangers, rival fans who felt for Liverpool.
Bless them all.
***
For the rest of their days, families and survivors will have to cope with Hillsborough's agony, incapable of drawing a line under an event that eventually claimed 96 lives, injured 766 and traumatised thousands.
Although a public inquiry, inquest and judicial review investigated the circumstances, families are still campaigning for the European Court of Human Rights to intervene, while one mother, Anne Williams, has petitioned the Attorney General to order a fresh inquest.
They fight on because of all the unanswered questions: why police officers' statements were altered to make them consistent with each other; why many documents vanished; why video tape from the stadium's camera control office went missing; why only one ambulance was allowed on the pitch when 42 more were parked outside; why the door in pen 3's fence was kept shut; why cutting tools weren't used to alleviate the crush; why no emergency medical equipment was stored at the ground; why lessons from previous tragedies had not been acted on; why Hillsborough's safety certificate was 10 years out of date .
In his excoriating book, Hillsborough: The Truth, Phil Scraton brings to light many damning truths, including a change of police command that had disastrous ramifications. One senior officer from South Yorkshire Police, Chief Superintendent Brian Mole, was usually tasked with responsibility for semi-finals and, the previous year when Liverpool also played Forest, he threw a police cordon around the ground for tickets to be inspected. Yet for this match he was delegated to other duties, his filtering system was abandoned and people massed outside the turnstiles.
His replacement, Chief Superintendent David Duckenfield, had hardly any familiarity with spectator control, believing stewards should take the lead role. As a result, the police failed to organise queues properly and to direct supporters' entry.
Warning signs about Leppings Lane should have been spotted earlier. When Wolves met Spurs in another semi in 1981, fans were routed into Sheffield in a police operation designed to keep rival factions apart, a plan that ensured Wolves supporters had the extensive open bank while Spurs, despite a bigger following, were allocated the smaller Leppings Lane. Well before kick-off, Tottenham supporters were being squashed, compelling police to allow hundreds to watch along the touchlines. In all, 38 people sustained injuries, including fractured legs, arms and ribs, and the FA halted semis at the ground for six years.
Alarm bells rang again four years before Hillsborough when the dangers of fencing were underlined in a report on the Bradford City fire, which claimed 56 lives. Mr Justice Popplewell wrote: "The importance of allowing full access to the pitch where this is likely to be used as a place of safety in an emergency should be made plain."
Why wasn't that advice heeded at Hillsborough? Why didn't police react like at the Spurs semi? Why was a police inspector ignored in 1986 when he warned about access problems creating a potential for disorder in Leppings Lane?
To find some explanations, Lord Justice Taylor instituted an inquiry which heard that PC Michael Buxton grew uneasy about crowding outside Hillsborough and sent a radio message to Chief Superintendent Duckenfield, pleading for the kick-off to be delayed. A precedent had been set in 1987 before a Leeds-Coventry game when Chief Superintendent Mole put off the start because of traffic congestion.
Notwithstanding the fact Duckenfield could monitor the crowd from his control office and enjoyed the benefit of five CCTV screens, he refused. Yet while people lay dead and dying, he summoned extra officers to quell "a pitch invasion", did not implement the emergency plan and did not call ambulances. Finally, at 3.15pm when Graham Kelly, the FA's chief executive, sought out the police chief to discover what had happened, Duckenfield maintained that Liverpool supporters had forced open exit gates.
However, in his report, Taylor concluded: "The real cause of the disaster was overcrowding. The main reason for the disaster was the failure of police control." Deciding to open gate C but not to close the tunnel amounted to "a blunder of the first magnitude". Despite "a drunken minority of fans", alcohol was not a significant factor in the tragedy, while Liverpool supporters acted more decisively than emergency services to save lives.
Discarding Margaret Thatcher's panacea of identity cards for the sport's ills, Taylor said clubs and police had exacerbated conditions that sustained bad behaviour; squalid grounds fostered squalid conduct. All-seater stadia would ease problems, he concluded, while the FA and Football League had to meet their responsibilities for safety.
The next stage in the judicial process was an inquest, which disregarded Taylor's report because his witnesses had not taken oaths. Dr Popper, the coroner, also limited testimony by imposing a cut-off time for accounts of 3.15pm on the fateful day, directing that later events were inadmissible because any "real damage" had been done by then. This despite incontrovertible submissions that some of the dead, including Anne Williams's son Kevin, were alive after that time.
Within these arbitrary parameters, the jury returned verdicts of accidental death in 1991.
Unwilling to accept this outcome, the Hillsborough families campaigned tirelessly for a no-holds-barred investigation into what they perceived as failings on the authorities' part. The pressure became such that Home Secretary Jack Straw allowed a judicial review under Justice Stuart-Smith in 1997 but a year later he announced a further public inquiry could not be justified.
Even though the Taylor report castigated police failings and culpability, no one was charged with negligence or maladministration, no prosecution took place and no officer faced disciplinary proceedings.
All other avenues of redress blocked, families launched a private prosecution of the men responsible for Hillsborough's crowd control, former Chief Superintendent Duckenfield and former Superintendent Bernard Murray, charging them with manslaughter of two victims and wilfully neglecting to carry out their public duty.
During the trial in 2000, the prosecution said Duckenfield had changed his account three times but Justice Hooper directed the lesser charge of wilful neglect should be abandoned "because it does not really add anything in this case". The jury deliberated for four days before acquitting Murray of manslaughter and failing to agree on Duckenfield. Both were discharged by the judge who declared there should be no retrial.
Having spent 11 years trying to unearth the facts about Britain's worst sporting disaster, the families felt betrayed, sacrificed in a cover-up that suppressed the truth.
Imagine if your daughter or son went to a football match and was brought home in a coffin. You'd damn well want some explanations, some answers to the Why? question. Surely you have a right to that.
Move on? How can you? Closure? Forget it. And if there was the slightest hint of incompetence, negligence or downright culpability, you would not rest until the guilty parties were called to account. You owe that to your lost loved ones.
Imagine what Trevor Hicks went through. While Victoria was being placed in an ambulance at the ground, he was straining to revive Sarah with mouth-to-mouth resuscitation and for six months afterwards the only thing he could taste was her vomit.
Imagine that.
Now Trevor regards Hillsborough as two disasters: the one on the day and the miscarriage of justice persisting to the present. No parent should be left to live with that.
Somehow, though, he and his wife Jenni have drawn strength from Scousers, not so much the salt of the earth, more its gold dust.
Through the tears, Trevor expressed their feelings: "All this has done is reinforce our love for Liverpool and its people."