By Bob Pearce.
Oscar Hammerstein wrote the lyrics and Richard Rodgers composed the music for 'You'll Never Walk Alone' in 1945, in their Broadway musical 'Carousel'. In terms of its emotional impact and iconic status, one BBC programme ranked the song alongside 'Silent Night' and 'Abide With Me'. Irving Berlin said that the song had the same effect on him as the 23rd Psalm.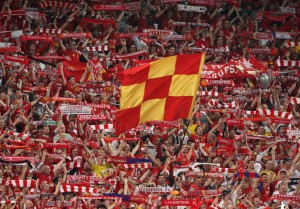 'When you walk through a storm'
You do not choose to walk through the wild torrent of powerful and unpredictable forces that are unleashed in a storm. You do not choose adversity. The situation is one you find yourself in, forced upon you, and caused by external circumstances that you do not control. You would rather be anywhere else than here today. But you have no choice. There is nowhere to hide. This is the harsh reality of your life, right here, and right now.
"Life is never made unbearable by circumstances, but only by lack of meaning and purpose." Viktor Frankl
'You'll Never Walk Alone' has been sung at Liverpool games by generations of fans, but there are two occasions when it has taken on a much deeper meaning than a simple football song. One was in the Ataturk stadium in Istanbul on 25th May 2005 at around 10.45 pm, Istanbul time.
'Hold your head up high'
Keep your dignity, your pride, your self-respect. Lift up your head. Look around you. Do not hide away. Face up to the situation. Look it in the eye. Defy it. 
"Otro Mundo es possible." ('Another world is possible') Che Guevara
Within 'Carousel', 'You'll Never Walk Alone' is sung to both comfort and encourage the female protagonist Julie Jordan, after the death of her husband Billy Bigelow during a failed robbery. It is then sung again at the end at their daughter Louise's graduation ceremony, at the story's conclusion.
'And don't be afraid of the dark'
What is it about the dark that we fear? It is the unknown. That place where imagined horrors await. In the dark you can not see around you. There is uncertainty. Who knows what may be out there hidden from view. It is the rich and fertile ground for your imagination. We grew up hearing many fairy tales that use a journey into this 'darkness' of the woods, where the hero must overcome their fears as part of their quest.
"The woods are just trees. The trees are just wood." Stephen Sondheim
When the Liverpool team returned to the dressing room at half time in Istanbul they were at the centre of the 'perfect storm'. Far, far from home, in a European Cup Final. 1-0 down within a minute in the biggest game these players will ever play in. A team of the good, the decent and the adequate, facing a side so crammed with great names some had to wait their turn on the bench. And now 3-0 behind with the whole world watching, and still only half way through this catastrophic experience.
In football terms, this was about as bleak as it could get for a Liverpool fan. The parrot was not just sick, the life support machine was about to be switched off, and it was about to meet its maker.
And all this was unfolding with the knowledge that this most public of humiliations would be indelibly engraved into the permanent granite of the historical record, never to be erased or forgotten. This was humiliation of such historical proportions that we may no longer be able to think of ourselves in the same way again.
'At the end of a storm'
However bad this may be now, there will be an end. This situation may even get worse before it gets better, but it will not go on for ever. You may not be able to see that end from where you are now, but just knowing that there will be an end gives a reason to cling on until it finally arrives.
"Hope is a waking dream." Aristotle
Following the release of the 'Carousel' soundtrack album, Frank Sinatra became the first artist to record 'You'll Never Walk Alone'. His version reached number nine on the Billboard chart in 1945. Many others have followed since. Recordings can be found of Elvis Presley, Judy Garland, Doris Day, Ray Charles, Nina Simone, Shirlety Bassey, Barbara Streisand, Patti Labelle, Jackie Wilson, Gene Vincent, Aretha Franklin, Johnny Cash, Mario Lanza, Cilla Black, Richard Thompson, Chet Atkins, Dean Martin, Placido Domingo, Glen Campbell, Bob Dylan, Louis Armstrong, The Isley Brothers, Slade, Rolf Harris, Wah!, Billy Eckstine, Perry Como, The Righteous Brothers, Dionne Warwick, Tammy Wynette, Eric Clapton, Jimmy Durante, Olivia Newton John, The Dave Clark Five, Paul McCartney, and even Eddie the on-board computer in 'The Hitchhikers Guide to the Galaxy', all performing 'You'll Never Walk Alone'.
But the iconic and definitive version of the song is without doubt the one recorded in 1963 by Gerry and the Pacemakers.
'There's a golden sky'
Remember that the darkest hour is just before the dawn.You may be at your lowest ebb, but the sun will soon rise and shine again. There is a light at the end of the tunnel. And with that light the darkness, along with all its uncertainty and imagined horrors, will be gone. 
"Hope is faith holding out its hand in the dark." George Iles
Chris Rowland was at the Ataturk on 'that night'. He says when the players left the field at half-time he (and every red in the stadium) was feeling "shocked and embarrassed at what had been and what might be. I don't know anybody who thought we still had a chance of actually winning."
But for Chris the singing of 'You'll Never Walk Alone' at that moment, in that stadium, in that game "was an act of defiance to the watching world rather than a belief that the game wasn't over. I've been there when 'You'll Never Walk Alone' has been sung in desperate situations as an act of defiance, as well as so many times in triumph. But in terms of the situation at the time and the enormity of the occasion, I can think of no comparable situation where it has been sung."
'And the sweet silver song of the lark'
The alliteration of 'sweet silver song' brings a calming vision of restored simplicity and order at this time of chaos and confusion. Along with a golden sky comes a silver song. The storm is over, the dark is past. These are simple everyday pleasures, but both are now seen to be precious and to be treasured. They have been taken for granted and now, in their absence, you realise how much you will come to appreciate their simple, peaceful calm when you see and hear them again.
"Imagination is more important than knowledge." Albert Einstein
At the same time that Brian Epstein was managing The Beatles, he was also taking care of business for Gerry and the Pacemakers. Gerry Marsden had always liked the song, but when he suggested recording a version with producer George Martin at Abbey Road, both Epstein and Martin believed it was too slow to ever be a hit.
The song was eventually recorded and released in October 1963. Within a month the single was number one in the chart, and stayed there for the next four weeks.
'Walk on through the wind'
You know that you must find the resolve from somewhere inside yourself to keep going, keep battling, never giving up in the face of adversity. You know there will be an end, you know you must carry on, look past the difficulties and see that golden sky, hear that silver song, that lie beyond.
"When you are in hell – keep moving." Winston Churchill
For Chris Rowland in the Ataturk that night "The song began half-heartedly at first, then some kind of momentum built, it became a sort of rallying point. The song spread, and most joined in. It was an act of public defiance more than seeking to inspire. It was about unity, we're all in this together, every player and every fan. The message was that you may be beating our team but you will never crush our spirit. We will never be subordinate, to anybody."
Somewhere else in the stadium was Kelly Dalglish. "I've never hard it sung like that before. Ever. It was almost like a prayer. And there was almost a kind of desperation to it."
Paul Tomkins was there too. "It was a very powerful experience, as a fan, to hear the familiar song sung – and to be part of the choir – in such footballing adversity."
'Walk on through the rain'
The repeated simple action of one foot placed in front of the other.
'Walk on.'
And another.
'Walk on.'
And another.
That is all it takes.
One step at a time.
That is all it takes.
"If you can force your heart and nerve and sinew, to serve your turn long after they are gone. And so hold on when there is nothing in you, except the Will which says to them 'Hold on!'" Rudyard Kipling
In the 60's the top 10 singles charts were played at Anfield before matches and the Kop choir would sing along to the hits of the day. At the end of 1963 'You'll Never Walk Alone' was introduced and became so popular that, even when it was no longer in the top 10, the swaying Kop continued to sing it themselves.
'Though your dreams be tossed and blown'
Your resolve, your resilience, your faith in the outcome, will be subjected to many tests. This is the brutal truth that must be faced. Expect challenges to come at you from all directions. There may be three steps back before you can take one step forward. So be it.
Rudderless and adrift with neither map or compass, in an alien landscape, bereft of the familiar landmarks and reassuring signposts found in that zone called 'Comfort", you will feel buffeted like a tiny boat, blown far off course, on a vast, violent, raging ocean of turmoil. Home is going to feel like it is zillions of light years away.
You will question your beliefs. You will have your doubts. Your dreams will be treated as lightweight, worthless and inconsequential, and you'll see them brushed aside and dismissed.But do not give in. Hold on to them. Never let them go.
"You may face many defeats in your life, but never let yourself be defeated." Maya Angelou
Jamie Carragher was at the very centre of the storm in the Ataturk. When Smicer's shot made it 3-2 he says "The first goal gave us a bit of hope. But this one gives you belief now."
'Walk on, walk on'
The simple plan. Just get started.
One step at at time.
One foot in front of the other.
And then again. One foot in front of the other
One step at a time.
"A journey of a thousand miles begins with a single step." Laozi
'You'll Never Walk Alone', once adopted by the Kop, very quickly became associated with the club. Within 18 months, BBC football commentator Kenneth Wolstenholme was describing it as the "Liverpool signature tune" as it was sung during the 1965 FA Cup Final against Leeds United.
'With hope in your heart'
Where does hope come from? Hope comes from within.
Hope is not in your 'head'. It is not a focused logical thought. Hope is not about certainty.
Hope is not in your 'gut'. It is not a fuzzy intuitive feeling. Hope is not about the probable.
Hope is in your 'heart'. It is vague. It is not necessary for it to be specific. It is not a plan, or a dream, or a wish.
Hope may be uncertain, it may be improbable, but it is always possible.
Hope is simply the auto-pilot of the 'heart', required to keep going long enough for your 'gut' and your 'head' to have a chance to do their work.
Without hope you are hopeless. When hope is lost you are left with despair. If you give up hope you are doomed, and you are destined to 'walk alone'.
But with hope you retain an optimism that says 'the glass is one drip full'.
If hope is the pilot flame that flickers in your heart then imagination is the spark which re-ignites that flame. When all seems lost, you still have the ability to imagine. You may have to live in this present, but your imagination allows you to travel to a future that does not yet exist.
When you have hope you see, you feel, you think, and you act differently.
You may be down but you are not defeated. That spark of imagination ignites the flame of hope. That flame burns the fuel of will power to get back on your feet and just take one step.
"Hope is an ability too believe the future will be unspecifiably different from, and unspecifiably freer than, the past." Richard Rorty
Carlo Ancelotti was also in the Atarturk stadium that night in May 2005, in his role as the AC Milan coach. What impact did the defiance of Liverpool fans have on him? In August 2012 he was asked which club has the best fans. "In my opinion Liverpool fans, when they sing a song they… I don't know in English, but your skin is…""(he fluttered his fingers up and down his arm to explain).
'And you'll never walk alone'
If you get your value from outside yourself, then it can always be taken from you.
"The one thing you can't take away from me is the way I choose to respond to what you do to me. The last of one's freedoms is to choose one's attitude in any given circumstance." Viktor Frankel
'You'll never walk alone'
'You'll Never Walk Alone' now features in the club crest, and on the Shankly gates entrance to Anfield. In October 2013 'You'll Never Walk Alone' will have been the Liverpool anthem for half a century. That is tradition. That is history. That is culture. That is something that cannot be bought or sold.
'Walk on, walk on'
Those glorious swirling strings. You know they are coming and yet every time you hear them they make the hairs stand up on the back of your neck. They're like a musical shot of pure adrenalin. This is the sound of the light of that imagined gold sky appearing at the end of the tunnel. Rousing music, lifting you back on to your feet again.
Until now the song has been about the imagination reigniting a dying flame that is about to be extinguished. Now the song has found the energy and determination from within to keep going forward.
There are no guarantees. You know that your dreams may not ever be realised. But you recognise that you will always have a choice. To give up all hope and submit, or to keep that flame of hope burning in your life.
You invent yourself every time you choose.
"Don't wait for a light at the end of the tunnel. Stomp down there and turn the fucker on yourself!" Sarah Millican
The other occasion when the song took on a much deeper meaning was on 16th April 1989 at Liverpool's Roman Catholic Cathedral, the day after the tragedy at Hillsborough.
With 5,000 people in attendance and a further 8,000 outside, 'You'll Never Walk Alone' was sung by a lone choir boy. The song sought to offer both comfort and encouragement to an entire city in a state of trauma.
'With hope in your heart'
"Hope is independent of the apparatus of logic." Norman Cousins
Mel Torme told Richard Rodgers that when he heard the 'You'll Never Walk Alone' it had made him cry. Rodgers apparently replied impatiently "You're supposed to."
'And you'll never walk alone'
When teams from across Europe visit Anfield, part of the magic of the occasion is the opportunity to witness the legendary sight of the whole stadium rising up to sing the club's anthem. It is an experience that evokes memories of the glorious history of one of the greatest football clubs in the world. It is an experience like no other in football.
"We must accept finite disappointment, but never lose infinite hope." Martin Luther King
You'll never walk alone'
After almost half a century after its arrival, 'You'll Never Walk Alone' is now thought of as first and foremost as the anthem of Liverpool Football Club.
Some may go as far as saying that, more than any of the great players or legendary managers, 'You'll Never Walk Alone' is the very DNA of Liverpool Football Club, its most recognisable and universal symbol, maybe even more than Anfield itself.
It is possible to imagine a time, another 50 years from now, long after more heroes and legends, and maybe even Anfield itself, have come and gone, when this heroic song about resilience in the face of adversity will continue to be sung.
"Between stimulus and response there is a space. In that space is our power to choose our response. In our response lies our growth and our freedom." Viktor Frankl.