By Alexander Tate.
I knew the players who played for Liverpool when I was a young boy, I read about them in Match and Shoot magazines. I can just recall Ian Rush was breaking through and Ronnie Whelan was beginning to star in midfield. But the older players, the ones I'd seen in Charlie Buchan's Football annuals that belonged to my father, seemed as far off and dusty as the old suitcase he stored the books in. The pictures were even painted, it was that far back in history.
In the time before Shanks, Liddell was the idol of The Kop. With his rugged good looks and some of the best hair ever seen at Anfield, he looked great. But the hardworking men on the terraces weren't interested in that, they wanted hard work from their players, like they put in down at the docks. They wanted loyalty, goals and someone to help lift the gloom of the week. Billy did all that, and more, almost non-stop for 14 full seasons.
William Beveridge Liddell spent his entire professional career at Liverpool FC. To the fans he was King Billy, the club he played for was Liddellpool. He signed for Liverpool in 1938 while still a teenager and played for the youth team. The outbreak of World War Two saw Liddell's official debut for the Reds delayed. During this time though, he was a guest for various teams, including an F.A. XI, Scottish Services XI and made eight appearances for Scotland, for whom he scored on debut against England in a 5-4 victory.
He also served as an RAF Navigator in Europe and Canada before returning to Anfield in time for the resumption of the Football League in 1946. On a day of heavy rain nearly a million people flocked to 43 opening day games, which were the same fixtures as the short-lived 1939 season. During his first full peacetime season, Liddell made a name for himself as a speedy, two-footed winger with a powerful shot who could also be a handy centre forward.
It was for these skills that the Kopites took him to their hearts, famously singing "Give it to Billy!" The fact he helped Liverpool to the Championship in 1947 endeared him even more. This was a sturdy team built around Albert Stubbins and Bob Paisley, who would later say, "Billy was so strong he was unbelievable. He would always battle, challenge and show tenacity."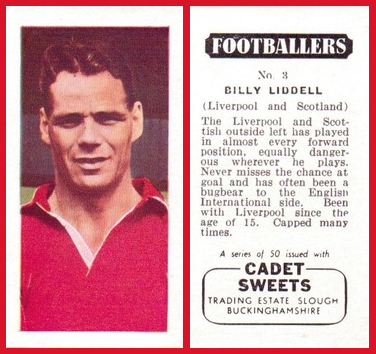 After the 1947 Championship Liverpool finished mid-table for three consecutive years, then lost the F.A. Cup final to Arsenal in 1950. Mid-table slipped to the lower reaches of the division until relegation in 1954. But in that time Liddell still scored remarkably well, averaging a goal every 2.3 games. With Robbie Fowler finding the net one in two and Rushie and his moustache celebrating every 1.9 games, Liddell's achievements can be measured alongside the greatest goal scorers ever to wear the Liverbird.
The talent within Liddell wasn't lost on members of football's highest echelons. At a time when British wingers were considered the best in the world, Liddell was a stand out, and was picked for the Great Britain representative sides of 1947 and 1955, one of only two men included in both. The other? Stanley Matthews.
It wasn't lost on the kids either. Many collected bubblegum cards with footballers pictures on, trading with friends; Wilf Mannion, Sam Bartram, Nat Lofthouse, but Billy Liddell was always highly sought after.
In 1950, Liddell was offered a transfer to Colombia by agents representing Independiente and Club Deportivo Los Millonario, many miles away from his Fifeshire upbringing eating porridge and kale. Wage and transfer restrictions in England made the offer, an estimated £2,000, very tempting. Liddell was a loyal man and chose to turn down the offer and stay on Merseyside, even though Liverpool had just been relegated. Becoming a father to twins may have helped him come to that conclusion. Finding out stories like this about a player, whose earnings may have been around £600 a year, give you a better understanding of the man.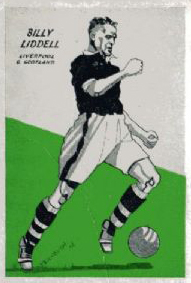 But Billy Liddell isn't just a name to drop by younger fans that never saw him play, he was a gentleman to look up to and revere. During his time at Anfield, Billy also held down a nine-to-five job as an accountant, an agreement with his parents upon his move to Merseyside to have an alternate trade. He was a non-smoking teetotaller who actively supported many charities and always had time to shake hands and sign autographs.
Liddell's skill and determination kept Liverpool high during those second division years, the Kop loving his brute force combined with his immense ability. He ran defenders ragged, yet also shored up the defence, excelling during a stint at full back. But Liverpool still failed to gain promotion.
In August 1960, just four months short of his 40th birthday Liddell made his 537th and last appearance for Liverpool. Bill Shankly wished he'd had Liddell available when in his prime. "Liddell was some player… He had everything", Shanks enthused. "He was fast, powerful, shot with either foot and his headers were like blasts from a gun. On top of all that he was as hard as granite. What a player! He was so strong – and he took a nineteen-inch collar shirt!"
When an International XI arrived at Anfield for his testimonial so did 39,000 others, 10,000 more than the season's average gate, all to pay respects to someone who remains one of Liverpool's greatest players of all time.
Someone who did see him play was TTT's Jeff:
"There were many years where Liverpool were basically Billy Liddell and many, many years when he was considered the greatest Liverpool player ever. As I have said elsewhere, I stood and watched Liverpool matches with old boys – ironically old boys to me then are younger than I am now – who said he was better than Dalglish, Keegan, St. John and all the rest. To me Billy Liddell is the best of Liverpool and I wish people had taken their time to look him up and appreciate what he meant to Liverpool."
Billy passed away suffering from Alzheimer's in 2001. There's a plaque at Anfield, which was unveiled by his wife, Phyllis. It's in the Kop near the entrance to the museum. Go see it, touch it as you would the "This Is Anfield" sign. Billy Liddell is as much part of the story of Liverpool FC as Bill Shankly. If Liddell's goals hadn't have kept Liverpool striving for promotion in the grey days of the second division during the late fifties, resurrecting Liverpool may have been a much harder job, even for Shanks.