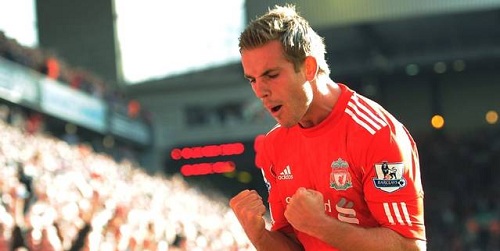 By Krishen Bhautoo (Krishaldo).
Jordan Henderson seems to split opinion amongst the Kop faithful. Some see him as a player with ability and great potential. Others see him as a player with no mettle and limited talent. Personally, I see him as a useful player who has the potential to grow into a very important midfield cog, especially in how we predict Rodgers will set out his team.
It's all well and good some of us predicting that he is going to come good, but how does he compare to his peers? Of course it would be unfair to compare him to Gerrard, Scholes or Lampard who are seasoned professionals with almost five decades of first team football between them. Instead I have chosen to compare players who are 23 or under, have made 15 or more starts for their club in 2011/12 and obviously play in centre midfield. 'Ah!' I hear you say, 'But Henderson played most of his games on the RIGHT of midfield'. I at first assumed this, however according to EPL Index, he only played on the right around nine times in his 31 starts. So about two thirds of the time, he has played in his preferred central role.
All data used in this article is from EPL Index http://www.eplindex.com/stats/

Follow them on Twitter: https://twitter.com/#!/EPLIndex
The players I wish to compare are:

This post is for Subscribers only.
[ttt-subscribe-article]