It is often lauded as being the ideological model for football clubs. The structure and style of play at Barcelona is the footballing benchmark, and the Barcelona model is widely reported as being the methodology behind the reshaping of Liverpool. Yet there are some interesting parallels between the cities and football clubs of Barcelona and Liverpool that suggest the Barcelona footballing model could be seen as an evolution of the Shankly blueprint.
Culturally, the cities of Liverpool and Barcelona share many similarities. The Catalan culture is unique; it is the firm conviction of Catalans that they are not Spanish. They are an independent country. The identity of Catalonia is very insular, they are incredibly proud of their city, and their football club is at the heart of that identity. In Espanyol, there is also a smaller club that exists in the shadow of the giant, a stone's throw from the Camp Nou (bit of tongue in cheek there!).
There are so many parallels with Liverpool. Scouse not English could quite easily translate into Catalan not Spanish. The people of Liverpool are incredibly proud of Scouse identity, and the football club is the heart and soul of the socialist instincts of the city.
Heritage
It isn't just cultural characteristics that the two clubs share. There is also a glorious football heritage. Between Barcelona and Liverpool there are 39 League titles and nine European Cups (although surprisingly, Barcelona didn't win the European Cup until 1991). There is a history of great players; the likes of Keegan, Souness, Dalglish, Rush and Gerrard, and Maradona, Cruyff, Luis Figo, Ronaldinho and Messi, to name but a few.
The rest of this article is for subscribers only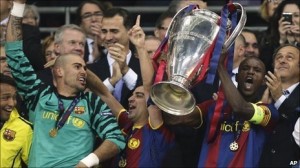 [ttt-subscribe-article]