That is all I could say at the time; if the shortlist had whittled down to these two guys then hopefully the best man would win.  I knew who I wanted, and it was not Martinez.
Peter Walker, (Guardian 13.6.12), wrote about Roy Hodgson`s success in guiding Fulham to the Europa League final; describing it as "a run which prompted Liverpool to make their fateful call."
That line – though it came afterwards – could easily have been transposed to Martinez`s candidacy for Liverpool manager.  Purple patches can dazzle; firework displays are spectacular and seductive. Nonetheless, they are transient by nature; they burn brightly then fade away. As enthralled as the crowd may be, they would do well to remind themselves of this fact and not get too carried away.
Martinez, from what I could glean, was celebrated on the basis of a similar isolated but successful run. It was beautiful, yes, but beauty is ephemeral too; and it occurred right at the tail end of the season where it would have made the most impact.  I started to compare Martinez with Rodgers deciding that I favoured the latter – despite Rodgers having the lesser experience in the Premier League.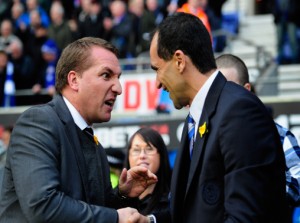 The rest of this post is for subscribers only
[ttt-subscribe-article]