The greatest trick Roy Hodgson ever pulled was convincing the world that his team's chances didn't exist. That, and that his mediocre CV – with some success, but also plenty of failures of varying degrees – is somehow impressive.
Only he could take a team ranked in the world top ten, and filled with repeated Premier League title-winners in Rooney, Cole, Terry and Johnson (twice at Chelsea, albeit barely playing the second time); Champions League winners in Rooney, Cole, Terry and Gerrard; current title-holders in Milner, Lescott, and, in Hart, possibly the best keeper the country has had in decades – and have his side be written off before a ball had been kicked. He turned England into Finland.
Add several more Arsenal and Liverpool players, three further Manchester United stars, plus recent Footballer of the Year Scott Parker (everyone in the media keeps telling me how great he is), and this is a strong squad. Not Spain-strong, but strong enough to be expected to beat Sweden, and a Ukraine side, ranked below 50th in the world, down to their 4th-choice goalkeeper and lacking their revived talismanic striker.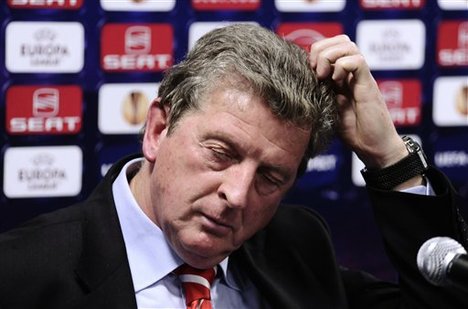 Four competitive games resulting in two wins and two draws (with a penalty shootout loss) is fine going. But whereas Capello's England in 2010 were denied a clear goal that crossed the line, Hodgson benefited from such a decision. Both games would have been drawn level had those pivotal decisions been correct. All teams need luck, and you can't blame a manager for taking it when it comes his way. But Hodgson's luck run out against Italy, having been so comprehensively outplayed by an Italian team that are far from vintage.
In fairness, Hodgson seemed to have unified a dressing room that seemed distrustful of Fabio Capello, with all his foreignness, his European Cup and his nine major league titles. But it's probably fair to say that Hodgson understands English players a bit better than his predecessor, and in turn, those who felt only an Englishman should be running the show now had nothing to gripe about. Hodgson had the troops onside; he just lacked forward-thinking ideas.
Perhaps crucially, Hodgson, as well as 'banks of four' organisation, had brought the comfort zone back to the players: not expected to pass the ball that much, and lined up in a strict 4-4-2 – no matter whether the situation dictates it or not. Passive play, no pressing, and little adventure.
Contrast that with Liverpool's new manager, and his fresh ideas. Liverpool have moved into the future; England have anchored themselves to old ideas.
Whereas Brendan Rodgers has spent his coaching career trying to educate young British players to play like their continental counterparts, and working with the edict that possession is king, Hodgson exported the English way (courtesy of Allen Wade) around the world. Now the 64-year-old has taken a collection older English pros and had them revert to basics, which saw them concede possession in every single one of his games. You sometimes get lucky with everyone behind the ball, but teams that can keep the ball win more often than not.
The remaining two-thirds of this post is for Subscribers only.
[ttt-subscribe-article]