Don't want ads ? Subscribe to remove them. Only £5 a month.
An angry email has been sent to almost every LFC supporter group and website, plus the club itself, asking why I (amongst certain others) appear to be advising FSG. (I don't know who the sender is.)
"Paul Tomkins is an internet blogger/author who writes detailed summaries and analysis based on statistics. He has no experience what so ever in professional football, in any capacity. He also speaks for nobody but himself. Why is he anywhere near the ownership, or his opinion being given such credence? What is Paul Tomkins' role? – it needs to be explained."
Well, here it is.
Before John Henry bought Liverpool FC, he purchased several books on the club, to read up about its history. Two of those books just happened to be ones that I had written. Having enjoyed them, he asked to meet me shortly after the deal was completed. He spent a week trying to contact me via Facebook, but I assumed it was a prank and ignored him. Email proved more successful.
He was aware that I had spent five years writing a column for the club's official website, and that I'd worked hard to forge a reputation for researching issues; even if people disagree with my opinion – and no-one is always right (particularly in football) – it came from a holistic approach that took in many disciplines.
I was not offered any kind of role – not least because I made it clear that due to my health and this website, I wasn't interested in one – and I have never worked for FSG, or been paid a penny by them. Also, after what happened at Liverpool with Gillett and Hicks, I was not prepared to work for the club's owners, even if, to me, they seemed cut from a different cloth.
The only 'gift' I have received was a package for my dad late last year, after he entered a hospice with terminal cancer (my dad's dad played for Aston Villa, and John Henry asked Randy Lerner to send some signed Aston Villa merchandise.)
John Henry will occasionally contact me to help him understand something, or seek my advice on a certain issue, but the last time was back in March. FSG had already consulted several people about who would be best suited to run a review of the football side of things, and in particular, how Damien Comolli's performance – as their football intermediary – could be judged. I wasn't asked to perform that review, just to give my thoughts on the names who they'd had recommended – presumably provided by their actual advisors.
I have not been asked to provide any input on the managerial situation, although there is nothing to stop me providing my views, now that there is a vacancy. I am free to email John Henry any time I wish, and he's free to ignore them!
I did not in any way, shape or form contribute to Kenny Dalglish losing his job, and those people accusing me of so doing are seriously out of line. If anyone thinks I'd dare advise against Kenny then they don't know me, or indeed, what a total coward I really am; even if I believed that he had to be replaced – and I didn't – I'd need a billion dollars, plastic surgery, a new identity and relocation to Brazil. He was my idol growing up, and I'd have no right to tell anyone to replace him (although no-one should be kept out of sentimentality, obviously, and it's the owners' prerogative to run the club as they see fit; I won't always agree, but again, that's football).
I don't want to legitimise all this by giving it air, but seeing as it's been sent far and wide, and that I've had all kinds of abuse on Twitter and via email, I thought it was best that I set the record straight.
Like any fan, I am not going to turn down my club if my opinion is sought, by owners interested in getting feedback from many sources. But I am not – and here I italicise – an advisor. The FSG style is to canvas the opinion of many and work with the wisdom of the crowd, and on top of that, they will have an inner circle of key people, of which I am not one.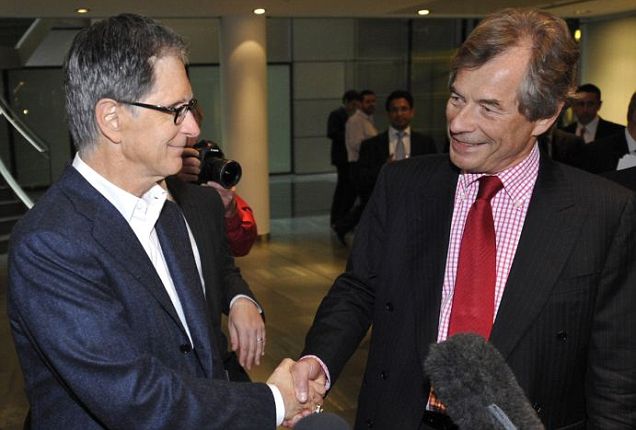 "The most intelligent guide to LFC around"
(Independent on Sunday)
Subscribers get access to the entire site, including hundreds of exclusive subscriber-only articles, free e-books and forums
Subscriptions cost only £5.00 per month or £55 a year.