Liverpool play their final home fixture of the 2011/12 league campaign tonight before travelling to Swansea on the last day of what has turned out to be a disappointing season for the Reds. Chelsea are the final visitors to Anfield (8pm kick off UK time) and although a win (or draw) won't make up for losing the FA Cup final, it would put an end to Chelsea's hopes of qualifying for the Champions League via their league position.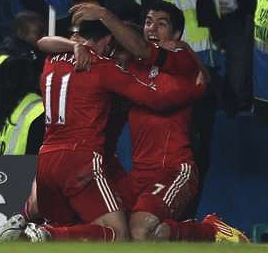 Kenny Dalglish's side recorded a 2-1 victory at Stamford Bridge back in November thanks to goals from Maxi and Glen Johnson. It was our second consecutive victory at Stamford Bridge and a win on Tuesday night would be our 7th win in our last 11 league meetings against the Blues.
Although some may view this fixture against Roberto Di Matteo's side as meaningless, there are a number of unwanted statistics that can be attached to this Liverpool side if we fail to beat the Blues (and Swansea on the final day of the season). Firstly, we need six points from our final two games to avoid ending the season with the lowest points tally by a Liverpool side since 1953/54. That season we ended the campaign being relegated with 28 points from 42 games (converted to 37 points using three points for a win). We currently have 49 points from 36 matches.
Secondly, our current tally of five wins at Anfield is the lowest since 1948/49 (five wins achieved over a 42 game season) while victory over Chelsea will equal the six home wins picked up in 1951/52 (again over a 42 game season).
Thirdly, Liverpool need to score four goals against Chelsea to equal our tally of 24 league goals scored at Anfield in 1903/04 (over a 34 game season). As it stands this Liverpool side have scored the fewest number of goals at Anfield in a single season since we were formed: 20 goals from 18 fixtures.
The rest of this post including stats, league form and team news is for subscribers only.
[ttt-subscribe-article]