By TTT Subscriber Krishen Bhautoo.
The 2011/12 season was certainly a funny old season for the Reds. We've got another trophy in the cabinet, we've been in the FA Cup final, had three trips to Wembley and played some fantastic football at times.
Conversely, we finished 8th, below Everton, closer on points to the relegation spots than 4th, played some dire football, and had the worst luck since time began. Oh and we had the little distraction that was Suarezgate.
The bad league position is, rightly or wrongly, what cost the King his job. But why did it go wrong in the league? What did we do right and what can we improve on?
Using stats from the EPLIndex.com, I've tried to put it into some context by looking at our own stats and the stats of our opposition. I went through each game and noted every stat I thought worth exploring in the hope of coming to a conclusion.
First, I looked at the most obvious. Does the amount of shots in a game have any influence on the amount of points we have gained, and how many points our opponents have gained against us? In the graph below, I have put together how many average points we have gained in relation to how many shots we have in a game.
Shots vs Average Points Gained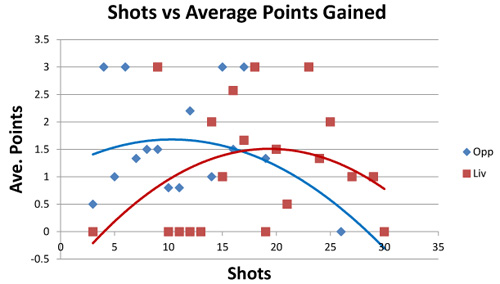 The rest of this post is for Subscribers only.
[ttt-subscribe-article]