Pre-match stats
On all three occasions Liverpool had beatenEverton in an FA Cup semi-final before this season, the Reds went on to lose the final.
Only three teams have previously won the League Cup and FA Cup in the same season:Arsenal in 92/93, Liverpool in 00/01 and Chelsea in 06/07.
Liverpool could become the first team to achieve two FA/League Cup doubles, after they won both cups in 2000/01.
Chelsea have only lost one of their last 33 FA Cup matches (excluding penalty shootout defeats).
That one defeat, 0-1 against Barnsley in March 2008, is also the only time the Blues have failed to score in their last 39 FA Cup games (100 goals in total).
Excluding penalty shoot-out defeats, Chelsea are unbeaten in 22 FA Cup games, only one side has ever gone longer without defeat in the competition: Blackburn Rovers between October 1883 and November 1886 (23 games).
Since the start of the 2006/07 competition, Frank Lampard has scored more goals than any other player in the FA Cup proper (19).
This will be the 10th FA Cup meeting between these two sides and the first FA Cup final contested by them.
There has never been a draw in the nine previous FA Cup meetings between these teams, with Chelsea holding a narrow (5-4) advantage in the head to head record.
This FA Cup fixture has seen an average of 3.8 goals over the nine previous encounters.
The Blues have won five of their last six FA Cup final appearances, keeping a clean sheet in four of these victories.
Conversely, Liverpool have kept just one clean sheet in their last eight FA Cup final appearances (2-0 v Sunderland in 1992).
The Reds have won four of their last five FA Cup final matches, the last victory coming after a penalty shoot-out against West Ham.
Liverpool have won their last four games against Chelsea in all competitions, scoring seven goals and conceding just one in the process.
This will be the 31st meeting between these two sides since 2004/05.
Only once in their last 29 FA Cup games have Chelsea conceded more than once in a game, keeping 12 clean sheets in this period.
Excluding the Community Shield, Didier Drogba has scored in all seven of his matches at Wembley.
Luis Suarez has scored in all three of his FA Cup appearances for the Reds.
Maxi Rodriguez has scored for Liverpool in both of his appearances against Chelsea this season.
In only one of the last six clashes between these two teams have both sides managed to get on the scoresheet.
Starting XIs and overall shapes
Dalglish made eight changes following the previous game against Fulham, but all of them were expected in order to line-up with what many sees as the best Liverpool XI. Once again Liverpool went with what was a cross between 4-2-3-1 and 4-1-2-3, continuing the tradition of the last few months to use 4-4-2 only sporadically.
Di Matteo also didn't surprise many with his selection, making five changes following the defeat against Newcastle. Bertrand, Meireles, Malouda, , Sturridge and Torres was respectively replaced by Cole, Lampard, Mata, Kalou and Drogba. In terms of formation, Chelsea used their expected 4-2-3-1 too.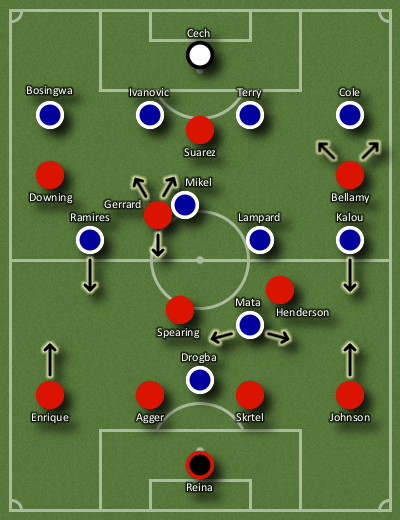 Early on
The opening ten minutes (the period before the first goal) was extremely dull with really slow tempo and both teams playing "safety-first" passing all over the place. Both teams preferred to recycle in deeper areas often playing between their defenders and deep-lying midfielders.
In broad terms the teams were closely matched all over the place but especially in midfield. Liverpool's deepest midfielder (Spearing) was tracking Chelsea's most advanced (Mata), while Mikel (Chelsea's deepest) was covering Gerrard (Liverpool's most advanced). In between, Henderson and Lampard roughly cancelled each other out as potential passing outlets. However, the most freed players were Spearing and Mikel as Mata and Gerrard didn't track them back properly when out of possession. The outcome was similar (Spearing and Mikel having the time to recycle the ball) but the reasons different; Mata preferred to stay higher and roam between the lines and drift wider in order to take advantage of every free space, effectively becoming the team's main attacking outlet on the break;, while Gerrard immediately started to roam and generally drop deep trying to level with Henderson (sometimes even with Spearing) when Liverpool were out of possession. The other crucial difference was that in general terms Chelsea tried to quickly drop into a 4-4-1-1 shape, leaving only Mata and Drogba higher up the pitch, while Liverpool generally tried to exert a sort of press, albeit not particularly fiercely or all over the pitch.
The result of all this was that it was Spearing not Mikel who had more space and time on the ball, thus being in a better position to influence his team's recycling. He did his job reasonably well, using short passes to his nearest players.
The rest of this post, and the tactical conclusions, can only be read by subscribers
[ttt-subscribe-article]