King Kenny: to keep or not to keep? – that is the question (I keep getting asked).
The joys of another summer of chaos. A fanbase on the edge of meltdown, thriving uncertainty and, in the vacuum of communication, rumours coming thicker and faster than Djibril Cissé.
A lot of people I respect, including members of The Anfield Wrap podcast and posters on this site, this week felt that it was time for change. And a lot of people I respect, including members of The Anfield Wrap podcast and posters on this site, this week felt that sticking with Kenny was the only sensible option.
I agree that the managerial position should not be the club's priority – finding a new Director of Football and appointing a strong CEO (amongst other things) are paramount – but if those appointments involve a root-and-branch assessment of all departments, then a strong case can be made for total restructuring.
Let's be honest: FSG inherited a seriously failing club, and Kenny Dalglish took over a seriously failing side. But neither has made the progress they'd have hoped for.
On top of this, none of us fans have been helped by the utter insanity that the modern media – social, and establishment – does to us at times like this. The incessant rumours put us on edge, and while I don't wish to legitimise them, or even add to them, I will try and make sense of the rumours flooding over us.
From the midst of this insanity, as I try to retain all my marbles, here are some reasons why Liverpool might keep Kenny, and why they might replace him.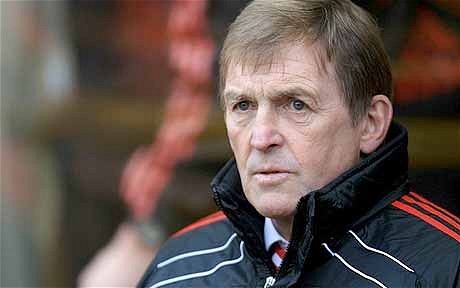 Reasons to keep Kenny
• Stability. Do we really need more change? Four managers in four seasons would start to seem irresponsible. FSG are certainly not keen on replacing managers, and held off with Roy Hodgson until the situation became untenable. My fear with replacing Kenny, whether the reasons are valid or not, is that the new man will be given zero wiggle room in terms of results before a backlash begins. Roy Hodgson was not hated because he was not Kenny Dalglish, but the next man would have to step into those big shoes.
• The cup form. While the cups are not the priority – being in the Champions League helps attract better players that, in turn, help teams push up the table and compete for even better trophies – Liverpool did incredibly well against top teams in the domestics knockout competitions. That's not to be sniffed at, even if you do put the top four before the 'minor' cups.
• The football. It's certainly been better than it was under Hodgson, although that's damning with faint praise. The play has not been perfect, and people will look at certain tactical flaws (as they will with almost any side which doesn't win 38 games a season; just look at the analysis of Barcelona recently), but overall, it's been better than the league table suggests.
However, does that make it good enough? The trouble is people judge against the highest standards – of the halcyon days, and of the recent past – and realistic targets are rarely set. Perhaps Kenny didn't help himself by talking of the title, and raising those old expectations; which might have been as dangerous as Hodgson's attempts to lower them beyond all acceptable limits.
All in all, based on the resources – the average cost of the XI and the wage bill – Liverpool should not have been finishing below Newcastle and Everton, and so far adrift of the top four. That's a given, and I'm sure Dalglish himself is acutely aware of that fact.
• The players seem happy with him. Of course, players can tend to hate tough taskmasters who push them to their limits, and like those who are nice to them, even if the results aren't going their way. But equally, you don't want a squad of pissed off individuals. While you should never base decisions on what players want, the fact that they don't appear to be actively against Dalglish is a good sign.
• Replacing him with someone worse. If Kenny no longer has any great success on his recent CV, he remains a good manager. You don't lose certain skills, even if you can lose your cutting edge status, and a bit of your winning 'aura' – and that may cost you a telling few percent as the game evolves. I don't think there can only be one man capable of successfully managing any given football club, but there are plenty who are incapable. Kenny certainly isn't incapable, but the club continues to punch below its weight in the league.
• And, of course, he's Kenny Dalglish.
That said, Liverpool clearly can't keep someone in a job based on sentiment. However, that sentiment is based on a successful managerial career, on top of those legendary playing days. The main doubts relate to just how long ago his greatest successes were, and how much has changed in the meantime. He has good, modern coaches working with him, but maybe a solution would be to find better ones.
Reasons to replace Kenny
• The league form. It's the club's worst points total in many decades, and worst finishing position since 1994.
Of course, Roy Hodgson was on course to rack up fewer points before Dalglish rescued things, and Souness had inherited Dalglish's title-winning side before dismantling it and dragging it down from 2nd at the time of arrival to 6th, 6th and finally 8th. While the points tallies have dropped in the past three seasons, the league position has not been radically different: 7th, 6th, 8th. The only difference is that Dalglish had the first notable net spend in that time (although the wage bill has been lowered, to in some way counteract that). I don't think that one season of poor league form is a sackable offence (unless the football was Hodgson-bad), but it depends on what else has gone on behind the scenes, and plans for the future.
• Kenny's media persona. While I share Kenny's frustrations with some of the questions he gets asked,  his contempt of certain devious journalists and his desire to keep things behind closed doors, being curt with the media just leads them to become more negative, which increases the pressure. Alex Ferguson can get away with it because he's remained successful, and no-one dare upset 'the most powerful man in football' (The Times, 2009). Once Ferguson slips off his perch the knives will be out from those eager for revenge, but while he remains up there contesting titles, he's largely untouchable.
• (Hypothetical:) Kenny doesn't fit in with, or objects to, the introduction of the plans that the owners wanted all along.
There's no doubt that Kenny got the job to stop a rot, which he did. To my mind, if he quit now, or was replaced, he won't have been a failure; just not an outright success. But if there has been a divergence between the owners and the management staff in recent weeks, it's not like FSG are going to sack themselves. This is purely speculation on my part, based on what FSG's original plans were in 2010.
If, again hypothetically, the owners now want to go for a Spanish Director of Football – ex-Barca guru Txiki Begiristain, or perhaps promoting Pep Segura – then perhaps Dalglish wouldn't feel comfortable with that (although as he worked with Segura at the Academy, I'd guess it would make such an objection fairly unlikely).
With a very clever, Barcelona-inspired Spanish 'DoF', a young Catalan manager like Roberto Martinez would then make sense, but it would still be a gamble to replace a club legend with up-and-coming promise.
(Of course, Liverpool essentially did just that in 1985, when appointing Dalglish, although he himself was a legend and both Bob Paisley and Joe Fagan had stepped down; but of course, Kenny, as a total rookie, was less experienced than people like Martinez, Brendan Rogers and Paul Lambert are now. On the continent, clubs tend to recognise young, talented managers before they have a great track record: Benítez at Valencia, Klopp at Dortmund, Villas-Boas at Porto, and so on; all were untried at the very top, yet all delivered league titles and cup successes. My view is that, given his style of play, Martinez could fit into this category, but equally, I wouldn't stake my savings on it.)
In terms of managers, FSG started with the previous administration's choice; and then they moved onto the fans' choice. While they were obviously not opposed to appointing Kenny, particularly after the bright start, it could be argued that they've yet to have their choice. Of course, just who at the club is qualified enough to make that decision is open to question; but if they found a Director of Football with strong ideas, they'd presumably have to let him decide.
• There's a better replacement out there? Many fans want Rafa Benítez back, but those who dislike him would cause a backlash if he was brought back by sacking Dalglish. If Kenny stepped down, that might be another matter, but as it is, with some people involved in the Spaniard's sacking still at the club, it's unlikely that they'll be pushing to re-hire him. Rafa is a top-class manager still living on the Wirral, but perceptions of his divisiveness may count against him, and the owners may fancy a totally fresh start.
Make no mistake: getting an A-list manager at this juncture, with recent league titles and/or European Cups, would be very tough. Pep Guardiola would be the longest shot imaginable. Andre Villas-Boas would have been that man a year ago, but he went to Chelsea, and had a fairly torrid time – although in the league, he actually got better results (5th when fired) than Roberto Di Matteo (who took the Blues down to 6th). Fabio Capello had the best win percentage of any England manager, but was stained, and strained, by poor press relations. Jurgen Klopp would take some serious convincing to leave the German champions, and the chance of Champions League football, for the Europa League. And so on.
But my impression, from speaking with FSG at the time of Roy Hodgson's tenure, and given that it was the pressing issue the last time I spoke to John Henry (late March) was that the Director of Football is always their priority. Get that right, and the club has a long-term footballing direction; and, with clever scouting wrapped up within the remit, the best possible players brought into the club (if it works). Providing he can work with the DoF, the manager's job is then a lot easier.
Damien Comolli turned out to be the wrong man, but FSG's desire was always to get that position right, and everything else follow. If they brought in Txixi Begiristain or promoted Pep Segura (and elevated Rodolfo Borrell to the first-team staff), they'd be relying on some of the men who helped turn Barcelona into the best club side in the world, albeit at the risk of undermining the Academy.
Segura and Borrell already know that you can't just supplant Catalan ideas onto another club with a different culture and expect it to produce a team full of Messis and Iniestas, but they certainly have a sense of how both worlds collide.
Conclusion
For me, as much as I would never dare suggest that Kenny be replaced, FSG are facing some massive decisions right now, and I'd rather the club was united in one vision rather than splintered by compromises.
Ultimately, time is of the essence; if Kenny is staying, great – I hope he enjoys his holiday and comes back refreshed, bringing back the form and enjoyment of his first six months. After all, little beats the smile of a happy Kenny Dalglish.
But if he's going, let's get it sorted straightaway. And if it's a younger, forward-thinking coach with no great track record who comes in, let's remember that Newcastle fans were despondent about getting Alan Pardew last season. After all, with all the talk of Moneyball, it was Newcastle who proved to be the smartest people in the room (who'd have thunk it?).
Either way, come August, we need to unite behind the man in charge of first team matters, because otherwise we'll probably be dooming ourselves to another season of disappointment.