A while ago, Paul McGrath condemned Glen Johnson for wearing a t-shirt supporting Luis Suarez.
This week, Johnson hit back, suggesting that he knows Suarez, and, I would presume, has been far closer to the whole affair (being on the pitch, and all) than McGrath. Presumably, he has some insight into what went on. Maybe he can, after all, vouch for Suarez's character.
McGrath retaliates, suggesting that Johnson should have stuck by his colour, rather than what he believes to be right. "I thought supporting a player — Evra — with the same colour skin might not be such a bad idea for Johnson. When he is 52 and not as popular as he is now, he might think differently."
(Yes, clearly to end racism we must all back people of our own skin colour, rather than what we feel to be true, in case we are unpopular in our later life. Logic, wherefore art thou?)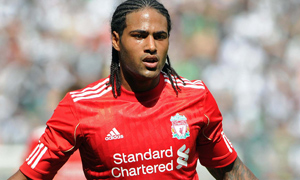 "It's sad someone is having a pop at me," says McGrath. That's right, Johnson started all this.
This is the same McGrath who said that his former manager, Ron Atkinson, who was fired from his TV job for calling Marcel Desailly a 'nigger' in 2004, was not racist … even though he called the black players 'coons' during training in the '90s.
http://icbirmingham.icnetwork.co.uk/0100news/mercury/tm_objectid=14180419&method=full&siteid=50002&headline=ron-s-no-racist—mcgrath-name_page.html

"Aston Villa legend Paul McGrath has revealed that Ron Atkinson called black players coons during training sessions. The retired soccer star claimed Big Ron used the racist term while manager of the Premiership club in the 1990s. Yet McGrath insisted that his former boss, who resigned from his ITV job last week for branding Chelsea player Marcel Desailly a f***ing lazy big n****r live on air, was an INSPIRATION to black players."
In this weird, circular world, Desailly has himself entered the debate. The Frenchman knows John Terry, and insists in today's Singapore Straits Times that the Chelsea man isn't racist.
"It [racist comments] can happen," he says. "Crowd, tiredness, a kick, words coming very quickly." He adds that in Terry's case, he says, they 'should shake hands'.
It's not exactly sympathetic for Anton Ferdinand, is it?
But what of Suarez?
"What Suarez has done is a mix of stupidity, ignorance and racism. Because he's saying in my country, that word does not mean nigger, does not mean anything really."
Erm … it means the colour black. It does not mean 'nigger', it means the colour black. The colour black. The colour of coal, certain cats and nighttime. The word black means 'nigger' as much as the word white means 'honkey'. What about all those Americans with their honkey picket fences?
If Suarez used the word 'black' in what he said – the same as what John Terry is accused of (albeit with the addition of 'cunt' on the Londoner's part) – then he could have expected a two-game ban, even if, in his homeland – a far more mixed society – people use the term differently.
(Let's not get onto homophobic insults here, for which four players have recently only been fined by the FA, despite clear written evidence of what was said; what does that say about stamping down on all intolerance?)
Desailly then loses the plot completely. "…But, after 20, 25 times, that you say to the guy (Patrice Evra), to try to destabilise the guy, then yes, it's too much, you are racist. Assume the consequence."
Excuse my French (no pun intended), but what the fuck?
Suarez admits saying the Spanish word for black once. He was found guilty of using it seven times, even though there was no evidence that it was said at all, beyond Suarez's admission; even though his context was ignored. Despite the French FA calling Evra a liar in 2010, and the English FA labelling him 'unreliable' in 2007, his word was trusted.
Evra admits to mistakingly thinking he'd been called a nigger (another inconsistency), but then withdrew it (albeit after the accusation was out there courtesy of a swift interview with French TV). Evra himself mentioned "ten or more times", but later admitted that this was a figure of speech.
Now we're up to "20, 25 times"?
If we're making stuff up, why not add that Suarez burned down a village in Africa too. (When, of course, Suarez, whose grandfather is black, has actually helped African communities with football, as seen during the World Cup. And then there are all the black Uruguay players coming out in support of Suarez, too.)
How come it's only Liverpool fans and players, black and white, who are getting stick here? Words were put into Johnson's mouth for a couple of months, with a black rugby player calling him an "uncle Tom" (i.e. he sides with whites).
While Johnson saying this now is perhaps unhelpful, in that it stirs it up yet again, he has a right of reply over what has been said about him. It might have been better said at the time, but then perhaps he was never interviewed at the time. And of course, from Suarez's point of view, it's hard to put it to bed when every week he is subjected to incessant accusations of being a racist (something the FA report made clear that he wasn't).
Maybe we are all as bad as each other when it comes to backing 'our own'. Liverpool fans stick by their player, United by theirs, and would probably all do the same if the situations were reversed (and there was no hard evidence). Black people are backing other black people, unless they happen to know the white person accused of being racist, and then they are backing their friend/colleague (which Johnson, Desailly and McGrath have all done).
But hell, maybe it's just me who's crazy. Still, I've never racially insulted anyone, and believe in equality (and run a multi-cultural website), so my conscience is clear.
For more on the moronic (and majestic) media output of the past week, see our Subscriber piece, as TTT editor Chris Rowland dissects what's been written on this, and other topics.