Three league defeats on the spin makes for pretty grim reading – the worst run over a trio of league fixtures for a decade.
If Arsenal capitulated after last year's Carling Cup defeat, then Liverpool are in danger of doing the same upon victory. Such success can breed confidence, and long-term, may yet do so – the experience of coming out on top in big games is valuable – but also, in the short term, engender a sense that normal league games are underwhelming.
The last vestiges of air in Liverpool's league sails was lost against Arsenal – who, by last week, were resurgent – when the Reds were clearly the better team on the day. That left a ten point gap to 4th, and a sense that, in the league at least, there's little left to play for. I've been witnessing these types of seasons for years; once the league position seems impossible to improve upon, and there's no danger of relegation, it all goes a bit limp.
Spurs are currently doing the same, having also lost three on spin – in their case, for the first time under Harry Redknapp. From being 'supposed' title-challengers a few weeks ago, they're now in danger of falling out of the top four, with Arsenal gaining in confidence and Chelsea likely to get a short-term burst from switching manager.
Had the Arsenal game last week ended in the victory the Reds' play merited, our mood would be different now. Instead, we encountered a dire match on Wearside, played in howling winds and on a bumpy pitch, and were left with little to smile about. Even the winning goal was a cruel taunt, with Sunderland hitting the woodwork, only for it to bounce against Pepe Reina's head, back against the post and roll kindly to Bendtner to score.
Before a big week of games you tend to witness a sub-par performance; in this case, one eye on Everton on Tuesday, and the chance of working towards more silverware next Sunday. It's not necessarily conscious; more a case of the players knowing in the back of their minds that they want to be present, and full of energy, for those bigger occasions. So it becomes a little half-hearted.
And right now, Liverpool are not at the stage where they can go anywhere, at any time, and grind out results; especially not without key players like Agger, Gerrard, Johnson and Lucas in the XI. In 2004/05, Liverpool were similar; winning some massive games, but losing plenty of the easier ones (particularly on the road). Liverpool will play with much more intensity in the next two games, because that's the way it tends to work.
While we may hark back to the good old days when referring to the credit that Kenny has in the bank with fans, it's not just a case of remembering the John Barnes/Peter Beardsley vintage and finding faith. Liverpool played some very good football last season, and have on plenty of occasions this season.
Right now, this is indeed Hodgsonesque form – not good enough. But with a trophy in the bag, and plenty of good work during the majority of 2011, before the poor run of 2012, there was a sense of something to build upon.
However, whereas last season involved the supreme reading and recycling of Lucas, the intelligent movement and possession of Maxi and the energy of Meireles, the current midfield is pretty soporific, and the 4-4-2 fairly unimaginative at times.
Put Charlie Adam in the middle of it (Blackpool fans will attest that he was only worthwhile in 4-3-3), and it feels like an accident waiting to happen. Add Jordan Henderson to the right of it, and you get valuable playing experience for a young man with a lot of promise, but not enough end product.
Last month, Carroll had finally started to play well in a few games running, but has largely sat on the bench since then. Liverpool often move the ball better without him, but he was in the starting XI for quite a few of the good away wins earlier in the season: at Arsenal, Everton, West Brom and Wolves, plus Stoke, Chelsea and Man City in the cup. While his hold up play needs improving upon, his inclusion allows the midfield to join up.
Bellamy is another who had started to play well, but who had been out of the side since just after scoring a glut of goals; and when he did start, against Sunderland, his pace was sacrificed when substitutions were made.
All the while, under-performing players stay in the team. This is a criticism that was also labelled at Rafa Benítez, but in the case of Peter Crouch and Lucas Leiva, that faith was rewarded in the end. Managers tend to stick with players they believe in, even if it's not coming across in their play; the idea is that it will, in the end.
In that sense, we can't say anything too definitive. Just as so many fans were convinced that Lucas was rubbish, and "never gonna be good enough – end of!", the passing of time brought new perception. He was always much better than given credit for, but improved significantly, too.
Charlie Adam had just started to look like reverting to a squad player with the return to fitness of Gerrard, when Gerrard got injured again. Lucas' injury means there aren't a lot of central midfield options. As much as I prefer Aquilani as a footballer to Adam, the Italian has just had another couple of months out with another ankle injury, so it's hard to say he would have been the answer.
Another worry is that at this moment in time, Liverpool are not playing like a team. The bonding and man-management may be going well, and in the bigger games there is a terrific togetherness, but there are some worrying trends, too.
Suarez is increasingly going it alone up front; however, doing so in the final third, while frustrating at times, is not such a crime.
But in midfield, Adam looks for the spectacular, or to go himself with a 40-yard dribble from deep, when options are clear ahead of him. (When he loses the ball, he has effectively taken himself out of the game, as well as those who made the runs.) On a couple of occasions Adam has had a good game by keeping things simple, but they are the exception. Either he's trying too hard to impress, or really is as lacking in game intelligence as many fear.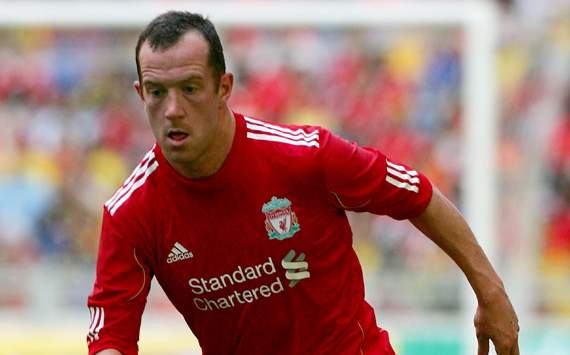 And even Jose Enrique, who was excellent in the first half of the season, has started overcomplicating things whenever he bursts forward, and is holding onto the ball rather than passing. He remains largely excellent defensively, but lacks ideas going forward.
On the flank, Stewart Downing continues to shoot on sight (of Row Z) from 25-35 yards but fail to attempt anything from closer in, while on the other flank, Henderson – a clever one-touch passer – will do almost anything but shoot. (That should come with  seniority.) Without people putting away the good chances that were being created, results suffered, and confidence has dropped.
As a result, the cup competitions have become the focus. I said a few weeks ago that winning the Carling Cup but coming a distant 7th won't constitute a good season; but that a second cup final, particularly if won, would. Having said that, unless results pick up, Liverpool are in danger of drifting into the bottom half of the table.
That would make it seem like a repeat of Kenny's time at Newcastle: come in at the halfway stage and finish the season very well indeed, followed by a disappointing full league campaign (hindered by key absentees) but winning through to a cup final. The difference is that Liverpool won their cup final, and have the chance to reach another.
I would therefore suggest we judge Dalglish when everyone is fit. Perhaps that's unrealistic in this day and age, but I don't think we've got a look at his best team yet.
Also, there's no doubt that this remains a transitional season – it is, after all, the manager's first full campaign, this time around. But the concern is over what we are transitioning into. Right now, that's not entirely clear.