After my last piece (access here), this is a slightly simplified – but not simplistic – breakdown of what's working, and what's going wrong. As in-depth as that previous piece was, I got the predictable angry emails saying that I'd purposely missed this and overlooked that.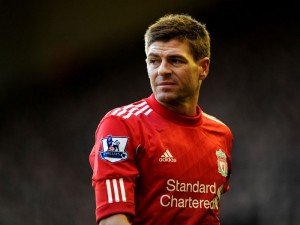 I'll start with an old chestnut that some see as an excuse, but others see as circumstance.
• Injuries
The current squad is reasonably strong, but for my money, Agger and Lucas are as good as anyone else in the Premier League their respective positions/roles, and when absent have been badly missed.
All clubs have those players they can't do without. For Arsenal it's probably Robin van Persie. Jack Wilshire's absence can be overcome with other strong midfielders, but they have only one natural goalscorer.
For United it seems to be Paul Scholes, given the dip before he returned (including Champions League failure) and the upturn since. Perhaps in other areas they have able deputies, but not there.
Also, the absence of Bellamy removes almost all top-gear pace from the attack (and no doubt why the precocious Raheem Sterling is now being fast-tracked, no pun intended).
Gerrard has also missed half the season, and while Liverpool actually have a fairly poor record since his return (but which coincides more with the absence of Lucas and Agger), he can still help with the following:
• Goals from midfield
This is particularly lacking in wide areas. Maxi, Kuyt and Bellamy can all score when playing wide, but are all now in their 30s, and neither Maxi nor Kuyt has played consistently well, or, it has to be said, had a consistent run in the side this season (chicken/egg?).
Downing seemed to be on an upward curve at Villa with his scoring but has reverted to type; I still believe he can get more than he has, but he's never hit double figures in the league, and has only twice got more than five. Henderson has shown at U21 level (four in 16) that he can get forward and score goals, but at Liverpool he seems to prefer to pass rather than take responsibility. As the youngest player in the front six, he may just be deferring to seniority (in contrast with how he plays amongst his international age group).
Ultimately, how much better would Liverpool be with a winger who could cut inside and get 10-15 league goals in a season? (Easier said than found.)
• Failure to convert chances
For me, this is the main reason behind the league position, and it's become a vicious cycle. Once you know that you miss too many chances, it puts pressure on everyone.
But this is the paradox: in cup games, often against the same opposition, chances have been taken, particularly at crucial moments. In the league games, they haven't. I have no idea why that would be.
Why does De Gea make three great saves at the end of the League game at Anfield at 1-1, but then, with the same scoreline, get beaten by a late Kuyt strike in the FA Cup – which would have required only a good save?
Why does Suarez score one at home and two away against Stoke in the cups, but not in the league game when he faced them this season? Liverpool created far more chances in the league encounter at the Britannia, but lost; yet won in the Carling Cup.
Why did Liverpool miss so many early chances away at Man City in the league, but score an early goal in the cup?
How can the Reds, at Anfield, put six past a passing side pushing for promotion, but score just one combined against two of the promoted sides?
With the second-worst conversion rate in the Premier League, the longer the problem continues, the greater the apparent need for a reliable finisher. My view is always that it must not be someone who ruins too many moves due bad control or constantly running offside, but good goalscorers who are more than mere poachers are not easy to source.
Liverpool have narrowly missed on countless occasions – woodwork, great saves – and missed too many penalties that cost points.
Once you start struggling for points, it becomes harder to play well. Then you stop creating as many chances. It happens in games – early blitz followed by no breakthrough equals opposition growing in confidence – and it happens over a season.
Perhaps, at Anfield at least, some of it due to the …
• Crowd
Maybe one of the reasons that Liverpool are a cup team is that Anfield is now a cup stadium. If the squad isn't quite deep or talented enough to produce week-in, week-out consistency and freshness, then the crowd is equally guilty of only getting 'up' for the big occasion.
There's still no better place when it's bouncing, but often you can hear a pin drop.
Ask yourself this: if Anfield was like it was for the Chelsea semi-final in 2005 every game, how many more points would the Reds win? (Or even if it was half as good.)
But of course, fans, like players, are human beings. And even 'professional' fans – who go home and away – aren't as keyed up when Wigan come to town as when it's a massive night in a knockout scenario. Neither fans nor players are robots. When things are going well, it becomes a virtuous circle; when not, it's a vicious cycle.
• Transfer Policy
Whether or not they work out, I don't have a major problem with the logic behind any of the individuals signed, but as a collective it was arguably too Brit-based, and lacking in big personalities who will not be overawed.
Of the five Brits, only one – Bellamy – has looked at home.
Crucially, and perhaps not coincidentally, even he failed to do so when he was already experienced at 27, and only now seems to have matured and come to terms with the pressure. He's also a confident lad.
He had a year at the club, followed by four away, to mull it over. It's not about understanding that Liverpool is a big club; it's about coming to terms with just how big it (and its history) is. It's about higher standards than at clubs they've been used to, and as a result, fans who aren't interested in mere 'decent' play.
By contrast, Carroll and Henderson are young and entitled to feel overawed. Both have large price tags to justify, and Carroll especially so. They are no longer young lads coming through the system at hometown clubs; they are expensive players at what still remains England's most successful club.
It takes special players to thrive at a big club, and maybe they are not at that stage yet. Some of the new signings may need to be cashed in on, if there's not the sense of them ever getting there. The trick is knowing who will grow in stature (as seen with Lucas, or Fletcher and Evans at United), and who will never develop as hoped. And often, even the best managers, in the absence of a crystal ball, end up guessing.
It's good that Dalglish and Comolli have to agree to all signings, so one is not forcing players on the other. This is the Lyon approach outlined in Soccernomics. The problem can be one of compromise; ending up with players both men like, but not getting players one or the other absolutely love, because the other is unsure. Again, I don't know if that happened, but the wisdom of crowds doesn't always work.
Also, I don't believe buying from the Premier League increases the chances of players succeeding – I can see no correlation in the data (2,000 transfers since 1995) to show that it's true.
What is true is that you get flops and successes from these shores, and flops and successes from abroad.
If anything, bigger clubs seem to have a slightly better success rate from abroad, but as with everything, it's the individual's characteristics that matter, with a good slice of luck thrown in (i.e. don't break your leg in your first game).
• Failed Targets
Last summer, Liverpool tried to buy Ashley Young, Phil Jones and Gael Clichy. Each chose a club already in the Champions League. Higher wages, more chance of immediate success.
So the Reds dropped down a level, to second choices, and got Downing, Coates and Enrique.
So far, Enrique has done well, even if he's been a little shaky of late. He's had enough good games to feel optimistic, and as such, we must judge players' performance on the larger sample.
Coates, like Jones, is a young centre-back with immense promise. Even so, the goal at QPR was a total shock, in a week when the best two volleys you're likely to see this season were by men who were 6'6" or taller.
But like any young defender, Coates is also likely to make mistakes. Jones may well be a future England captain, but Coates has already played a part, when aged just 20, in Uruguay winning the Copa America. If Liverpool overpaid in some instances, they got a bargain here.
Meanwhile, Young probably had the talent and self-confidence to thrive at a bigger club, but Downing was actually the more consistent performer for Aston Villa last season. Young, at £17m, was relatively cheap as he was in the last year of his contract.
By contrast, Downing was overpriced, but not a write-off. If Liverpool now sign a better right-winger and a reliable goalscorer, then I see no reason why Downing, as a good footballer and well-liked team player, can't help take Liverpool back into the top four. The problem is that he's not got the individual brilliance to be one of the handful of players who could drag them there. Maybe for £20m you'd expect that, but then again, on his unremarkable wages, you wouldn't.
The aim now has to be to make a couple of summer signings who, unlike the last batch, make an instant impact, although given my estimate of 50% of signings failing for one reason or another, it may need four purchases to achieve that. (If they none start well, then it will require this season's purchases to up their game.)
You can still find top players who are happy to not play in the Champions League right away (Suarez, for example), but they won't want to wait too long, and are obviously harder to find than those chasing instant riches and glory.
Liverpool retains a glorious name, but not the riches to do what Man City did, and make unrefusable offers. It needs to take the Spurs route, but that was a building process, not an instant success.
• Inexperience
This is a fairly young squad. It is also a collection of players who, the defence aside, are still relatively new to one another.
Perhaps it's got a bit worse under Dalglish since he brought in his new players because the old ones, whether or not they needed replacing, understood each other's movements better.
Or maybe they just aren't good enough.
Or maybe they just aren't good enough yet.
Time should make things better; things can quickly click intuitively, but it can also need work on the training ground. However, time brings no guarantees.
• Tactics
Managers will always get tactics wrong at certain times – it reminds me of paper-scissors-stone, in terms of whether or not the planned approach succeeds or fails against an opposition that may be pulling a surprise.
And even if the tactics are 'right', it depends on the players a) following instructions correctly, and b) playing well. On any day, you can play a brilliant tactical game and still lose, and get the tactics wrong but still win. Were the tactics right in the cup games, but wrong in the league games, even agains the same opposition?
I think Liverpool have deployed varied tactics, and between Clarke and Dalglish, shown an intelligent, reasonably modern approach, with various formations, and with tactical switches during games. Even the 4-4-2 involves someone between the lines, rather than the  horribly flat Torres/Ngog twin-spearhead Hodgson often opted for.
Problems have come in finding the best solution, and balance, with the players at the club; particularly up front, where Suarez has such versatility – and unpredictability – that the key is often finding someone to remain on his wavelength and play to his strengths.
Also, Downing was supposedly bought to service Carroll, but when the two start, Downing might be on the right (cutting inside to shoot), and a lot of the time, one of them may be on the bench.
Are we going to play to Carroll's strengths, or Suarez's? Is there anything wrong with having both ways of playing in order to switch between the two, for variety? But of course, the more ways you wish to play, the more of a challenge it becomes.
Crucially, the absence of intelligent tactical players like Lucas and Agger hasn't helped of late. Lucas, who reads the game brilliantly and passes with calmness, is still the Reds' top tackler (in terms of quantity of successful ones made) in the Premier League after four months out, while Liverpool are giving up twice as many clear cut chances per game without Agger than when he was playing.
At times it looks to me like we defend too deep, but look at what happened when Andre Villas-Boas – who I thought would be superb at Chelsea – tried to get them to defend a higher line.
Jose Mourinho swears by Steve Clarke, the coach who played a part in Chelsea's back-to-back titles, and Kenny Dalglish has always been a student of the game and won the league at two different clubs. Are they now mugs?
• Set-pieces – Attacking
When Liverpool bought Charlie Adam, his set-pieces were seen as key. They were often superb for Blackpool, and in the early weeks of the season brought assists, starting with the opening goal in the first game. Great. But then he got the yips. Suddenly he couldn't beat the first man, and lost all elevation (though all of us men have suffered that fate from time to time).
Has he lost the ability? No. Has he lost the confidence? Yes. Ditto Henderson and Downing, who also took better set-pieces last season.
Perhaps they knew, as designated set-piece takers, that delivering some bad ones wouldn't see someone else grab the ball off them, and so they weren't so anxious; but now, at Liverpool – and this is true even with penalties – it has seemed like it's left to the players to fight over who takes them. Liverpool don't have a one set-piece specialist, but several squabbling for the right, and even if a good one is taken, someone else might take the next one.
What's universally true, however, is that the vast majority of corners come to nothing. So it often feels like the side you watch never scores enough.
• Set-pieces – Defending
For years, Liverpool's zonal marking was hugely successful, based on hard facts: number of goals conceded, and percentage of set-pieces conceded from. In Benítez's last season, however, for whatever reason, this slipped.
For ten months or so, Liverpool – now man-marking –were back to defending corners brilliantly under Dalglish. Lately it's somewhat gone to pot.
Have the opposition sussed out the way Liverpool set-up now? Or is it the case that, once a couple go in, defenders and goalkeeper get nervous, and then more follow?
Zonal marking would have stopped a number of those conceded since Vincent Kompany's header at Anfield, but then if the team was set up zonally, the opposition would then put the ball somewhere else.
Statistically speaking, zonal marking is said to be slightly better, but there's no point doing it if you don't feel comfortable.
A concern, though, is that it might be more suitable for Pepe Reina, who has not looked at his best this season. Perhaps, as with Torres, he responded best to Rafa's methods, whereas other players might prefer Kenny's. This, however, is just guesswork on my part. I do know that Reina was certainly not happy with Hodgson's approach, but then again, few were.
• Substitutions
I have a slight problem with the delay in making changes, and the lack of all three substitutes being used. But equally, I've never been keen on managers who make all three at half-time, and who can then throw away a lifeline with an early injury. (Why not make two, but save one for a while?) Ditto the manager who throws on a big centre-back as a striker (or, if you're Stuart Pearce, a goalkeeper).
Substitutions are something that's hard to prove either way – you can never play out the alternative decision to see if it worked, or if it was in fact worse – and it's good to see that, as it was under Benítez, players swap wings, strikers switch roles, etc, to try and pose new problems.
You can change things without changing the players, but a bit more freshness in the final stages of the game can often help.
• Mentality
Liverpool's best seasons in recent times have been based around players with a superb mentality: Hyypia, Hamann, Babbel (the double-b version), Fowler, McAllister, Owen, Alonso, Mascherano, Gerrard, Carragher, Reina, Lucas, Torres (before he got too moody), Agger, Suarez, et al.
Most of these were schooled abroad, although the British successes have been brought through the Liverpool Academy rather than purchased. How many English players with these qualities have Liverpool purchased in the last 20 years?
These best players may have still had faults – petulance, hot-headedness, etc. – but were winners with broad shoulders. Martin Skrtel now seems to be stepping into this category (perhaps due to playing on his natural side when Carragher's left out, and maybe also due to now being seen as better than the no.23), but of the players purchased in the summer, only Bellamy seems to have that edge.
Suarez clearly has it, although he can take it too far. Then again, so can Rooney, and so did Roy Keane, and so have loads of top players. But the aggression can be controlled, and it's not about that; it's more about that constant desire to win. You don't have to make over the top tackles to be a winner; you just have to loathe losing.
Part of it comes with age, experience and seniority; growing into a tougher personality, wising up. But often it's ingrained.
Do Liverpool have enough winners? Well, it's looked that way in the cups, with win after win after win. But it hasn't looked that way in the league. The same was also true in 2005, but then, the following season, it was suddenly more apparent, with 25 wins from 38 league games (win the final eight this season and that takes the Reds to 19, two more than 2005, although it's hard to see that happening as things stand).
Things change. Form, fitness, confidence, and so on. Equally, personnel can need changing. Do a good job with that in the summer, and I see no reason to panic. There's plenty to build on, but it has to be done well.
'The table never lies' remains a cliché, because it never tells the full story, either. Only the season as a whole does that, when all acceptable caveats are accounted for.
• Limitations
Ultimately, Liverpool are locked into what is becoming a relatively small stadium (as other clubs expand theirs), and with match-day income well below that seen at other clubs, the exile from the Champions League can become a problem that leads to more problems. Often Premier League sides who are relegated find themselves struggling in the Championship, and Liverpool have effectively been relegated from the top four in England.
Some excellent commercial deals provide hope, to take advantage of Liverpool's enormous global fan-base, but rather than draw Liverpool level with rich rivals, for now they only partially compensate for what's being lost.
My view is that smart thinking will help Liverpool when it comes to FFP, but after decades of small thinking, the club still need to invest lots of money in a new stadium. David Moores hung on too long and sold up too late, and then sold to the wrong men; and boat was duly missed by Gillett and Hicks. Now FSG need to make sense of the madness that's gone before, and make the right decisions. No pressure there, then.
Subscribe to The Tomkins Times to take part in the rational discussion that the site demands, even if there's disagreement.