Starting Selections
With Nani missing, Giggs started on the left and Valencia on the right for Manchester United in the expected 4-4-2 formation. In the centre, Ferguson once again fielded two "passers" in the shape of Scholes and Carrick.
Liverpool didn't spring any surprises, continuing with the 4-1-2-3 formation. The only question was whether they would stick with the in-form Carroll or unleash Suarez's fury from the start. With the Uruguayan getting the nod, it was rather surprising to see Downing given a start on the left rather than the other in-form player in the squad, Bellamy.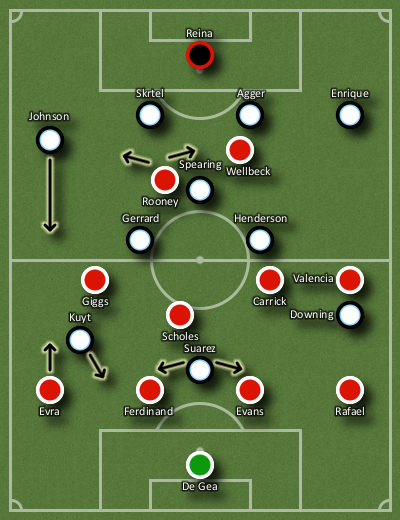 In the Middle
As both sides had different midfield configurations, the battle in the centre of the park was always going to be a key aspect of the match.
The dissimilar approaches were evident from the outset. United, playing with two passers and two wingers on their natural sides, were trying to recycle the ball in the centre and then feed the flanks to construct the attacks. On the other side, Liverpool started with a functional rather than a creative midfield, playing Spearing and Henderson rather than using the play-making abilities of Adam. The aim was, most likely, to prevent United's central twosome from being able to use their vision and passing skills.
In the opening minutes it was Liverpool's trio that had the upper hand as they were much more active in terms of pressing. As in recent games, Henderson joined the two wingers as the first wave of closing down, trying to prevent United's deeper-lying passers from having the space to distribute the ball to the wings. But the difference in this game was that Gerrard played higher up the field as well, trying to put pressure on United's other playmaker (Carrick). This resulted in a 1-2 triangle when defending which perfectly buttressed United's two-man midfield, rather than the 2-1 triangle that has been common in previous weeks. This was a minor but important tweak that Dalglish made in reaction to the belief that United would, more than likely, start with a creative midfield. So from a tactical point of view the coach ensured that both midfielders were occupied rather than just the one; which could have allowed either Carrick or Scholes to dictate the pace of the game.
The away team managed to have more penetrative possession early on as a result, and they were the ones creating the more purposeful moves. United were restricted to holding onto the ball in deep positions and their balls to the forwards seldom found targets in good attacking zones.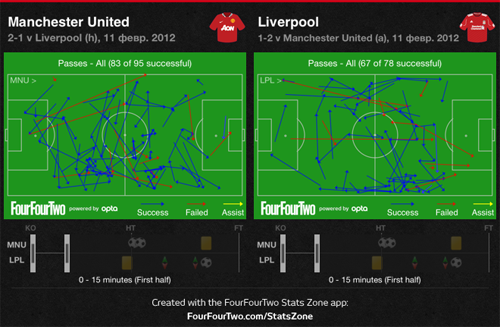 But as in the last match between the two teams, as the first half wore on Liverpool retreated deeper and deeper, leaving their pressing approach behind and adopting a passive 4-1-4-1 defensive shape.
The rest of this post is for subscribers only
[ttt-subscribe-article]