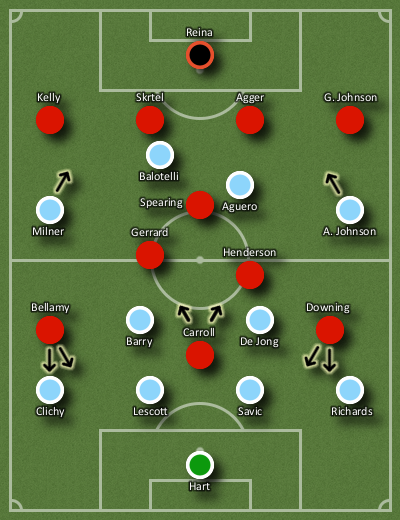 The opening
As they had done in their previous meeting, both sides continued with similar tactics to the match they had just played. Manchester City started with their 4-4-2 with inverted wingers, while Dalglish stuck with 4-1-2-3 as he has done in almost all of the "big" matches.
In the league meeting it was City who started best while Liverpool tried to get into the match gradually by passing the ball well in midfield. This time the Reds began the game with far more intensity than their opponents, taking control of the game immediately and putting pressure on their hosts.
As might logically be expected, the midfield trio was the key reason for this dominance. Barry and De Jong played their usual deeper roles, which gave Liverpool's central midfielders plenty of time to collect the ball and recycle possession. When City's double pivot eventually closed them down they were in position to pass the ball around them and create opportunities for the front three. The team looked really fluid in their movements and were able to create good passing angles. This made it difficult for City's two banks of four to close down the spaces.
The first danger moment came in the fourth minute when Downing (who, as in the previous match, had the freedom to roam towards the centre) sent a good ball through to Carroll, who turned Savic and was through on goal. Savic recovered enough to force him to shoot with his weaker right foot and Hart saved low down.
Interestingly, it was Downing rather than Bellamy who was given the freedom to cut inside and make vertical runs, and so it was Downing who played the ball more in central positions. After the Carroll chance he made more good runs through the middle of the pitch. That left the left wing free for Glen Johnson to burst forward, and he too had a natural tendency to cut back inside onto his stronger foot. During Liverpool's bright opening period he offered the outlet for some good one-two passes and some runs which stretched the City defence.
Liverpool continued to hold the upper hand, and in the tenth minute Gerrard broke through the centre and hit a good shot towards the bottom left corner. Another good Hart save denied him a quality goal. In both the previous matches this season Hart has played a pivotal role, and this game made it a hat-trick of excellent performances. From the resulting corner, Gerrard found Downing unmarked on the edge of the box, but his left-footed shot was again saved by the 'keeper. But from the following corner, as the ball bounced around in the box, Savic kicked Agger on the knee and Gerrard converted the penalty.
After the goal
Understandably, the hosts began to push once they went behind. But Liverpool remained calm and must be given credit for their tactical setup which nullified the threat.
The rest of this post is for subscribers only
[ttt-subscribe-article]