All Spaniards are racist. And all Spanish-speaking South Americans are, too. Because every time they use their word for black, apparently they say "a negro".
Racists!
(In case I need to explain, this relates to the fact that people cannot tell the difference between a word spelt the same, but meaning different things in different languages).
This is a story of hypocrisy on a grand scale; a story of unreliable witnesses and vested interests. It's a story of semantics, and of glaring mistakes in reports. It's a story of two great clubs getting caught up in a war of words, with precious little evidence to prove, or disprove any charges, but with a guilty verdict demanded by external parties. You may be getting sick of this story, but the man accused – Luis Suarez – continues to be vilified as a 'racist', when the panel that sentenced him said that he wasn't.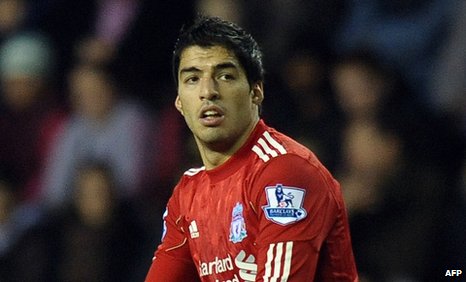 The latest logic on Twitter from one very senior football writer was that [you] 'black cunt' may not be racist ("don't know" claimed the Mirror's Ollie Holt at the end of his message). But he also stated that what Luis Suarez said was racist and merited a very heavy ban.
I agree with Holt in that highly offensive terms like 'coon', 'nigger' and the like can seem more racist than merely mentioning a person's colour in tandem with a sexual swearword; but either way, 'you black cunt' is clearly something I'd expect any black person to find offensive. Possibly very offensive, given the juxtaposition of the two words.
What I struggle with is how Holt simultaneously condemns Suarez for what he feels is a worse act than saying "you black cunt", when all Suarez did was say the word 'black', in a manner consistent with his culture and language. Ill-advised? Yes. Racist? No.
Remember, Suarez, in a conversation started by an opponent in Spanish, said the Spanish word for black (negro), not the English word that is spelt the same (but pronounced very differently), and is therefore easy to confuse (if you can't be bothered to differentiate). Anyone simply reading the word could get confused, and it doesn't help that people, including some at the BBC, have added an erroneous 'a' before it.
Of course, Suarez hasn't had biographies written by Mr Holt. John Terry, accused of calling Anton Ferdinand a "black cunt", has. Maybe that's his motivation for the now-deleted Tweet, although that's just a guess on my part. He's criticised Liverpool fans for getting behind 'their' player, but he's getting behind 'his' man in Terry. Personally, I don't think I'd be defending Suarez if he called Evra 'a black cunt' in his native tongue, with no cultural barriers involved, but as that didn't happen, it's a moot point. I can only apologise to Mr Holt if Liverpool fans have been sending him abusive Tweets, but in this particular instance it doesn't seem that he has been fair.
(My club allegiance, of course, is well known, and clear from the header of this site; I still hope that my points are fair, even if coming from a Red corner.)
What would have happened if the English word for black was also 'negro' (pronounced neh-gro, rather than knee-grow?). Or if, in Spain, the word 'black' meant a "dated, often offensive" term for people of African descent; and an English player made the mistake of using it?
While Suarez was clearly wrong, under 'our rules', to use any mention of colour (in a way it's not considered wrong in his native Uruguay), simply mentioning colour does not make you a racist. The report said Suarez is not a racist.
The logic of Holt's Tweet was a bit like Martin Samuel's assertion a couple of months back that Suarez was guilty because he was not caught by cameras (he's sly, you see), and that Terry couldn't have been guilty because his abuse was captured ('no-one is that stupid', was the crux of his argument). This is akin to saying that all bank robbers caught on CCTV are innocent, as no-one would be stupid enough to rob a bank given all the high-tech surveillance equipment, but anyone not caught on CCTV – you, me, bed-ridden grannies – is potentially guilty. It's almost reminiscent of the Salem witch trials. How the hell do you win against that kind of thinking?
If you dare to defend Suarez, you too risk being labelled a racist, or accused of condoning racism. The Liverpool striker has been compared by many in the media with the vile killers of Stephen Lawrence, who were convicted with hard, physical evidence in a court of law, beyond all reasonable doubt.
Racism is so obviously wrong, but if you want to draw parallels between a man who, under provocation, said the word 'black' to a black man – without any other adjective or noun attached – and a bunch of youths who stabbed the life out of a man simply because of his skin colour, and laughed and gloated about it, then you're off your head.
In society, we tend to hate public defenders and worship prosecutors. Defending a man's honour is, apparently, akin to condoning that for which he is accused. This is a sad indictment of our society; as if everyone taken to trial is guilty and in need of 'putting away'. (What of Atticus Finch?)
But we need strong, capable defenders, as part of our constitutional rights, for two main reasons. First, if someone who is guilty is poorly defended, there is the risk of a retrial being granted; a waste of time and money. It does not serve justice. Every human has the right to a fair trial, and being competently defended is part of that right.
But more importantly, we need defenders to protect the innocent, and the misunderstood. We need them to ask the right questions, and to cross-examine accusing witnesses (who may have their own agendas), so that justice is done.
We need them to question the evidence; provide expert witnesses; find fault in anything the prosecution says (because the prosecution's job is to win cases, rather than guarantee that right triumphs over wrong). It the defence's job to say 'this doesn't add up'. (And if your defence fails to do so, you are usually granted an appeal; not just on the sentence, as Suarez would have been entitled to had he tried to go down that dangerous route, but to the verdict of guilty or not guilty.)
When there's a mountain of forensic evidence, dozens of reliable, neutral eye-witnesses, CCTV footage showing the crime take place, recordings of admitting to the offence, then defending someone can seem wrong; especially mass murderers, rapists and paedophiles. But for the sake of a fair trial, it needs to be done. If their guilt is that obvious, it should be easy to prove.
But what if there is no proper evidence with which to prosecute?
Remember the story of Colin Stagg, the man who 'raped and killed Rachel Nickell' on Wimbledon common in 1992? He was accused of it on the front page of various tabloid newspapers, and taken to trial by a police force convinced of his guilt (to the point where they 'honey trapped' him). He was 'shifty', and he was in the area. Never mind that there was no actual evidence. He fit the profile – in this case, more than just a saying – and that was enough.
It went to trial, but the case was thrown out, based on lack of evidence; but of course, this was a court of law, not a tribunal (where, it turns out, no real evidence is required). Still the hounding of Stagg continued, and on went the suspicion. Stagg's life was ruined. For 16 years he lived with that stigma, until in 2008, with advances in forensic science isolating his DNA, Robert Napper pleaded guilty to Nickell's manslaughter on the grounds of diminished responsibility.
Take a look at this man, too:
http://enemiesofreason.co.uk/wp-content/uploads/2011/01/jefferies2.png
Looks a bit odd, doesn't he? Certainly the type to be found guilty in a case of one man's word against other. Had that been all that was required – if justice was meted out by a tribunal, rather than a court of law – he would have been found guilty of the murder of the Jo Yeates in Christmas 2010. Why?
Well, the far more plausible young Dutchman, Vincent Tabak, told police about his suspicions regarding Christopher Jefferies, and how the victim's landlord was present and behaving oddly around the time of her murder. One word, against another; and yet, with the media coverage, you'd be hard pushed to find anyone who didn't think Jefferies was behind it. Jefferies had no alibi, but then absence of an alibi does not equate to guilt.
Eventually, the clean-cut, professional Tabak confessed to the murder, but only after the oddball Jeffries had been persecuted to quite astounding levels. Jeffries had no history of murder, just as Suarez had no history of racism.
Now, these parallels are not drawn to prove that Patrice Evra is making up stories about Luis Suarez, or that there is no possible way Suarez could have used the Spanish term for what he admitted to saying once more frequently than that. They are just examples of what happens in the void of evidence, in the absence of proof. They show what happens when a media narrative takes hold, and nothing can shake it. Had Stagg or Jefferies only needed to be found guilty only on the balance of probabilities, based on words rather than proof, by a panel that wasn't entirely without vested interests, they would have been sent to jail for the rest of their lives.
As noted by Rob Guttmann on The Anfield Wrap:
"It is obvious, that unless Luis Suarez's accuser, Patrice Evra, could be shown unequivocally to have bare-faced lied, that there would be far worse repercussions for the sport and the FA if justice was miscarried against Evra rather than Suarez."
It hits the nail on the head. Suarez had to prove his innocence beyond a reasonable doubt, in a situation where neither side could really prove anything, in a system where there was no scope to appeal the verdict, and where, in a draconian measure, appealing the sentence could see that sentence increased.
He admitted to saying something (possibly misinterpreted) once; he was sentenced for saying it seven times, without proper evidence.
Suarez, guilty or innocent, was always going to be the fall guy for much bigger issues. The FA's spat with FIFA over racism made Suarez the bullet in this particular loaded gun. Others muddied the waters.
In November, Lord Ouseley threatened to quit his post unless the case was resolved in a satisfactory manner. We can all read between the lines there; never mind what the hearing produces, we need a verdict that sends a message. You might call it a case of searching for a scapegoat.
Lord Ouseley also happens to be on the board of the Manchester United Foundation, which some may see as a conflict of interest, just as Piara Powar, who also criticised Liverpool FC, has a similar role for a Chelsea FC foundation.
So, no pressure there, then, on the panel to convict. In a case of one man's unreliable testimony against another's.
First of all, at the start of the whole sorry affair, Evra accused Suarez of calling him 'a nigger'. He later admitted that he was mistaken. He was mistaken.
It seems that he is allowed to be mistaken about that, and various other specifics. He is allowed to be mistaken about how many times Suarez used the word negro (Spanish for black, not 'a negro') – with five, seven and ten mentioned. He also confuses the terms used. Now, admittedly, it's not easy to remember conversations that take place in the heat of an argument. But Suarez is condemned because he too could not accurately remember every last detail.
In paragraph 271 of the report, Patrice Evra stated that he doesn't like to even pronounce the word "nigger", let alone hear it. And yet several years ago he was quite happy to bandy the term about, in relation to impending opponent, Chelsea's Jimmy Floyd Hasselbaink, according to a Youtube video that has been broadcast on Sky Sports News: http://www.youtube.com/watch?v=l4_fQXwIV4E#t=0h35m20s
Perhaps Evra has grown up since 2004 – when aged 23 – although that also shows he was no kid at the time. (Although if something from Suarez's past was discovered, you could bet your bottom dollar it would be exploited, even if he's only 24 now.) I was told that there is also a video of Evra saying something similar at the 2010 World Cup; but of course, it'd be wrong to say so without proof, so I'll withdraw that statement.
It doesn't actually bother me if Evra uses a word relating to his race, as that's his right, and an issue between him and others of the same race; but to claim that he doesn't like to use that word can seem hollow, if that video is deemed legitimate.
And even though it doesn't totally discredit Evra's statement at 271, it does throw yet more doubt onto the trustworthiness of a man who had already been called 'unreliable' and 'untrustworthy' by the FA in a previous hearing (also involving Chelsea). As I noted in my last piece, if you'd already been found unreliable and untrustworthy by a court, your testimony would normally be treated as such next time around.
But are we supposed to believe the accuser, because he is 'the victim'? That seems to be the theme.
It's clear that Suarez's testimony was not consistent. But it's equally clear that Evra's wasn't, either. As such, the case should have been thrown out.
Of course, the three-man panel was also not completely without bias. Paul Goulding QC is a die-hard Spurs fan married to a Mancunian [edit: reportedly a City fan); possible conflicts of interest, if not overt. After all, it's not like Spurs were fairly close to Liverpool in the hunt for Champions League spots when the report was drafted.
However, more concerning is Denis Smith – a man who made Darren Ferguson (ex-United player and son of Sir Alex) his captain at Wrexham. Smith was so close to Darren that he attended his wedding. He took several players on loan from his father's club (Manchester United), in the way that Darren himself got to do as Preston boss. But most shockingly, in Smith's own autobiography he claims to have "saved Sir Alex Ferguson's job".
So, no personal affiliations there. (This may be nothing, but imagine the objections if Kenny Dalglish's friend was on the panel?)
Then there's David Gill.
"David Alan Gill (born 5 August 1957) is British football executive, currently Chief Executive of Manchester United F.C. and a board member of the Football Association."
Is that not a conflict of interests? Again, it may be nothing, but see how a United fan would feel if it was Ian Ayre on the board instead, or how a Portsmouth fan would think if it was a Southampton suit. It doesn't help engender a sense of total neutrality, as you'd expect in legal issues.
Flawed
Remember, the FA is already viewed as a poor governing body. In an article linked to me via this open letter, the following was discovered:
"The government has given English football until the end of February to deliver plans to overhaul the way the game is governed, including a new licensing system for clubs and wholesale reform of the Football Association board, or face the prospect of legislation forcing it to do so.
In response to a recent parliamentary select committee report, the government has called for immediate reform of the FA board to make it "modern, accountable and representative", agreement on the new licensing system to be administered by the FA and overhaul of its antiquated decision-making structures. 

[recommendations:] 

• Reform the FA board to make it smaller, more representative, less beholden to vested interests and with more independent expertise

• Split the disciplinary process into a new, independent organisation" 
Then there's this piece by the excellent John Sinnot, on the BBC website, with a quite incredible statistic:
http://news.bbc.co.uk/sport1/hi/football/16430580.stm
… Stuart Gilhooly, a leading football solicitor, described the 99.5% "conviction" rate as "extraordinary". [As someone noted on TTT's comments section, a dictatorship would be proud of that conviction record.]

With none of those 471 cases being overturned on appeal, he said the FA's system needed urgent review."

… Another sports lawyer, who preferred not be named, described the FA as "police, judge and jury all rolled into one"."
The idea mooted in the piece that the FA don't send people to jail is of course true; although they did sentence Luis Suarez to universal condemnation, which is more than an issue of 'sporting merit'.
I had cause to email Mr Gilhooly over the Suarez matter. Here is what he told me on one newly discovered error in the report:
"Rob Johnson tweeted me earlier to say he could find no reference to the 7th mention of negro before paragraph 388(4) which is basically the decision. It says "when the referee blew the whistle to stop the corner being taken, Mr Suarez used the word "Negro" to Mr Evra". This is the first reference that either of us can find to this particular incident.

The only ones referred to before this is the original five times in the goalmouth (including the three in a row) and the subsequent one that Suarez admitted to. This 7th time appears to come from nowhere and considering how comprehensive the recitation of facts "appears" to be, it's seems to me to be a quite extraordinary omission.

You might like to check this yourself but neither myself, Rob or, it seems, [fellow football lawyer] Daniel Geey can see reference to this beforehand."
Gilhooly then added in a further email:
"Paul, the origin in fact appears in paragraph 365. The commission saw Evra react badly to something Suarez said and then goes to the referee. They therefore deduced without allegation from Evra or anyone else that he must have said Negro at this point. No one else, including Evra, made such an allegation. It would appear that they were actually collecting references at this stage to throw at him. This is definitely the worst case of conjecture and supposition of the lot and falls below any known standard of proof, civil or otherwise."
It may seem like a technicality, but it appears another example of the inconsistencies in the report and various testimonies.
Additional
Further to this, Dalglish was accused by Manchester United's manager of defending Suarez even before the verdict. But what about Alex Ferguson all those years ago, after Peter Schmeichel was accused of racially abusing Ian Wright for a second time? Arsenal striker Wright made a public allegation in a newspaper. http://www.independent.co.uk/sport/ferguson-stands-up-for-schmeichel-1280049.html (link courtesy of RAWK's 'Rushian').
"Two years ago we were coaching in the townships of South Africa, and Peter was part of that. We have supporters everywhere in the world. We place great store in our reputation, so it's a big slur on us."
Never mind that Suarez grew up in a multi-racial society, and has a black grandfather. Schmeichel, a very white man, from a very white society, once visited South Africa. Well there you go! That was Ferguson's defence, lest he get forgetful.
Liverpool also have supporters everywhere in the world. Was that able to be used as part of Suarez's defence? Ferguson is entitled to his opinion, but is he entitled to taking the moral high ground given the above defence of a man accused of racism?
Concluding
Some of the points I've made will be less valid than others. But the job of a good defender is to look for inconsistencies, conflicts of interest, unreliable witnesses, and so on. I'm not a lawyer, but you don't need to be to spot obvious flaws, just as you don't need to be a goalkeeper or a manager to recognise when your goalie drops the ball into his own net.
That said, two sports lawyers to whom I have spoken have both claimed the report is massively flawed. Add that to the possibly biased nature of those involved, and the fact that the FA convict almost everyone and offer them no grounds to appeal the verdicts, suggests to me that a very serious issue has begun to seem dealt with by a kangaroo court.
Finally, a few questions/notes from members of this site:
1 – The refusal to allow Suarez to view video evidence and to insist on Suarez's giving spoken evidence in person (whilst allowing Evra to give his by video link – exposing Suarez's lack of dexterity with the English language)

2 – The conditions affecting an appeal, virtually eliminating any real point in making one, leading to the assumption of guilt

3 – The release of the verdict without the evidence

4 – The timing of the of the release of the report, early evening on New Year's Eve

5 – Alleged refusal to accept evidence provided by LFC

6 – Verdict based on balance of probabilities rather than beyond a reasonable doubt, in such a clearly serious and rapidly escalating issue

7- Accepting corroborating testimony from Utd that was based on nothing more substantial than 'this is what Patrice told us'.

8 – Refusal to acknowledge the linguistic differences in the Spanish word 'negro' and the English word for (a) negro.

9 – Branding Suarez's evidence as unreliable when there were several inconsistencies in Evra's too, and Evra's past unreliability in front of the FA.

10- Not taking any action against Evra despite clear scope to do so, based on what he admitted to saying to Suarez, which contravened FA rules, and which preceded anything said by Suarez (and was therefore not a retaliation, which may have been viewed as justifiable). The FA maintain that "concha de tu hermana" is just a saying, when it means "your sister's cunt"; and yet some of Suarez's comments were translated literally, or poorly.