Fulham had failed to score in six in their last eight Premier League games against Liverpool, and the visitors have the league's best record in terms of shots conceded (44). Unfortunately, neither record prevailed in the end as Fulham gained a 1-0 victory after Spearing had been received a straight red card.
Starting Strategies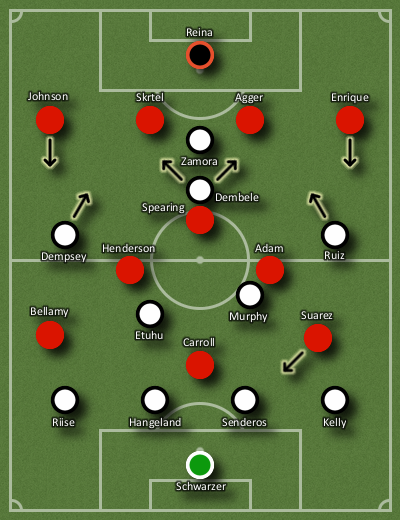 Fulham started the game as expected save for two minor changes. Kelly was preferred to Baird at right back, while Dembele started in attack just behind Zamora. He tended to roam around the England centre forward, and so the formation looked more like a 4-4-1-1/4-2-3-1 rather than a traditional 4-4-2. Liverpool changed their usual format by going for a 4-1-2-3 over their favoured 4-4-2.
Fulham have turned into something of a passing team under Jol's leadership, using Zamora as someone who can recycle the ball rather than simply an outlet for balls from deep. As the game started, both sides played patient football looking to hold onto possession and using every outfield player as a potential pass receiver.
The difference in styles came up front. Fulham had an attacking trio behind Zamora (Dempsey, Dembele and Ruiz) who all cut inside to occupy central positions. This flooded the middle of the pitch with mobile players with fluid movement, the ultimate aim being to overload Liverpool's defenders. In the sixth minute this worked well as Ruiz came in from the right, fed Dembele with a good through ball between the Liverpool centre backs, but Reina was on hand to save the shot.
On the other side, Liverpool's approach was to pass the ball up through the team before feeding their attacking threesome in good positions. Carroll came much deeper than usual, acting as a supporting player for the team rather than an out-and-out number nine. He came much further back to participate in the build-up play, almost as a fourth central midfielder at times. Bellamy played wide right, rarely coming inside. The idea was probably to give Riise a direct opponent and stop the ex-Liverpool left back from coming forward. On the left, Suarez was given his usual license to roam all over the place, often cutting in and dribbling from his flank. In the eighth minute Adam put the ball behind Kelly for Suarez to pounce. He dribbled inside and then laid the ball off for the onrushing Carroll. Unfortunately, the pass was hit too hard and Carroll could only just manage to get there with his right foot. The tame shot was easily saved.
Fulham's narrow midfield allowed Liverpool's full backs to push forward. Both had different methods of attacking. Given that Bellamy generally played wider, Johnson attempted to cut inside when he came dribbling forward. Enrique provided much more natural width by pushing down the line into the space vacated by Suarez. Dembele, Dempsey and Ruiz do not have a reputation for getting stuck into the defensive side of the game, and this gave Liverpool's central midfielders enough time on the ball to pass between each other and construct meaningful attacks. This forced Fulham's defensive players to drop deeper to try and shut down the space, rather than pressing heavily. In turn, that freed Agger and Skrtel to make the odd foray forward, giving another body in the centre as a sort of deep-lying playmaker or temporary libero.
The rest of this post is for subscribers only
[ttt-subscribe-article]