Pro-qualified referee Simon gives his honest opinion on last month's refereeing decisions, and how they affected Liverpool FC.
Man Utd (H) – Andre Marriner
Andre Marriner showed why he was trusted to manage such a high priority game.  He has continually impressed over the past few seasons, not only with his ability to make big decisions but his willingness to make them regardless of the situation (remember the two penalties correctly awarded in the Arsenal match last season). Yet he also retains the ability to use discretion regardless of how much pressure is being applied by players or fans.
The first half passed almost without incident, although Lucas was cautioned in the 27th minute for a trip on Ji-Sung Park as the Utd player looked to continue a break. Ashley Young was also cautioned in the 42nd minute for a trip on Steven Gerrard. Both Lucas and Young were correctly cautioned for Unsporting Behaviour under Law 12.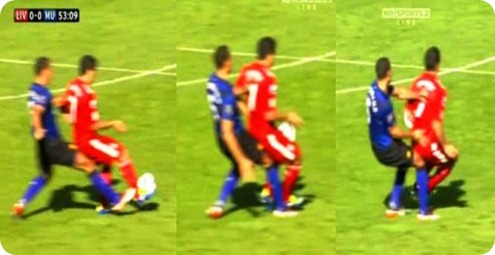 In the 53rd minute Rio Ferdinand was cautioned for a tackle from behind on Luis Suarez. As the ball was played to the Uruguayan, he was challenged from behind by Ferdinand, the Utd defender clearly making no contact with the ball and continuing with his challenge to connect with Suarez's calves.  Suarez falls to the floor and Ferdinand stands over him berating him for diving or feigning contact.
Thankfully Mr Marriner was not fooled by Ferdinand's false protestations  and correctly cautioned the English defender for Unsporting Behaviour. Unfortunately United's manager has since chosen to launch a campaign to brand Suarez a diver.
In the 64th minute Patrice Evra was cautioned after a running battle with Luis Suarez. The incident has since developed into a row concerning alleged racial abuse of the Frenchman by the Uruguayan. I will only comment on the referee's responsibility in this matter. Firstly, If Mr Marriner had heard any racial language he would have instantly dismissed Suarez Under Law 12 – using offensive, insulting or abusive language. So this clearly shows that Mr Marriner had no first-hand evidence of any such language. Secondly, if Evra had informed Mr Marriner of the alleged racial slur at the time it occurred, Mr Marriner would have recorded and duly reported the incident. Finally, when Evra made the allegations known to Mr Marriner after the  game, the ref's sole responsibility was to report the incident to the appropriate authorities.
The next significant talking point followed a foul by Ferdinand on Charlie Adam in the 65th minute. The Scot was running into the area when Ferdinand attempted to tackle him. There was contact, however minimal – and Mr Marriner judged the challenge sufficient to warrant a free kick. Liverpool players, and an expectant crowd, were baying for a second caution and thus a red card for Ferdinand, however this is a further example of why Mr Marriner is so impressive. The easiest, home crowd-pleasing decision would have been to caution Ferdinand for the trip and dismiss him. But Mr Marriner used his judgement, discretion and understanding of the game. Technically he can look at both fouls and justify yellow cards but referees must consider the totality of offending and manage games accordingly. This highlights the difference in class between Mr Marriner and Mr Jones (Liverpool –v- Spurs) who displayed a distinct lack of ability and judgement. As we know, Gerrard scored from the resultant free kick.
Finally Manchester Utd equalised in the 80th minute from a corner that was incorrectly awarded. Utd had one corner which was flicked behind the Liverpool goal. Replays showed the ball came off a Utd player, but Mr Marriner awarded another corner. In his defence, the near post would be a call for the assistant referee. Mr Marriner should routinely position himself in line with the rear post, about one or two yards outside the area, giving the maximum coverage by both officials, therefore he was not in a position on the pitch to alter the decision.
Overall, Mr Marriner gave an impressive performance and continues his rise towards the summit of English refereeing.
The rest of this post is for subscribers only
[ttt-subscribe-article]