Patrick Barclay and James Lawton remind me of two morbidly obese women, deep in denial, trying to squeeze their 'arguments' into size 8 dresses. Never mind that the skimpy garments don't even come close to fitting; they will hold their breath and hope for the best, as masses of blubber flops and flubbers. Two fat ladies, rip rip rip.
In the build-up to the Chelsea game, these two senior football writers produced an unprovoked defence of Roy Hodgson that also just happened to be an unprovoked attack on Kenny Dalglish; observant readers will realise that this was no mere coincidence. For some reason, the pair seem irked that we – as fans – got our man, and they – as part of an old pal's act – lost theirs. Facts, to their mind, can have nothing to do with it.
Both sneered at Dalglish, just as before him they regularly sneered at Benítez. Above all else, they now sneer at Liverpool fans, for putting their faith in these two managers with their collection of six major league titles (four in England, two in Spain, spread across three different clubs), three FA Cups, a Uefa Cup and European Cup, plus several 80+ points finishes in the English top division; and for not warmly embracing a manager who, outside of Scandinavia, has not a single piece of silverware to his name, and who has never racked up more than 59 points in a season in England or Italy.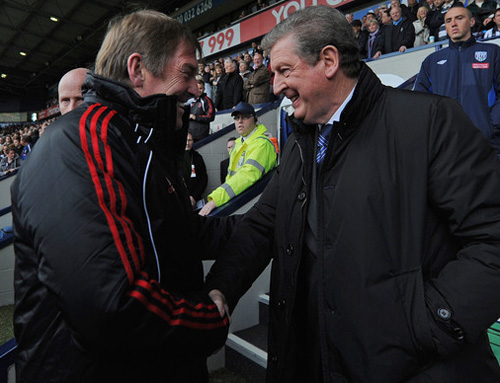 Irrespective of their past records, Benítez and Dalglish (second time around) work at a level well above the one Hodgson attained in his brief stint. By including Europa League qualifying rounds (the only area where Hodgson excelled, with a 100% record), Lawton tried to argue that Hodgson's record was almost the equal of Dalglish's, if you compared their overall performance since the departure of Benítez.
Let's face it, did these same people laud Benítez for wins in the Champions League qualifying rounds, even though the Reds sometimes faced some pretty good teams? No. Would these same people praise Dalglish for beating Championship sides (who are probably better than FC Rabonicki) in the Carling Cup? No.
If Lawton and Barclay want to write reams on how well Hodgson is doing at West Brom, or how well he did at Fulham, then I won't object. But should they try to rubbish Dalglish in order to elevate their man, I'll call them out for what they are. I'll defend any Liverpool manager who does a good job, and who doesn't treat the fans like mugs.
Take a look at the league stats that Lawton quoted, but quickly brushed over. It is beyond me how anyone can argue that there is little difference between 1.25 and 1.80 (points per game) when the minimum is 0.00 and the maximum is 3.00 – and when the acceptable range for a club like Liverpool is between 1.50 and 2.30.
Want to quote stats, Mr Lawton? Why not start with away wins; Liverpool had as many away league wins this weekend as they did in six months under Hodgson. (And that lone win was against the mighty Bolton, not Chelsea.) Dalglish has now overseen two league wins at Stamford Bridge, plus a draw and a victory at The Emirates. It took him just two games to better Hodgson's 1-0 away victory, with the 3-0 win at Wolves in January. Liverpool later scored five on the road, at Fulham.
Meanwhile, Barclay, on Friday, quipped "During Roy Hodgson's ill-fated management of Liverpool, a frequent criticism was that his teams seldom won away matches. Kenny Dalglish has brought about a transformation. Now Liverpool can't win home matches."
Ho ho.
He added that the club were in a "mini-crisis" going into the game at Chelsea; such a wonderful sense of perspective there. For all the good football writers at the Times, it seems a shame to have one fouling up the sports section with such pungent turds.
Of course, Liverpool remain undefeated at home this season, even if a couple of disappointing draws (Sunderland, Swansea), and one unlucky stalemate (Norwich), have resulted in more dropped points than anticipated. But of course, it's not like Hodgson's Liverpool lost at home to, say … Blackpool, is it? Or Wolves? I mean, it's hardly like Hodgson's record at Anfield is stellar.
In terms of home points won, Dalglish (2011) and Hodgson are level: 66% each. In terms of points won away from home, Dalglish's results are more than three times better.
I don't want to spend my time attacking a ghost like Hodgson; but if his allies are going to attack good Liverpool managers in defence of a failed one, in order to score points, then I must redress the balance. Someone must tell the truth. It's not fair on Dalglish, or the owners, to suggest that the Scot has made little difference.
It's like a return to the days of Benítez; hacks with agendas that facts do not favour continuing to show incredible, depressing bias. If Liverpool fans were harsh on Hodgson – and we may have been, to a small degree – he did little to help himself. The facts help him even less. There is nothing in his record to suggest that he was up to the job, or finding the right path. It was a nightmare for all concerned, and no amount of spin will re-write that.
History will show that his results, his team's performances and his signings (of which there were seven) were not good enough. He broke even on Raul Meireles, but Cole, Konchesky and Poulsen – who, though admittedly relatively inexpensive, were all shoehorned into the side at the expense of better players – flopped. The other three signings barely warrant a mention.
Look at the following five graphs, based on the one comparable competition: the Premier League. Cold, hard facts. Benítez, Hodgson, Dalglish – and a clear trend.
Granted, 2010 was not an easy time to be Liverpool manager, but then again, it rarely is, with high expectations and, between 2007 and when they finally slung their hook a year ago, rotten owners.
But those expectations are why some people are better off at Fulham and West Brom, where winning 33% of your games is an achievement, rather than a failing.
None of this means that Dalglish gets everything right and Hodgson got everything wrong. But the facts are clear, unless you try to fudge them.
Alas, there's even more in the attempt to discredit Dalglish.
The rest of this post is for Subscribers only.
[ttt-subscribe-article]