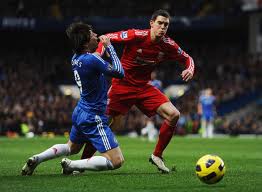 By Dan Kennett.
In the run-up to the West Brom game and the likely absence of Jamie Carragher, I looked into the record of Skrtel and Agger playing together in the Premier League. The results were promising, even if there was a relatively small sample of games, mainly from January 2011. Most noticeably they have never played as a partnership against "top 6" opposition.
The task was therefore to try and put this relatively small sample into context and compare with other centre back combinations in recent times. The most important job was to try and level the playing field to allow a genuine comparison. With this in mind, the scope of the analysis is:
• Premier League only from start of 2009/10 season to present
• Excluding games against "top 6" opponents i.e. City, United, Chelsea, Spurs, Arsenal
• Excluding games where Liverpool played three centre backs
• Excluding games where there was a red card before 60 minutes
• Excluding games where one of the centre backs has gone off injured before 60 minutes
• Excluding games where Liverpool started with a centre back or midfielder out of position at fullback e.g. Agger at left back, Carragher/Mascherano at right back
This left a sample of 55 games where there was a definite centre back pairing and two "proper" fullbacks.
In the tables below, green shading represents a figure that, on average, is good enough to win the title since English clubs have had four Champions League places. Yellow represents the average figure to qualify for the Champions League in the same period.
The first table is Clean Sheet%. Champions have typically got 18 clean sheets in this period (47% of league games) and CL qualifiers 16 (42%).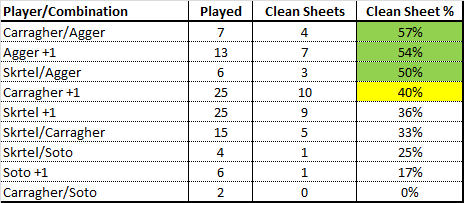 Here we see the top 3 rankings of Agger/Carra, Agger "plus one" and Agger/Skrtel
Carragher "plus one" is just about CL level while Skrtel "plus one" is just below.
Skrtel/Carragher is the most played combination with 15 and clearly not good enough for the CL with just five clean sheets (and remember this excludes games vs the "top 6"). The figures for Kyriagkos are just too gruesome to look at!
Next up is Goals Against Per Game. Average title winning form is 0.68 and average CL qualification is 0.87: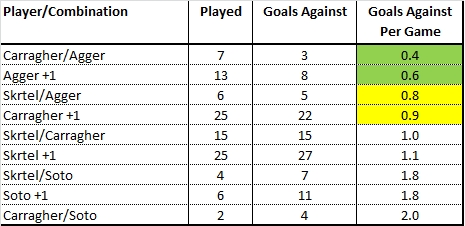 The combinations/players are ranked in near identical order. Agger/Carragher and Agger "plus one" are still title level. Skrtel/Agger has potential to be but Skrtel/Carragher is again not good enough for CL qualification.
The final chart is how has the team has done in terms of results and Points Per Game:

The combinations/players are in the same order and the same shading. The only difference is that Skrtel/Carragher is just good enough to be considered top 4 form.
One other thing of note is the amount of times since 09/10 where Liverpool have had to go into a game without "proper fullbacks". The poor injury records of Johnson, Aurelio and Kelly meant that of these 55 games in scope, 20 (36%) were played with a makeshift defence. What's more, the Points Per Game is 1.89 when playing with "proper fullbacks" and just 1.5 without.
Conclusions
What started as an analysis of the record of Skrtel and Agger has once again proved the indisputable importance of the Dane to Liverpool FC. The analysis shows that he is capable of improving the defence and the results of the team to title-winning levels. If only his injury record could somehow be improved to get him to play more games.
All Liverpool fans know that Jamie Carragher is in the twilight of his first team career; 34 in January, he is in no way 'finished', but equally, isn't quite what he was, and can't go on forever. This analysis suggests that a season of Jamie Carragher would leave Champions League qualification on a knife-edge, although his partnership with Agger has proved fruitful. The analysis also leaves big questions over the long-term viability of Martin Skrtel as a centre back in a genuine Champions League level team. Depending on the management's faith in Kelly, Wisdom and Wilson, a major centre back purchase could be on the agenda for one of the next two transfer windows.
As for the rest of the season, it's clear that it should be AGGER PLUS ONE whenever he is fit. Skrtel is the man in possession and, in my opinion, the partnership now merits the chance to show what it can do in the "top 6" matches too. One thing is clear though, unless Daniel Agger plays at least 50% of the remaining league games Liverpool could be missing out on the Champions League for a third successive season.
Subscribe to discuss the article with the author and other like-minded subscribers, and to get access to approximately 20 subscriber-only articles a month. £3.50 a month or £40 a year. Click here for more details.