The following piece is an in-depth look at just where, after a few years of drama, the Reds stand right now in terms of progress and direction headed. The first half of the article is free to read, the second half is for Subscribers only.
Feeling disoriented? You may not be alone. It seems that many Liverpool fans are a little lost right now. Lost between expectations, transitions and reality. We are the discombobulation nation. Far better under Dalglish than Hodgson, but behind Newcastle in the table.
(Still, we were behind almost everyone this time last year, in 18th place.)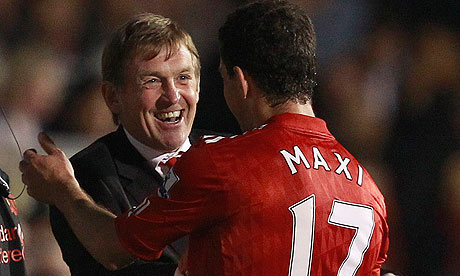 Fans almost always want more than is realistic. But what is realistic right now?
The 1990s were spent in the shadow of belief: belief that we were the rightful heirs to the title, having spent the previous two decades basking in glory. It took a while to realise that, hey, we're not simply unlucky; we're just not that good anymore.
For a while, in the mid-'90s, the Reds, just like Keegan's Newcastle, had a great attacking team, but, at best, an average defensive one; only Manchester United (and briefly, Dalglish's Blackburn, before he moved 'upstairs' having wont he 1995 title) seemed to get it right at both ends.
After the last title in 1990, the Reds won just two trophies that decade: an FA Cup in 1992, and the League Cup three years later, both against lower league opposition. There was just one further final, the cream suit debacle of '96. There were a couple of tilts at the title, but never quite amounting to much.
Then came the Houllier years, a general upward trend from seasons two to four, and a nosedive for the last two. Still, he won four trophies, and the treble of 2001 was the best time we'd had for a decade.
Throughout his time – excluding the poor first season – Liverpool were 'roughly' a top four side, if only a Champions League side on two occasions.
Manchester United and Arsenal were the titans, and Chelsea, Leeds and Newcastle the rivals for a place in the top four. This trio were relatively big spenders, and so were Liverpool. (Even so, United were spending £30m on single players almost a decade ago, when £11m was a lot for Liverpool.)
But it was a time when 'big spending' had yet to be redefined by Roman Abramovich. That came in 2003.  The big-spending '90s had yielded very little for the Reds, and now they were losing out to richer clubs.
Liverpool averaged 65 points a season in Houllier's time, and, fortunately for us, scraped 4th place, with a fairly low total of 60 (with just 16 wins from 38), in 2003/04. A massive 30 points off the title, but still good enough to scrape by.
I can't speak for others, but I felt I knew where LFC 'belonged' during the next five years; I had my bearings. Maybe it's because I started analysing the club on a full-time and highly detailed basis, or perhaps it was the five consecutive Champions League qualifications, and four journeys to at least the quarter-finals. A top four side, and top-eight in Europe.
Liverpool were never title favourites, and were always paying lower fees than United and Chelsea, but there was a strong identity to the team, with the two scouse Trojans (as they were, in their pomp) and the Spanish cavalry.
But then it started to go wrong. The club was at war with itself, and the owners were loathed by the fans. The priority became less about winning matches (although that never becomes meaningless), and more about protecting the future of the club. The fans, split 50-50 over Benítez by the end, were unified in their hatred of Gillett and Hicks.
While Roy Hodgson was a universally underwhelming appointment for Kopites, had his team not performed so much below even modest expectations, he may have steered the ship – after all, he was the 'steady hand' – to the shore of season's end. He may have been a decent interim boss, the man who, after all, said his speciality was getting more out of players, and not requiring a big budget to get results.
Alas, managing Liverpool is nothing like managing Fulham or West Brom in terms of expectations. The tactics were all wrong, the approach far too defeatist.
My own view was that, having expected top four under Benítez, 5th or 6th was where his replacement should have had the team; for me, there were no unrealistic expectations last season with which to hammer Hodgson. (I was mocked on the official site forum by someone who said, after the opening day Arsenal draw, that Liverpool would end the season as champions under Hodgson. Really? These same people called me 'optimistic' under Rafa.)
Unfortunately, Liverpool became a team floundering below mid-table, and the football was poor from front to back. All sorts of records for the worst performance in 50 years were being set – worst start, worst cup exit (in terms of quality of opposition), worst goal difference. Remember, this was less than a year ago.
Still, at least Gillett and Hicks were sent packing; if they'd blighted the latter years of Benítez and first three months of Hodgson's tenure, there was now an incredible sense of victory in the air. Winning the court case was like winning a trophy.
The clouds had lifted! The arrival of FSG coincided with a brief upturn in results, but after a handful of games where things looked increasingly close to being acceptable, the team fell apart, and were now playing worse than ever. Fans became united again; in excess of 90% wanted Hodgson removed.
Hodgson hadn't got to spend the new owners' money, but he had benefited from the sense of calm that fell over the club; but chaos on the pitch was now the problem. For a decade Liverpool had been winning 51% of league games under the successive reigns of Evans and Houllier (1994-2004), and 56% under Benítez between 2004 and 2010.
Under Hodgson, the Premier League win percentage was just 35%. He did better with what he called the 'B team', in Europe's second-rate competition, but with the 'A team', where it counted, he was found wanting.
So the board turned to the man who, in an era when 60% was an incredibly high win rate (after all, Bob Paisley's was 57% when racking up six titles in nine seasons), posted 61% across six seasons.
Whatever Kenny Dalglish's long-term prospects at the club, it was hard to think of anyone better to bring a sense of unity to the fans; or at least, unity that did not involve despising the manager.
Short-term, it didn't really need thinking outside the box; just someone to fill the rapidly emptying Anfield seats, and get the players smiling again. Oh, and passing the ball on the deck. As fans, there was a sense of relief, and a sense of euphoria. But if last season under Dalglish was the great night on the tiles, this would always be in risk of being the morning after.
Until the final two games of last season – both of which were lost (immediately after the manager's role was made permanent) – Dalglish's record was far better than any of us had a right to expect.
The football was fluent, and the Reds rose from 13th to 5th in almost no time, but stumbled over the line, in 6th. Some in the media saw this as a 'collapse'.
Still, with 35 points, Dalglish had racked up 11 more in 18 games than Hodgson managed in 20. Hodgson was on course for a 48-point finish, whereas Dalglish's results, pro rata, were suggestive of a 74-point season. Boy, were we grateful. And that brings us to this season.
So, where does this undulating journey leave us now? What are realistic ambitions? It's okay saying "but we are Liverpool!" (which translates as: we should be winning the league), but that doesn't put food – I mean points – on the table.
The second half of this post is for Subscribers only.
[ttt-subscribe-article]