So apart from losing 0-4, having two men sent off and one taken off injured, everything went according to plan at White Hart Lane then! It was a sobering defeat and awful performance alright, the sort we don't get too often, mercifully, and on a par both quantitively and qualitively with the worst of them. But not unprecedented. And where can you look for context, for solace, other than history? How often do these heavy defeats happen and what can we learn from them? How were we doing at the time they happened – in a trough already or did they come out of the blue? – and what effect did they have on us subsequently? Can we find any comfort from heavy defeats in the past?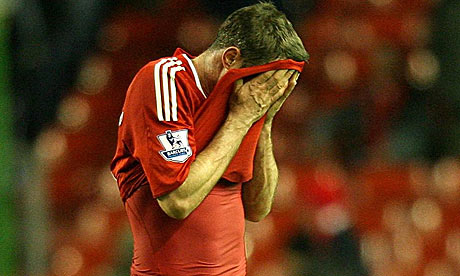 Well yes actually. We've had a few spankings over the years and come back stronger from most of them. Shanks himself wasn't immune. In the mid-1960s we were on a sharp rise, from Division 2 winners in 1961/2 to Division 1 winners two seasons later, FA Cup winners the year after and champions again the season after that. We got our first taste of European football in 1964/5 and made a pretty impressive start, reaching the semi-finals of the European Cup at our first attempt  before losing controversially at Inter Milan 0-3 in the second leg after a 3-1 win at Anfield. The season after we went one stage further, reaching the final of the Cup Winners' Cup before losing 1-2 to Borussia Dortmund at Hampden Park in Glasgow, to a freak own goal. We were learning fast. And as learning experiences go, we certainly got one in the 1966/7 season's European Cup. On 7th December 1966, all aglow from England's World Cup win and our own fast-burgeoning European pedigree, as well as a run of five wins in six games ahead of the game, we went to Amsterdam to take on a pretty unknown (at the time) Ajax (in fact so unknown, even the TV commentators pronounced the 'j' and made them sound like the well-known domestic cleaning product. But it was us that were taken very roughly to the cleaners, by a side containing a very young Johan Cruyff). The Dutch champions tore Liverpool apart in foggy Amsterdam and were four up by half-time. They eventually won 5-1, with Chris Lawler scoring for us in the very last minute. Roger Hunt scored twice at Anfield in the return but so did Cruyff, and Liverpool lost 3-7 on aggregate. This football lesson was delivered by a club that would go on to win the Champions' cup for three successive seasons.
How did this severe thrashing and shock to the system affect us? Nobody does that to Liverpool, right? Well the game right after Amsterdam we got a creditable 2-2 draw at Old Trafford against a United that would finish champions. Following the second leg at Anfield that saw us eliminated from Europe, we did a 2-1 double over Chelsea (interestingly, on Christmas Eve then Boxing Day!). But as we finished fifth that season and didn't win another trophy or make any progress in Europe until 1972/3, you might say there was no long term bounce back from Ajax, though you could hardly blame the drought on that one game.
Three years later, on 1st November 1969 we took our next horrible hammering, 0-4 at the Baseball Ground, by an ascendant Derby County who would soon – well in 1971/2 – be crowned champions. We'd beaten Southampton 4-1 at Anfield in the previous game – nothing to suggest what was about to happen. A goalless home draw with Wolves followed, then a 1-0 defeat at Vitoria Setubal in the European Fairs Cup. Three games without a goal, and we went on to finish fifth and won nothing.
Another defeat that season, although a more modest 0-1, proved more pivotal. When 2nd Division Watford humbled us in the FA Cup quarter-final at Vicarage Road, the lacklustre show by an ageing Reds side prompted Shanks to break-up the successful team of the mid-1960's and prepare to build another dynasty for the early-1970's. For the likes of keeper Tommy Lawrence, Chris Lawler, Ron Yeats, Peter Thompson and Roger Hunt, their days were numbered. To replace them came such as Ray Clemence, Phil Neal, Larry Lloyd, Kevin Keegan and Steve Heighway. You know the rest.
It was another seven years before our next humiliatingly heavy defeat, at Aston Villa on 15th December 1976 (I was there!) Again it followed a routine 3-1 home win, against QPR. Again, no clue of what was about to happen. Also, notice how these heavy defeats are very rarely followed by another in the same season, or even for a few years – grounds for optimism there.
We were 5-1 down by half-time at Villa Park that night (so drew the second half!). As left back Joey Jones said:
"When we trooped off at half-time, Bob Paisley, Joe Fagan, Ronnie Moran and Roy Evans were waiting and each delivered his rollicking in his own particular way. Joe lost his cool, to say the least, and when he did that we all sat up. Then Bob, Ronnie and Roy gave their verdicts. Now matter how big the name, we all caught it in the neck. I had never known anything like it."
The following game we lost again, 0-2 at West Ham, but got back to winning ways the game after, 4-0 v Stoke at Anfield. To say the season itself suffered no terminal damage at Villa Park would be an understatement; as I like to remind Villa supporters still gloating over that score, who won the title that season? And the European Cup too? And reached the FA Cup Final?
We had not one but two nasty defeats at Coventry City – 0-4 on 10th December 1983, and 1-5 on 19th December 1992. The first was a real oddity, sandwiched between two wins before and a 4-0 home win against Notts County immediately afterwards. How much harm did it do? Not too much actually, since we went on to win the League, European Cup and League Cup.
The 1992 defeat – our biggest for 16 years since the Villa Park debacle – was notable for the team we put out. It included Hooper in goal, Mike Marsh at right back, Torben Piechnik, a debuting Bjornebye, Paul Stewart … what could possibly go wrong? Yet strangely we dominated the match for over an hour – for that reason alone I'd put it ahead of the performance at Spurs on Sunday. Jamie Redknapp scored and got sent off when we were 3-1 down. It heralded a bad run, even by Souness' managerial standards. We'd been knocked out of the League Cup the previous midweek at Palace, and went on to draw two then lose three, two of them consecutively at Anfield. We finished sixth that season. This time the defeat was not entirely unsynchronised with its context.
Another team who inflicted more than one heavy defeat on us was Luton Town – this time twice in one season, 1986/7. On 25th October we lost 1-4 at Kenilworth Road in a league game. Weirdly, we won the game before 4-0, and the following three 4-1, 6-2 and 3-1 – so the heavy defeat was a real aberration. Later, in January, we lost 0-3 there in an FA Cup Round 3 replay, again amongst a run of decent results. Boss Kenny complained loudly about the plastic pitch – remember the joke? What's the difference between Kenny Dalglish and a jumbo jet? The jumbo jet stops whining when it leaves Luton. That season we lost the League Cup Final to Arsenal and finished runners-up to Everton in the league.
Which brings us to Arsenal, who have inflicted more heavy defeats on us than any other team. The 0-4 on 20th April 1992 against George Graham's abdicating champions was Liverpool's heaviest league defeat for nine years – since Coventry. Liverpool caretaker manager Ronnie Moran (Graeme Souness was recuperating from heart surgery) admitted:
"I'm sick inside, but you can't show that – life must go on. It was embarrassing the way we lost the goals. That was Sunday league defending, but it is not just only the men at the back who were at fault."
Sounds familiar from Sunday? That game was preceded by two draws and two defeats, and followed by another draw – not a good run, yet three weeks later we won the FA Cup, against Sunderland. We finished sixth in the league.
A couple of FA Cup defeats, though only by the odd goal,  triggered bouts of inner searching – the final against Wimbledon in 1988 and especially the semi-final against Palace (3-4) at Villa Park in 1990.
Most humblings have, naturally enough, come away from Anfield. But there have been a few Anfield horrors too over the years. A Bobby Charlton-inspired United won 4-1 at fortress Anfield on December 1969, just over a month after that thrashing at Derby. Yet the week before we'd won the derby 3-0 at Goodison, and won 5-1 at Burnley in the following match. Another out-of-context heavy defeat. Much more recently, there was that 1-4 v Chelsea on 2nd October 2005 (when we were defending European champions), with a certain Joe Cole on the scoresheet. And let's not overlook that bizarre 3-6 against Arsenal in the Carling Cup in January 2007.
There have been other 0-4 defeats in our recent Prem history. The one at Ranieri's Chelsea on 16th December 2001 (a lot of our heaviest defeats have been in December) was our first Premiership defeat in 13 games, and meant Phil Thompson's side (Houllier was recovering from his heart op) had wasted the opportunity to establish the kind of lead from which championships are won. Instead, we remained just three points clear of our closest rivals Arsenal, who went on to win the title with us as runners-up. The game was preceded by a goalless draw at Fulham and followed by another defeat, crucially at home to Wenger's Arsenal, before a run of four without defeat.
That 4-0 loss at Old Trafford on April 5th 2003 was of course tempered by the early sending off of Sami Hyypia after just three minutes, so doesn't count! The game came in the middle of a good run, preceded by three league wins and followed by four more. Also, we did beat them in the Carling Cup Final in Cardiff earlier in the season, and we again finished fifth.
A defeat doesn't have to be heavy to be damaging to morale; for example two 0-2s at St Mary's against Southampton, one of which prompted expert pundit Alan Hansen to say it was our worst performance in 40 years, and a few under Roy Hodgson (Blackpool, Wolves and Northampton at home, Stoke and Everton away) were pretty morale-sapping at the time. And remember that 0-3 at Goodison early in the 2006/7 season? The same season in which we lost heavily three times to Arsenal, 3-0 away in the league, 3-6 in the Carling Cup and 1-3 in the FA Cup. Yet we beat them 4-1 at Anfield in the league with a Crouch hat-trick and went on to reach the Champions League Final.
All of which goes to prove conclusively there's life even after a heavy beating or three!
(For more on this theme, read Brian Durand's blog: http://thekop.liverpoolfc.tv/_Bad-days-Nothing-new/blog/5147142/173471.html)