Kenny Dalglish – the man who, along with Damien Comolli, 'wasted millions of pounds' this summer – has put the smile back on our faces.
Aside from those of us who thought it, who'd have thought it?
As one pundit on Sky's Sunday Supplement put it just a couple of weeks ago, the Reds 'collapsed' under Dalglish at the end of last season (losing two games; the world's smallest ever collapse?), and the club overpaid on a load of average players this summer. And remember, preseason results were sure to have us doomed.
So to have seven points in August – when it took until the end of October last season to reach that mark – is a sign of the club being back on track. And to my mind, that means being back at the level that Rafa Benítez had the club for the majority of his time at the helm.
As ever, some vindictive things were said in the media in relation to Liverpool's recent history. A fine win against Bolton was used by the ESPN commentator John Champion to criticise Benítez; in reference to a woman in the crowd who was caught yawning near the end of the game, he said "under Rafa, she'd have been asleep 60 minutes ago".
Benítez was also criticised for failing to get the best out of Lucas, never mind that he bought him as a 20-year-old for just £6m and persisted with him when those too blind to see his quality (i.e. not most of this site's members) had it in for the lad; not to mention that – funnily enough – young players get better with time and experience (and with the exit of players with bigger reputations, out of whose shadow they can emerge).
Had a player Arsene Wenger bought evolved in the same way, then even had the manager left the club, Wenger would be labelled a genius for finding and helping to develop that talent. Lucas is now some player, and Rafa deserves a large chunk of credit.
By contrast, to the mass media, when it comes to Liverpool's recent history, Roy Hodgson simply never existed; at least as far as criticism is concerned. He worked miracles at West Brom last season in a short space of time, and fully deserved all the plaudits he got for a remarkable turnaround; but he managed Liverpool for a longer period of time, and yet that gets brushed under the carpet as 'too little time to make a difference'. Except he did make a difference, for all the wrong reasons.
A more obvious comparison for John Champion to make would have been the last home game against Bolton, less than nine months ago, to show the dramatic change. On New Year's Day, at the same late stage in the game, Liverpool were only drawing 1-1 against the Trotters, in front of 10,000 empty seats on one of the traditionally best-attended days in the football calendar. Joe Cole nudged the ball an inch over the line at the death, but it was only papering over the cracks. People weren't yawning; they simply weren't attending.
Interestingly, it's like Hodgson never existed at Liverpool, either. Not one of his six summer 2010 signings has made the starting XI in the Premier League, with most either up for sale, or already sold. Only Raul Meireles – now a squad player – remains part of Kenny's plans, although he was his only relatively expensive signing. (That said, he did try to get Joe Cole, Paul Konchesky and Christian Poulsen into his first XI.)
This season's side – and indeed, the match-day 18 – has been comprised of roughly a 50-50 mix of Benítez and Dalglish purchases. Bought by the former were Reina, Agger, Kuyt, Lucas, Skrtel, Maxi, Shelvey, with Spearing and Kelly given debuts by the Spaniard a few years ago. When fit, Glen Johnson will slot back into the XI.
That said, this is clearly becoming Kenny's team. In have come Suarez, Carroll, Adam, Downing, Enrique, Doni and Henderson.
All the good results since January, and we've yet to see Steven Gerrard beyond a handful of the manager's games. If he can find his old form, then how he links with the incredible Suarez will be fascinating to watch.
Jamie 'Literally, Top Top Top Literally' Redknapp is another whose first post-match words of analysis about Liverpool almost always refer back to Benítez; he "overcomplicated" the game, said a man who gives the impression that a lot of things (including finding trousers that fit) are too complicated for him. (Note: it may be that, as a bald 40-year-old, I'm just jealous of his looks. This is true. Of his intelligence, not so much.)
I fully agree that we need to constantly refer back to the recent past to make comparisons. But surely it's only right to do so with accuracy and fairness? – after all, we'll never know how far we've come if we cannot work out our starting point.
This notion that Liverpool fans were bored by Benítez continues to irritate me. At times, yes, the team could be below par, just as any team can be, and clearly not every fan bought into his approach. (Those who believed the mass media, mostly.)
However, the idea of negativity at home – as espoused by Champion and Redknapp – is belied by the fact that the Reds hold the record winning margin in the Champions League (8-0), and also put four past Real Madrid and Arsenal at Anfield in the same competition. Do dull, methodical teams really do that?
Of course, this was in the Champions League; Benítez 'wasn't very good at the domestic stuff'. (Never mind that he averaged 72 points a season, an improvement of seven points a season on his predecessor.)
At times Rafa's teams took their foot off the gas in league games when winning, but with tough midweek European games coming thick and fast, the need was to balance resources that were not as deep as those of the richer big clubs. That was never going to be a concern against Bolton this weekend, although, of course, Luis Suarez needed removing for his own good (as part of not overdoing it post-Copa America).
Having researched Liverpool's home goalscoring record since 1998, it's interesting to see patterns that totally correlate with my preconceived ideas, and, surprise surprise, seem to go against those of the mass media: that Benítez and Dalglish had/have the team scoring lots of goals at home, and that Houllier and Hodgson (whose approaches were similar to one another) performed far worse in this regard.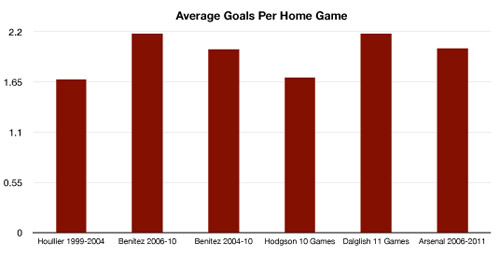 The samples are still quite low for Hodgson (10 home league games) and Dalglish (11). But as 10 games is more than half a season's worth of home matches, it's not insignificant.
It's fascinating to see that Hodgson and Houllier have identical records: an average of just 1.7 goals per game at home. (Houllier's record starts from 1999/00, his first full season in charge.)
Another identical record is that of Benítez from 2006 to 2010 (his last four seasons) and Dalglish since his return: 2.18 goals per game.
Both men took over teams that were averaging 1.7 goals a game and improved the scoring rate by a massive 30%.
If most managers improved their team's home scoring record by 30%, you'd expect them to be lauded. Dalglish is receiving a lot of praise, and quite rightly so.
Of course, this is just 2006-2010 for Benítez; add his first two seasons (in which the Champions League and FA Cups were won) and the home league goals tally drops; his full six-year average is 2.01 goals per game. (Still a 20% improvement on Houllier's record.)
(As a quick aside, Benítez lost key goalscorer Michael Owen before his first league game, and inherited Djibril Cissé and Milan Baros, two unpredictable strikers. His first expensive striker signing was Torres in 2007, three years into the job. Houllier made his first expensive striker signing in 2000 – Heskey – and Dalglish made two in his first transfer window. In his defence, Hodgson did not get to buy an expensive striker, but did inherit Fernando Torres, who up until then had a terrific scoring record. In today's money (TPI©), Heskey, Cissé and Torres cost in between the £22.8m paid for Suarez and the £35m paid for Carroll.)
What's also interesting is that the home league goalscoring record in all six of Benítez's seasons is identical to Arsenal's in their five most recent seasons.
Arsenal are seen by all and sundry as the paragons of attacking football, and although they were not at their pre-2004 best in that time, they continued to gain plaudits for their style.
As both Liverpool and Arsenal had squads of similar value – well below those of Chelsea and Manchester United – then the comparison seems valid. (Of course, when Benítez pitched up, Arsenal were miles ahead of the Reds. Liverpool scored just 31 home games in Houllier's final season, at 1.63 per game, and just 32 the season before that.)
Right now, Liverpool are back in the goalscoring groove at home. My overriding sense that the Reds were in fact far more tedious under Houllier and Hodgson is borne out by the stats. They were the managers whose style was too cautious.
Apparently it's easy to forget how good Liverpool's attacking play was with Torres, Gerrard, Alonso, Benayoun and Kuyt tearing holes in defences. Thankfully, while there are some differences in the style, it's a joy to once again see footballers at the top of their game dragging centre-backs out of position and passes cutting right into the heart of the opposition back line.
It's not just the scoring of goals. If Liverpool fans were yawning under Benítez, how did he improve the club's home points haul so significantly? Unsurprisingly, the ability to score goals correlates quite nicely with the ability to win games, even though in theory you could need just 19 goals to win all 19 home games.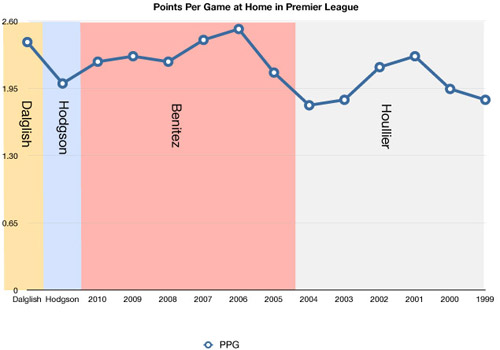 In fairness to Hodgson, he wasn't that much of a disaster at Anfield; it was away where most of the horrors occurred, with just a single win (again, against Bolton).
But even so, Hodgson's average of 2.oo was worse than Benítez's poorest season (2.11), and nowhere near the Spaniard's best (2.53). It was better than Houllier's worst (1.79 in his final season), but yet again, the two H-men are virtually identical with their overall average: 2.00 of Hodgson to 1.97 of Houllier. Is this all coincidence?
At the moment, Dalglish is averaging 2.40 points per home game, which is not quite up with Rafa's best of 2.53, but slightly better than his six-year average of 2.29.
The problem under Benítez was the away form, which was inconsistent. A couple of the seasons were poor, although another couple (2005/06 and 2008/09) were amongst the very best in the club's history (2008/09 equalled the club record for number of wins, 13 games).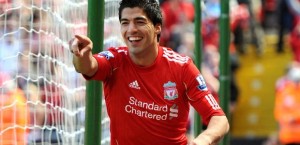 Resurgence
As has been documented, Dalglish has spent quite a lot of money to provide this resurgence, but it's not been without losing good players, too, to help rebuild. If he'd spent £100m but been able to keep Torres as well (and had him scoring goals at the three-in-five rate the Spaniard briefly delivered under him), then you'd have more right to expect a title challenge.
As it is, Chelsea, Man United and Man City have been spending lots of money without recouping much from sales. They've been strengthening without losing anything, although United did prune the squad of some older stars and lose their goalkeeper. I stagger to think what City's wage bill is right now, but it's something Liverpool cannot get remotely close to. In time, with the club now being better run, and the FFP rules due to arrive, things might level out a bit.
All Liverpool can do is look to improve, and that's what the Reds are doing. The new signings are playing their part.
Despite apparently 'overpaying for his services', Stewart Downing has looked excellent in every game he's played. Liverpool 'needed the winger they lacked under Benítez', but it's been his ability to move infield that has caught the eye, rather than anything near the touchline. (Lee Dixon, one of the few pundits I tend to agree with, praised Downing for constantly drifting into areas the full-back hated to travel into. So, rather than supply width, he's been an out-to-in winger.)
Downing has popped up in central or inside-left and right goalscoring positions on numerous occasions, and forced great saves against Arsenal and Bolton, and hit the bar against Sunderland. But in tandem with the equally impressive Enrique, it seems that one area where the Reds are now better than in recent memory is on the left flank.
(A major journalist, who just happens to have been one of Rafa's biggest critics, labelled Enrique as slow when Dalglish purchased him. This is also someone who said that Hodgson would turn Liverpool into a great attacking team to banish the boredom seen under Benítez. For the record, Enrique chose football over becoming an Olympic sprinter.)
The good news is that, just as they were for almost all of Rafa's tenure, the Reds are back in the top four, and look capable of putting up a good fight to stay there.
Liverpool had their faults under Benítez, just as they did under all of their managers (even Shankly). But being boring at home was surely not one of them.
In Rafa's final three seasons the Reds averaged 2.23 goals a game at Anfield, scoring more than 40 in each campaign and never winning fewer than 42 points, and we'd all settle for that this season.