There seems to be a general unease – and in some cases outright panic – about what Liverpool are doing in the transfer market: 'overpaying for too many average Brits' seems to be a theme amongst supporters. There are some key things that people need to get a grip of; not least, the complainant's need to start by comparing where we were last season, and the genuinely mediocre players being signed (and old ones, to boot).
I was as miserable as anyone last summer and autumn, but in that case I feel I had good cause. But anyone expecting miracles in the transfer window this summer is setting themselves up for a fall. Here's why.
Not in Champions League
First, it's hard to attract world-class players when you're not in the Champions League. It's like trying to buy international-class players if you're in the Championship; the 'top level' of football in 2011 is playing in the big leagues allied to the elite European competition. Liverpool are in a kind of unofficial second tier right now.
Unless you're willing to pay £25m+ for players plus £200k-a-week wages, with the clear understanding that you'll be in the top four within 12 months, you will find it harder to convince players, even if you're a club as revered as Liverpool. Some will say yes because they like the plan (Luis Suarez), others will take the extra money and the high-profile European competition elsewhere. Ideally, you find the top-class players before anyone is aware that's what they are, and sometimes that means polishing somewhat rough diamonds.
And anyway, few teams buy more than one 'world-class' player (depending on your definition) in a year, and outside of Barcelona and Real Madrid, few clubs have more than two or three on their books. It's about building a team that exceeds the sum of its parts, and there are various ways to do that. But every year I hear the same thing: Liverpool must buy world-class players; as if it's somehow straightforward.
Team Spirit
Under Rafa Benítez, it was tactical nous and shrewd organisation – plus spotting a few world-class players at reasonable prices (Alonso, Reina, Torres, and in my view, Agger) that allowed the Reds to overperform between 2004 and 2009. Players knew what their jobs were, and there was a belief in each other and in the manager. But by 2009/10, he had two major problems: a reduction in funds, and a dissipation of team spirit (and with it, his authority).
If anything, the latter factor proved more crucial, but everything fed into the sense of dread at the club that centred around Gillett and Hicks' ownership. If there's a lack of clarity of purpose from higher up, that seeps down. The club was in a mess, and the cracks were starting to show. Players were losing heart with everything.
Roy Hodgson entered that same fractured club, but never managed to get all the players behind him because his methods, at that level, were uninspiring and limited; had early success ensued, they might have bought into his philosophy, but team spirit just wasn't there, and it's hard to see how success could ensue when lining up with such rigidity. Even those who supported him at the outset could soon see that he wasn't right. The body language showed players weren't playing for each other, the shirt or the manager. I'm sure that no-one set out to purposely fail, but inspiration was lacking, and the team was without direction on the pitch. Bad results turned it into a vicious cycle.
What Dalglish brought was inspiration and – perhaps more vital – unity. His footballing philosophies aren't too different to Benítez's, but with perhaps more emphasis on committing players forward. Steve Clarke fills in the few blanks in Kenny's knowledge, and between them they have a hell of a lot to offer.
If you can ally man-management with tactical nous and the 'right' way of playing (in relation to your own club's needs), then you stand a chance in football. So far, Dalglish's man-management has been a joy to behold, but it's not the only string to his bow.
Buying a lot of English-speaking players may prove more conducive to team-spirit, although I'm not sure that's guaranteed. It is perhaps logical that those from a similar culture and lacking language barriers will get along better, but it always depends on the individuals in question.
Damien Comolli has said that the scouts psychologically profile players before making a move (see my article here). Disruptive influences are not considered, and nor are talented ones who are a bit mentally suspect. Which is not to suggest that only saints are sought. Perhaps Andy Carroll has a few social issues that need dealing with, but he seems a hugely likable 'team player' rather than a troublemaker within the football club.
Buying those with Premier League experience may also help, but again, I'm not certain that this is necessarily as true as you'd expect – but even so, in theory it should reduce problems like homesickness and the failure to cope with the pace of the game.
(It's just that when I think of examples, I don't see a huge number of players bought from rival Premier League clubs succeeding at Liverpool; the majority of the club's best signings of the past decade have been from abroad: Reina, Torres, Alonso, Riise, Skrtel, Maxi, Suarez, Agger, Aurelio, Kuyt, Arbeloa, Lucas and Garcia; from the Premier League, the successes have been Hamann, Johnson, Finnan, Mascherano, Crouch and Benayoun. But ultimately, it depends on the player in question.)
But of course, as I've said several times, buying English players in particular will help meet quota requirements. And it's not like there's a surfeit of English talent to take those places; almost all of the very best ones are already at top six clubs (Terry, Cole, Lampard, Milner, Hart, Carrick, Ferdinand, Young, Walcott, Lennon, Wilshere, Defoe, Rooney et al), with only a smattering of internationals outside of rivals who wouldn't sell to us anyway.
The average age of the four England internationals inherited by FSG is now 30, and if Joe Cole were to leave (as the most likely out of the quartet), it would still remain 30. FSG have already added two – Henderson and Carroll – with an average age of just 21.5.
In answer to a question I get asked a lot, of course I'd be more worried if Roy Hodgson was signing these very same players, but that's because of the lack of vision he showed in his approach to the job last year. Liverpool still had poor games under Dalglish – such performances happen – but the overall improvement in playing style and philosophy was immense. The contrast in the player's on-field movement between the two managers was off the scale. I trust him to improve upon that with a squad that can better cope with injuries, and with some gaps filled.
Overpaying to fill gaps
Imagine that you're a cost-conscious consumer who finds himself starving and without food in the middle of nowhere, with just one shop – and it sells overpriced food. You have the money, so do you choose to go hungry, or pay to fill the void? (in this case, in your stomach).
Andy Carroll was filling a void: Torres was going, and someone was needed to lead the line. Even though the big no.9 hasn't had the chance to make much of an impact so far, it's easy to overlook how we'd have all felt going into the final months of the season – at that stage still fairly precariously placed in the table – with no natural focal-point forward (not to mention how some fans might have reacted to FSG appearing to just pocket the money).
At 22, the Reds were also paying for the undoubted potential he possesses –too many good centre-backs have sung his praises – but of course, like any player, he deserves to be judged when fully fit. It's fair to say that he came on leaps and bounds between the age of 20 and 22, and is on an upward curve.
Perhaps even better players could have been found by waiting until the summer, but with no Champions League to tempt them, the next Torres or Drogba would not be easy to unearth and procure. Edin Džeko – widely believed to be more naturally gifted than Carroll – cost almost £30m at the same time, yet arguably did not even perform as well as the Geordie, and is three years older. Both deserve to be judged next season, when fit and settled.
Stewart Downing would also plug a hole: the problematic left-wing slot that has dogged the club for many years. Downing has improved from the overawed young player who did little for England, and is what I'd call a 'sensible' winger: not all about pace, tricks and 'skilz' in his wending way down blind alleys – just no-nonsense end-product. He won't dazzle, he'll just rack up assists and deliver a few goals too.
If you have Andy Carroll in the team, you want someone who can at least provide the option of a telling cross, and Downing does just that. Yes, the price being quoted seems a bit steep, but I can at least appreciate the logic.  (And our work on the Transfer Price Index showed that last season, transfer prices rose by 21%. So far this summer, it looks like another big rise is in the offing.)
I personally prefer Juan Mata, but perhaps that situation is more complex; or perhaps Liverpool want both players. Either way, I don't suspect that any of these players are being bought on a whim; far from it.
As with Jordan Henderson, Downing creates a lot of chances from open play, even if he has a low stepover ratio. Ditto Charlie Adam: one of last season's best midfielders, he has excellent vision and takes set-pieces that rip right into the heart of the danger zone. He has his faults – not the quickest or, it seems, with his barrel-chested posture, the fittest – but if you can play to his strengths he'll prove a valuable asset. (And it stands to reason that Liverpool have better fitness people than Blackpool.)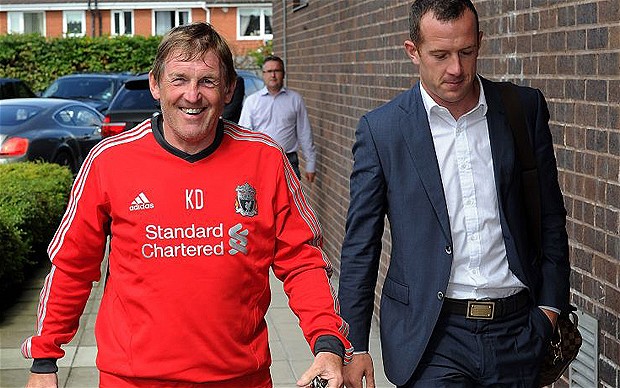 Perhaps some of these players wouldn't be my dream signings, but then football doesn't work that way (unless you think that it's the same as Football Manager), and it's not my masterplan that's being developed behind closed doors. If you can improve the squad and the team, and lower the average age at the same time, then that's all part of moving forward.
So, it could be argued that Liverpool need to buy proven Premier League experience to sneak back into the top four before going for more sophisticated options. I'm not sure that it's quite that simple, but right now, having been temporarily crippled by Gillett and Hicks, the club must learn to walk before it tries to run.
Wages
Liverpool have to improve the playing staff while simultaneously lowering the wage bill. That's not an easy thing to do. Most of the players being signed – and those being sought – will not be offered big money. So while the fees may seem alarming, think of the money being saved elsewhere. If the club has to pay an extra couple of million on the fee to secure the player because of what the selling club demands, but doesn't have to pay an extra couple of million each season because of the player's own reasonable demands, that makes good business and sporting sense.
This issue of relatively low wages is perhaps tied in with age, too. No-one is after one big final payday, or used to getting a hefty pay-packet at previous clubs (in contrast with Poulsen and Cole). They all have sufficient hunger. Henderson is 21, Carroll 22, Suarez 24, Adam 25, and Downing, if he signs, will be the oldest at 26 (going on 27). If these players prove successful, they will be rewarded with pay rises. If not, there's less harm done.
Playing Time
In the search for elite talent, this is perhaps one area where Liverpool can trump those rivals who can offer the Champions League. No-one should come to Liverpool demanding to be a fixture in the side, but players will often rather play regularly for a big club that cannot offer everything, to being a substitute somewhere else. But if rivals can offer bigger wages, Champions League football and a fairly guaranteed place in the side, that's hard to compete with.
Formation and versatility
The majority of the players being signed – or courted – throughout 2011 suggest a move to 4-3-3. At the very least, these individuals seem to have both specialist traits (Carroll's almost unmatched physicality, Suarez's street-urchin skills, Adam's set-pieces, Downing's crossing) and the ability – bar Carroll – to play in a number of positions. Fluid football works better if everyone is comfortable in more than just one area.
A move to 4-3-3 may also be down to Steve Clarke, who worked with the system at Chelsea and West Ham. Clarke also worked with Kevin Keen at Upton Park, which possibly suggests he wants coaches who can work his methods as he leads the sessions. While the Hammers were relegated, the formation was surely not the issue. With Liverpool's personnel, it certainly looks an option, and hasn't done Chelsea and Barcelona much harm in recent times.
But it's a return to having variety and flexibility, plus some depth, and that's good news in my book. So, rather than expecting marquee signings, let's focus on improving on where we finished, given that even after the disastrous first half of last season, the side ended up 6th.